Scoops Lease Is Yet To Be Renewed, As Neighbors Rally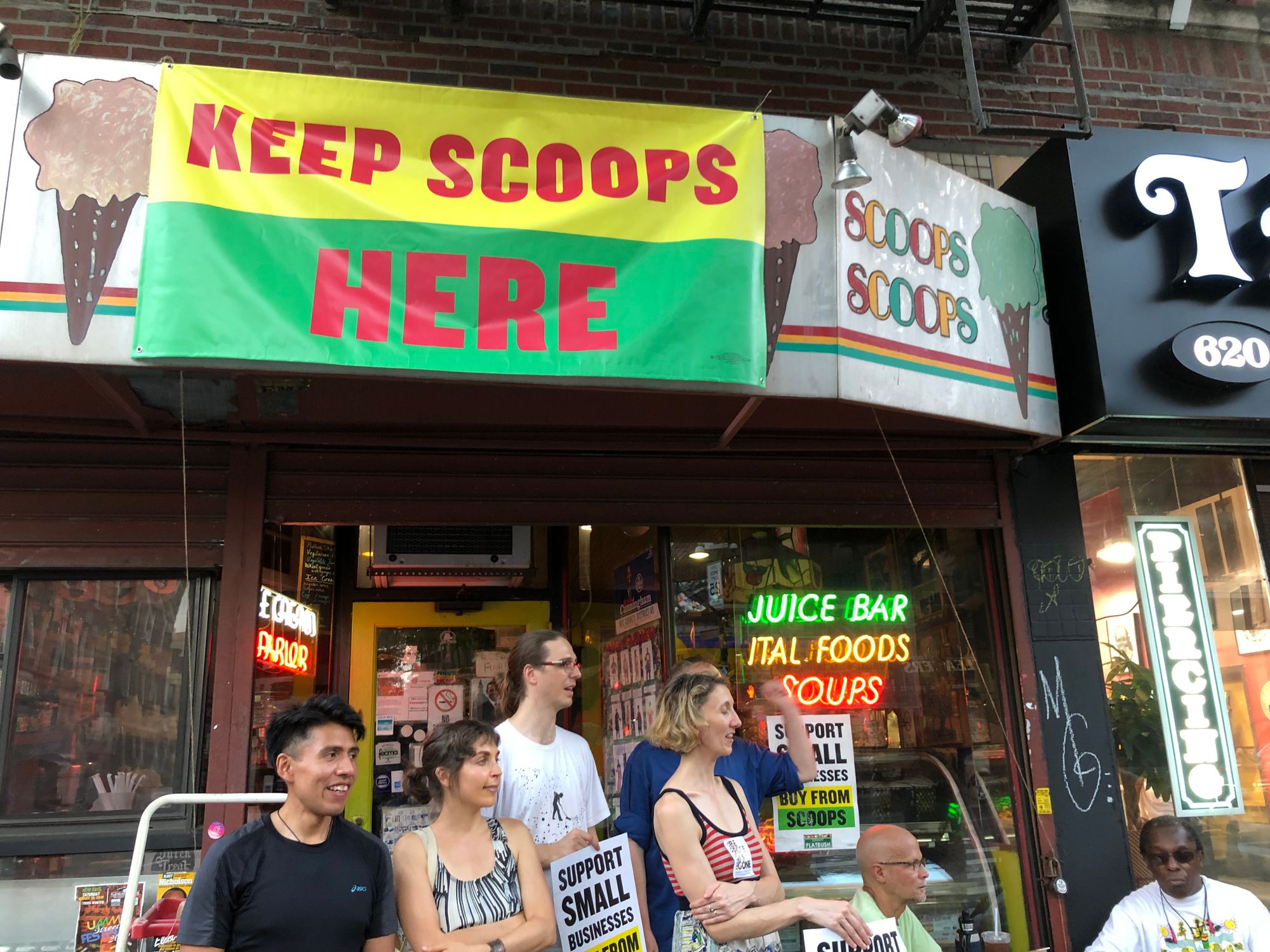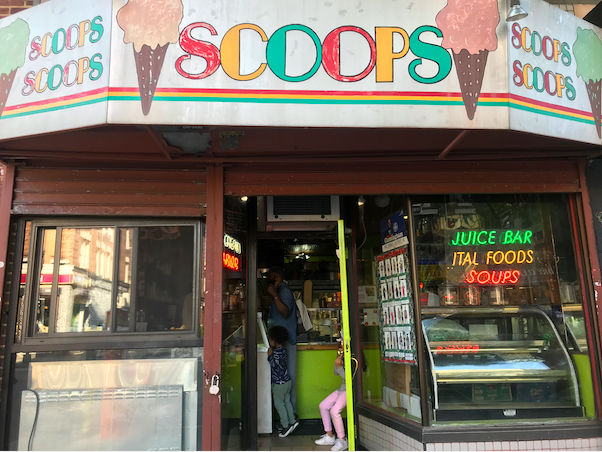 PROSPECT LEFFERTS GARDENS— Continuing their efforts to save Scoops, a longtime vegetarian restaurant and ice cream shop facing threats of eviction, Prospect Lefferts Gardens and Flatbush residents gathered under the store's awning Friday evening to demand that Scoops receive a renewed lease.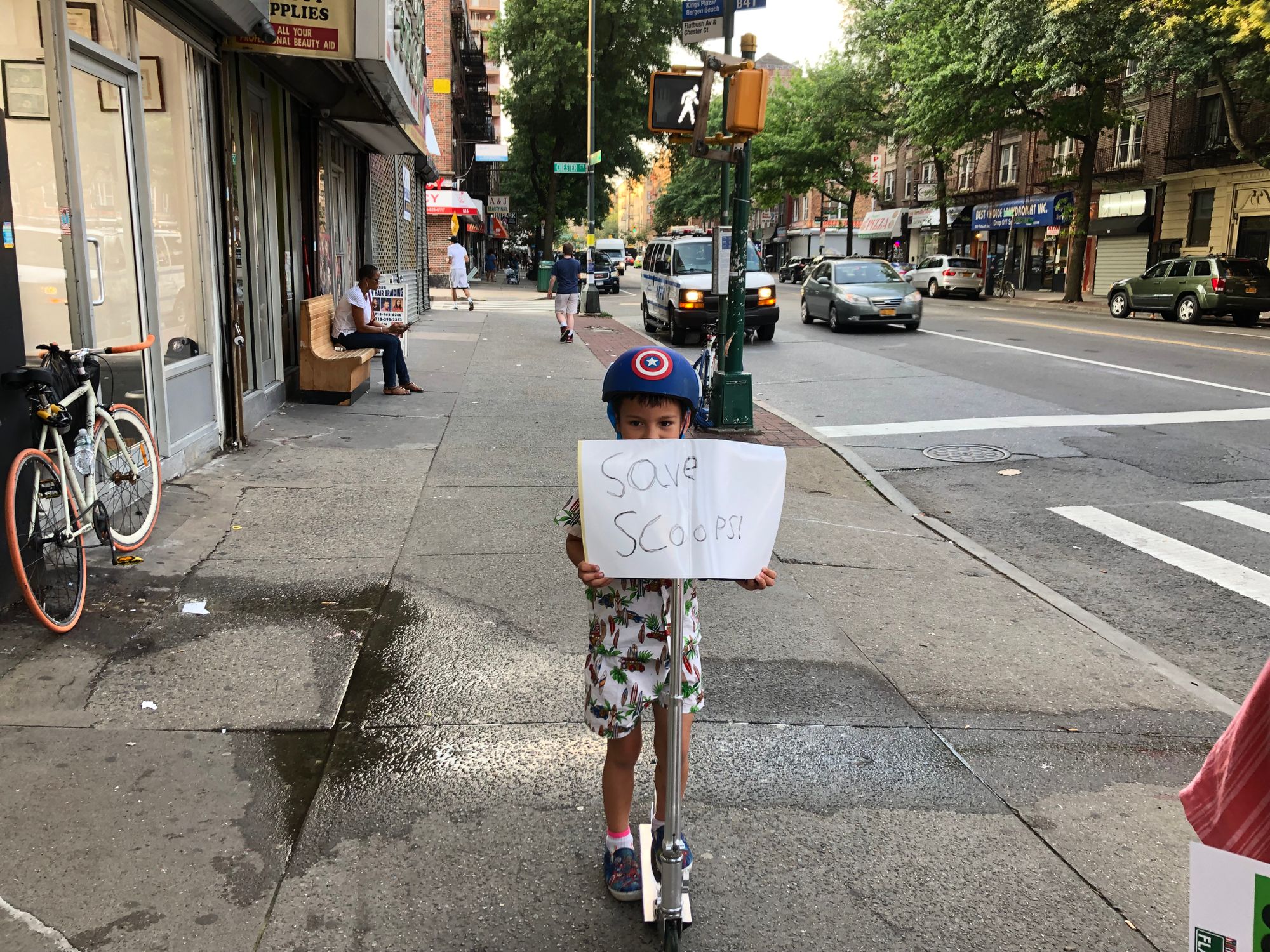 The rally was hosted by Equality for Flatbush, a grassroots organization working with the local community to prevent gentrification and oppose police brutality. The protest drew a small crowd of about 15 people hoping to raise awareness about the importance of preserving small businesses in an increasingly gentrifying area. Volunteers and E4F leaders held signs reading "support small businesses— buy from Scoops" and handed out informational flyers to passersby.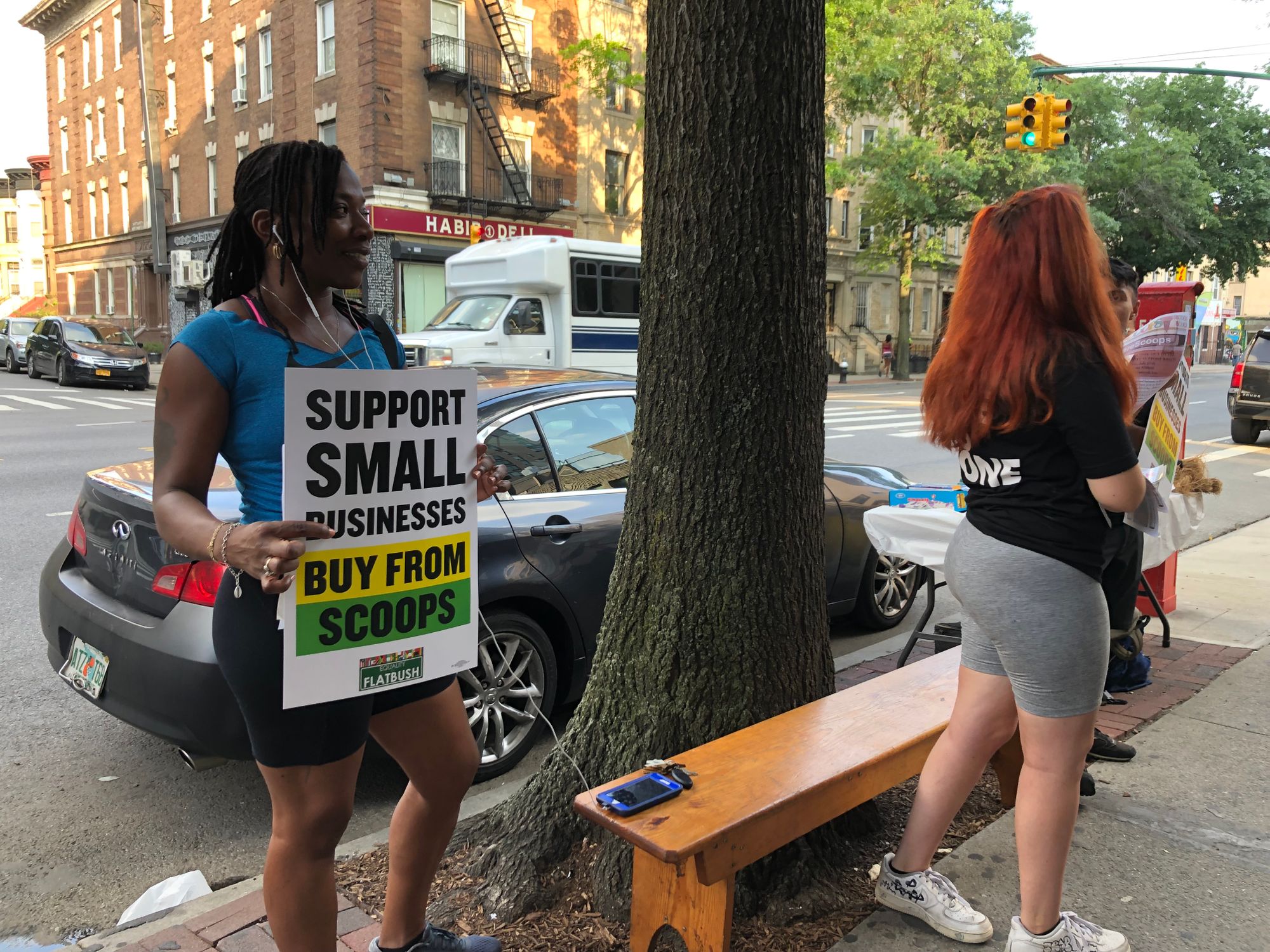 John Paredes, a small business owner from Queens, volunteered at the rally and said he hoped Friday's events would show landlords and residents how crucial long-standing small businesses are to a neighborhood's sense of community.
"It would be great if the owners of these buildings that are trying to close down these small businesses, if they could just realize how important they are to the community," Paredes said.
"Instead of trying to exploit the community, if they would come out and have a talk and just see the people that come to places like this, how important it is that they continue to be there."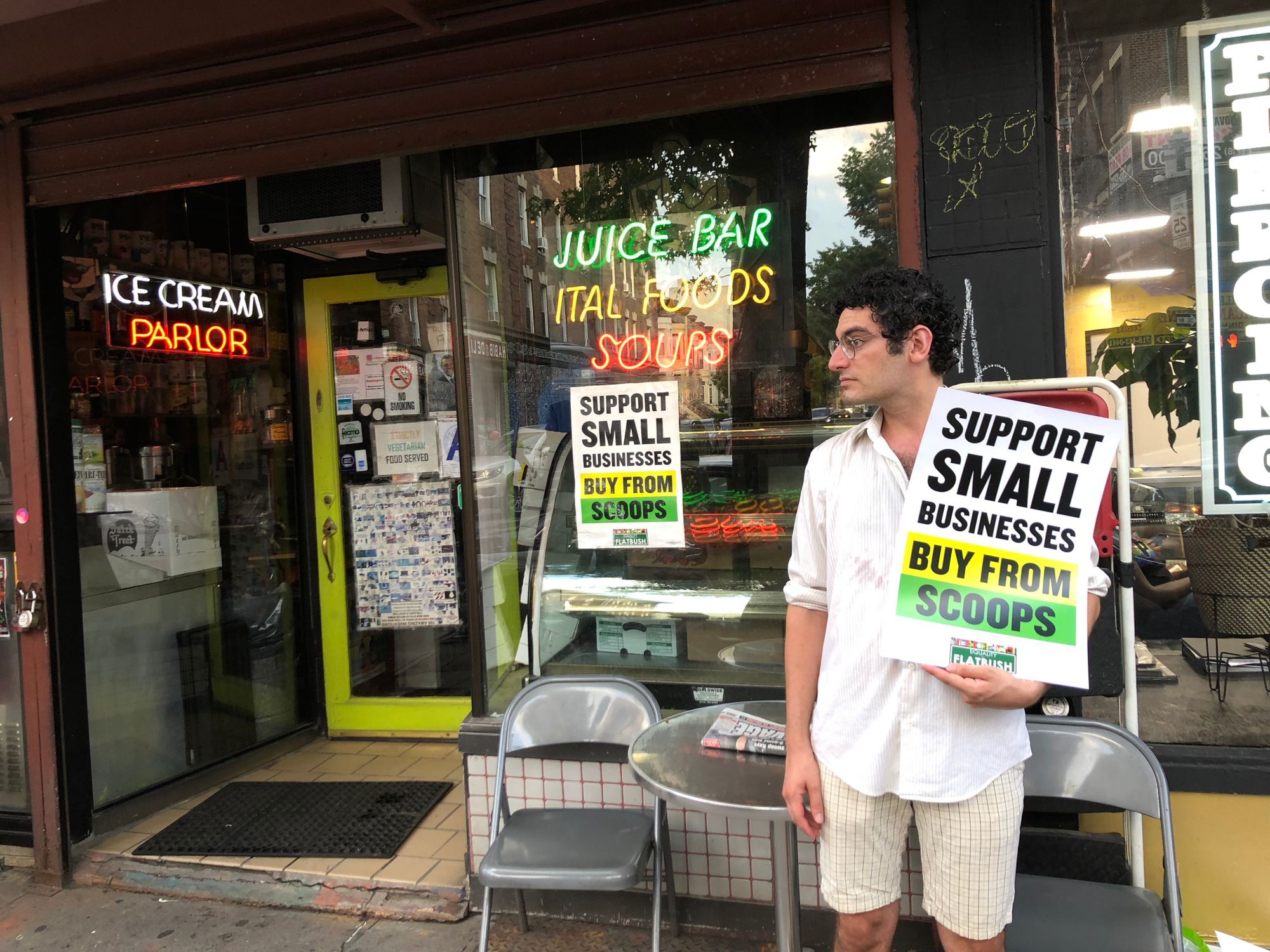 Scoops opened along Flatbush Ave. in 1984 and has recently been battling eviction notices served by the landlord Lawrence Bernstein of Jeremy Properties LLC, who leases the property to Fongyit on a month-to-month basis.
On April 16, Bernstein gave Scoops owner Tony Fongyit a 30-day notice to vacate the property, yet extended the deadline after receiving pushback from the community at a May 25 rally. According to a press release from E4F, as of July 5, Fongyit does not have a lease to remain open next month.
After news of the eviction notice went public on Facebook, an online petition was started by resident Virginia Bechtold to oppose the landlord's actions. Currently, the petition has received 16,407 signatures out of a projected goal of 17,000.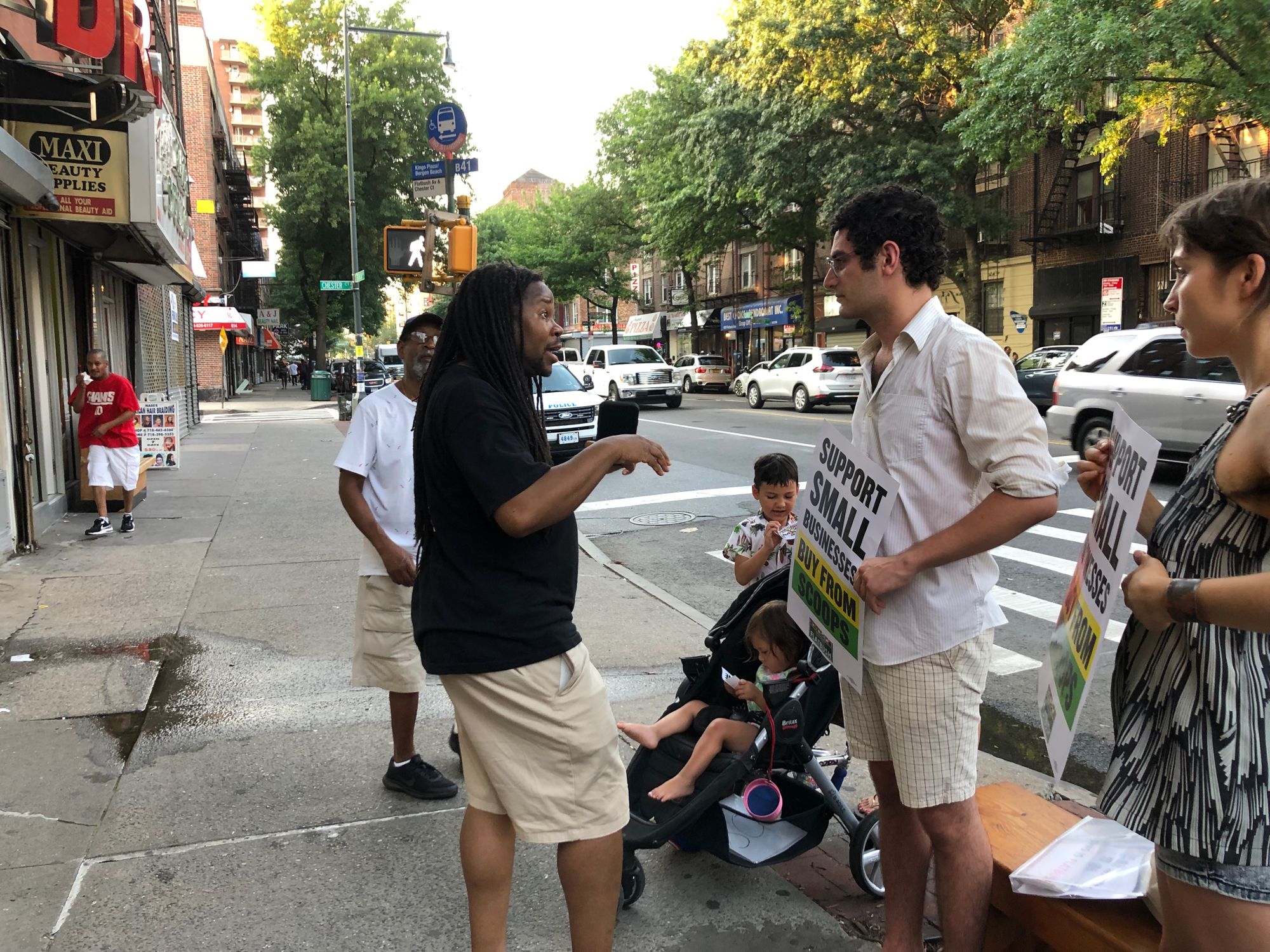 Imani Henry, founder and executive director E4F who organized Friday's rally, said the May 25 demonstration was successful in keeping Scoops open but did not grant Fongyit a permanent lease. Henry noted how many residents were not aware that more work had to be done to prevent Scoops from eviction.
"Even people on the street have said it, they have said the same thing— 'I thought it was saved.'" Henry said. "And that's the piece of it. That's what happens when there are no more news cameras. That's what happens when there are no more stories happening. The next day, people started going like 'oh, I think we won.' And we're like 'he doesn't have a lease.'"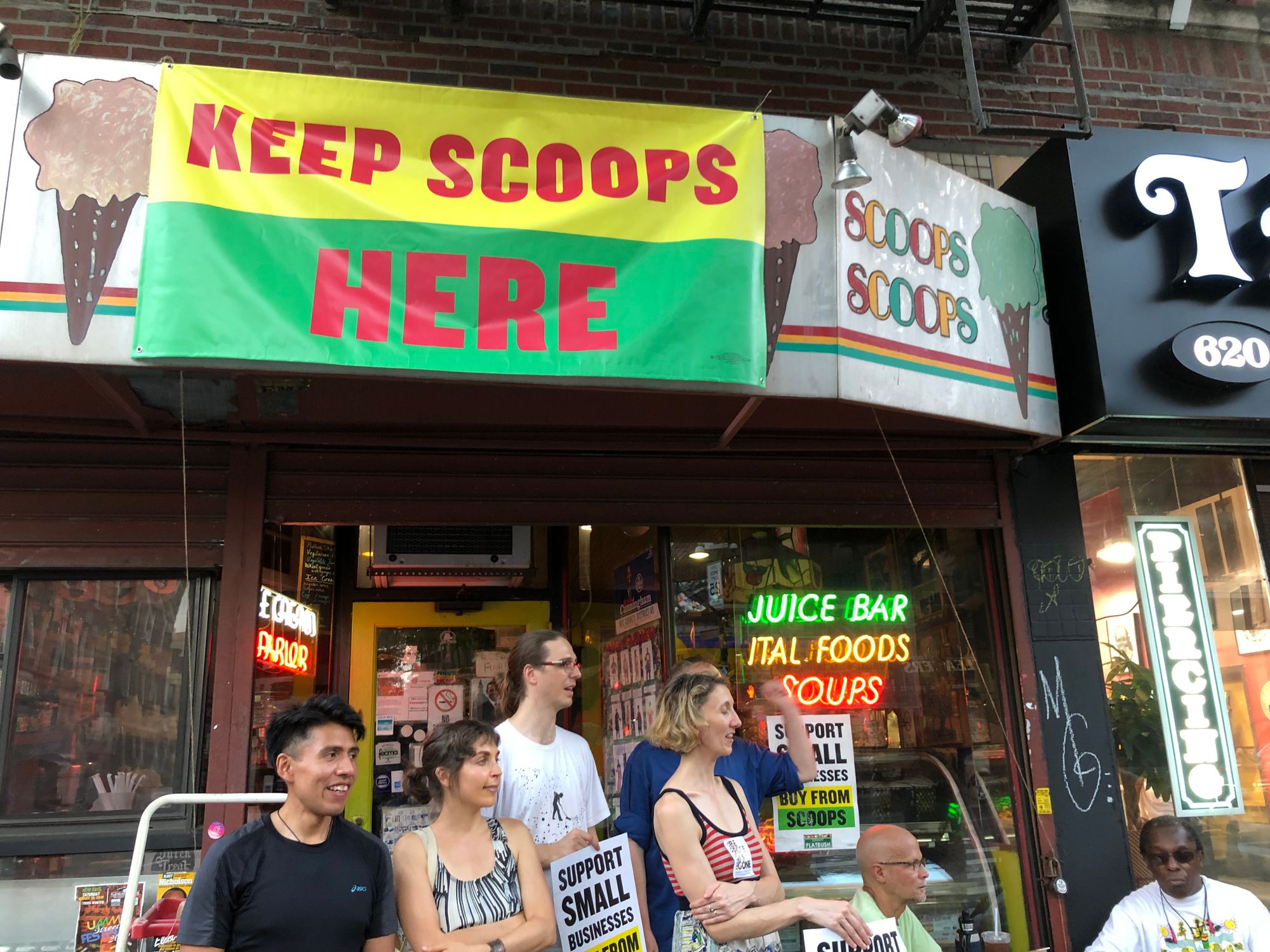 The closure of small businesses in response to rapid residential and commercial growth is not only taking place along Flatbush Ave., but is also a phenomenon occurring city-wide. A 2018 Business Improvement District trends report found that the average storefront vacancy rate across the city is 8.9 percent, compared to a rate of 5.6 percent in 2017. According to Henry, as more high-rise buildings and commercial properties are built, more small businesses in the surrounding areas are put at risk of eviction.
In March 2018, 29 councilmembers sponsored the Small Business Jobs Survival Act, a bill that would enforce stricter regulations for commercial lease renewal and security deposits, among other issues. Henry community members must make an effort to support local businesses in order for them to withstand gentrification.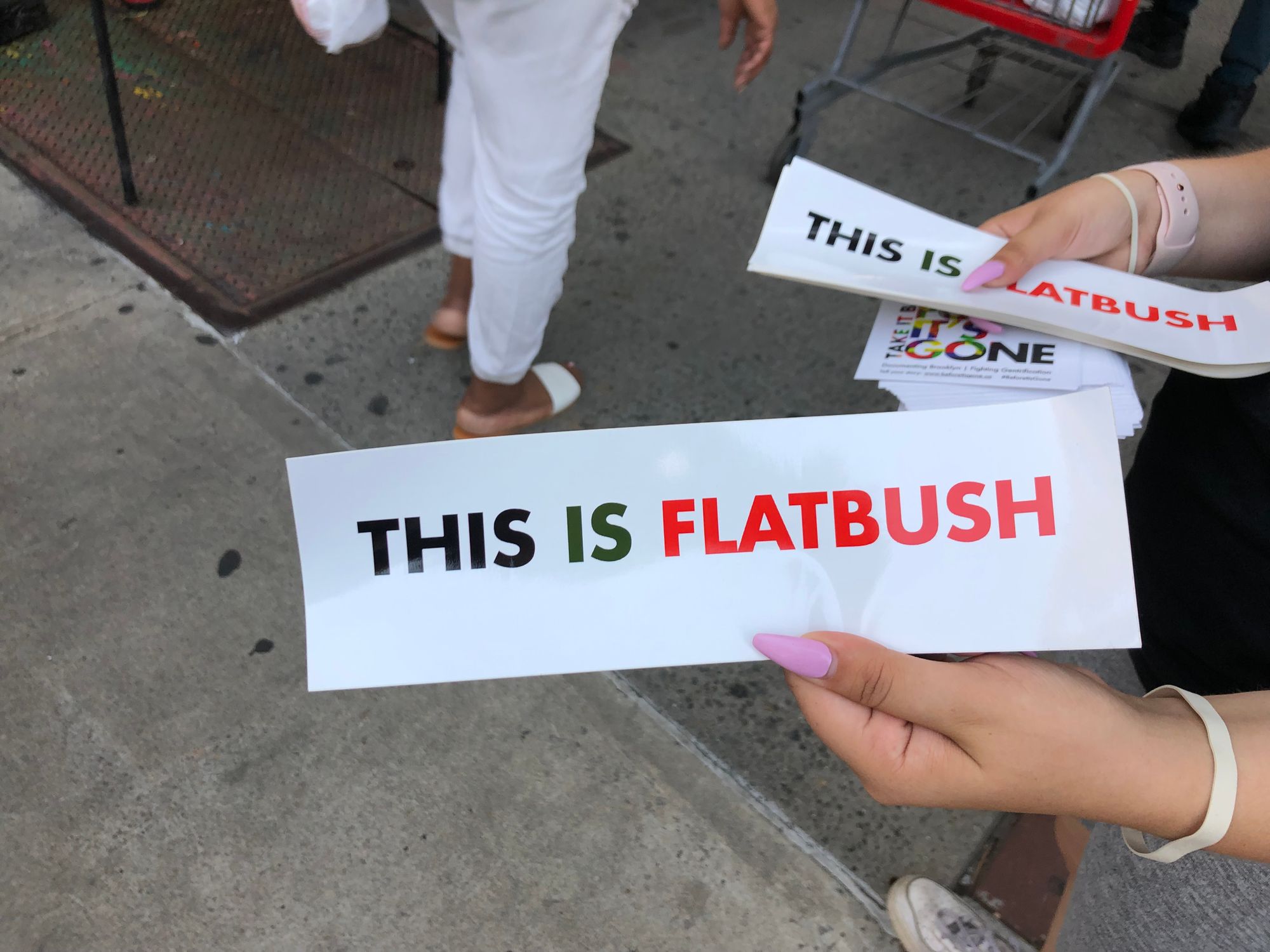 "There's so many tactics that they [landlords] use, sort of very gangster towards small businesses, tenants, homeowners," Henry said. "This is why we talk about this a lot, talk about the fact that we need to fight and stand together as a community because that's the only way that we've been able to win anything is to have each others' backs."
Fongyit, who has been selling vegetarian food out of the same shop for 35 years, said Bernstein has been unresponsive when it comes to discussions about renewing his lease. Fongyit currently works with IMPACCT Brooklyn, a community development nonprofit dedicated to supporting residents in various neighborhoods. According to Fongyit, Dale Charles, IMPACCT's director of economic development, reached out to Bernstein a few weeks ago about the lease but did not receive an answer.
"I want to sit at the table and get at least some discussion going about the lease," Fongyit said. "This is all I need. I need a lease."
An attorney for Jeremy Properties LLC did not respond to requests for comment.
Fongyit reiterated his desire for a discussion with the landlord and said he hoped the rally would allow him to stay in the neighborhood and continue serving residents.
"This is my neighborhood," Fongyit said. "I've been here 35 years. And all I want to do is sit at a table and discuss with the landlord. By the rally, if we could get him to come and just talk to us, this is all I want."
Robin White Goode, a nearby resident who attended the rally, said Fongyit's business played a crucial role in her and her family's lives and felt its closing would a devastating loss for many members of the Flatbush and Prospect Lefferts communities.
"People in the community are distressed Scoops is closing," White Goode said.