Schools, Trees and Construction Dominate District 35 Town Hall Meeting with Mayor Bill de Blasio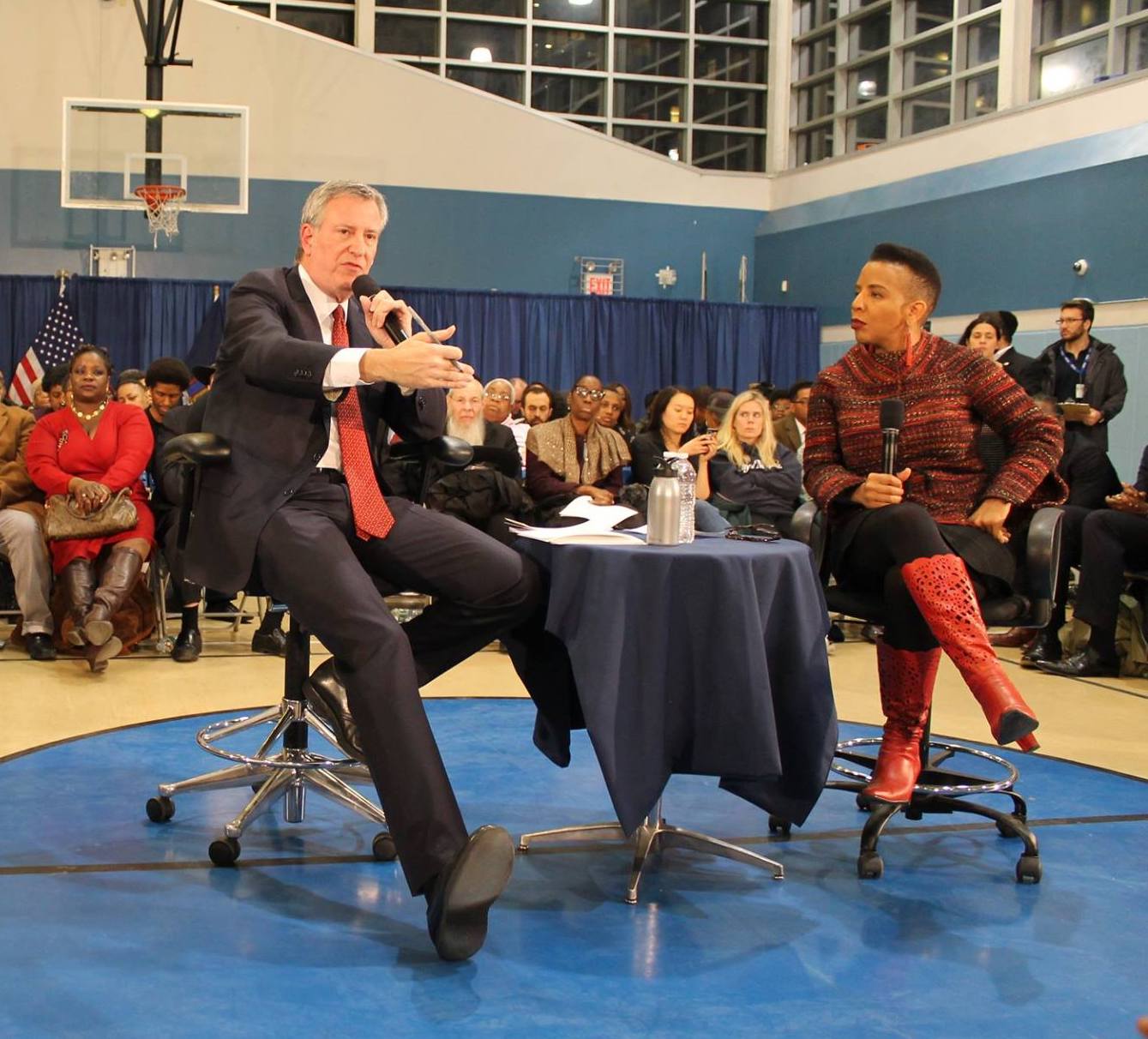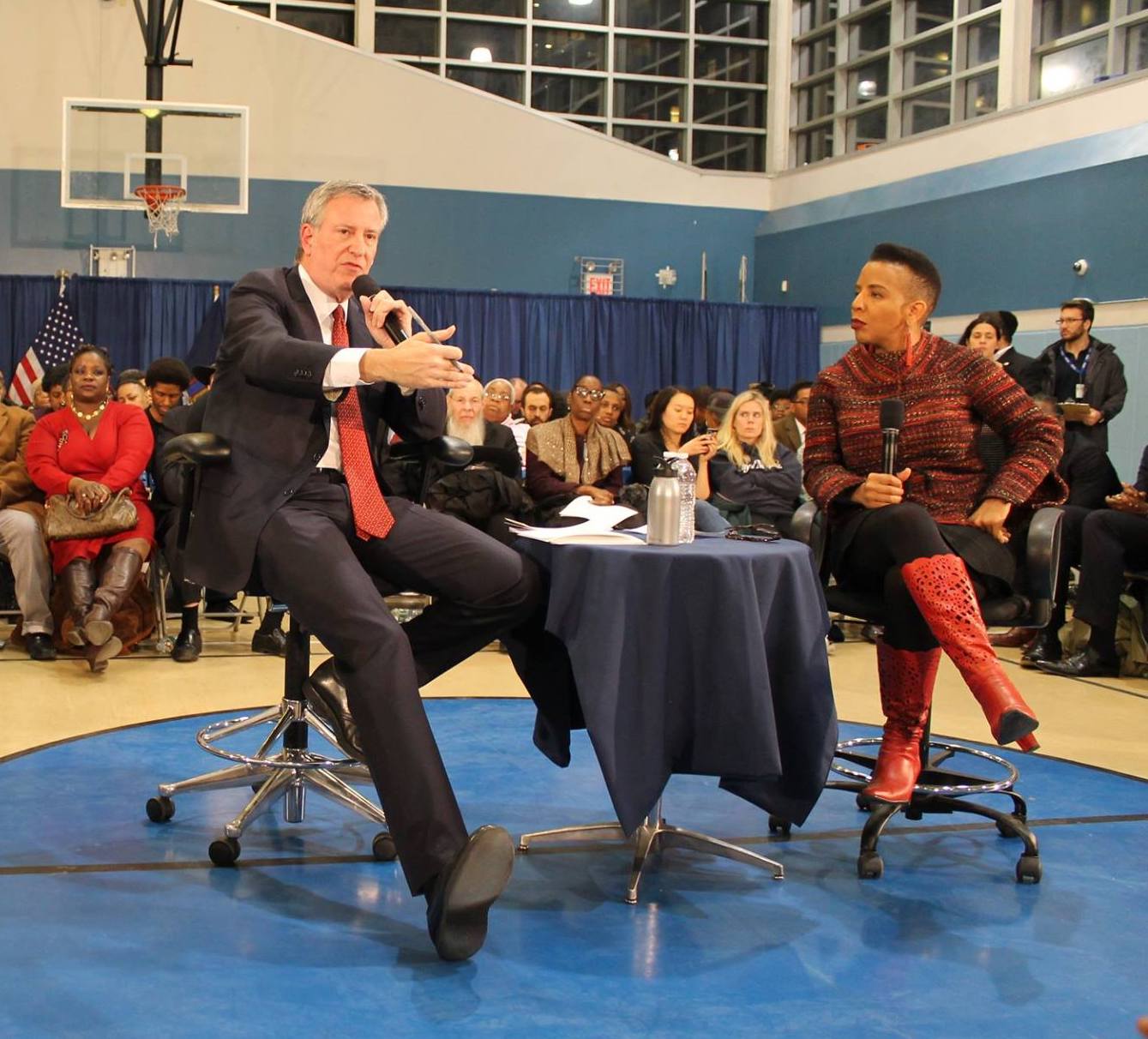 "All of you come out to hold government accountable—that government be transparent and that government be responsible to your needs."
Letitia James, Public Advocate for the City of New York
Last night, the Ingersoll Community Center was the setting for Mayor Bill de Blasio's 50th Town Hall meeting. District 35 Councilwoman Laurie A. Cumbo opened the meeting by introducing the mayor to a near capacity crowd of engaged residents from Fort Greene, Clinton Hill, Prospect Heights, Crown Heights, and Bedford-Stuyvesant.
The meeting was not focused on any specific theme, but gave residents a chance to ask Mr. de Blasio any questions they may have or bring up any concerns.
For nearly three hours the crowd remained relatively low-key, as a host of local and citywide topics were discussed, and an entourage of city commissioners and officials assisted the mayor in answering questions.
Prior to the Q&A, Mr. de Blasio asked for a moment of silence for police officers Wenjian Liu and Rafael Ramos who were shot at point-blank range and killed on December 20, 2014 in Bedford-Stuyvesant.
The mayor graciously thanked DA Eric Gonzalez, Assembly Member Walter Mosely, State Senator Jessie Hamilton and Councilwoman Cumbo for her activist and change agent spirit that she has brought to the NYC Council.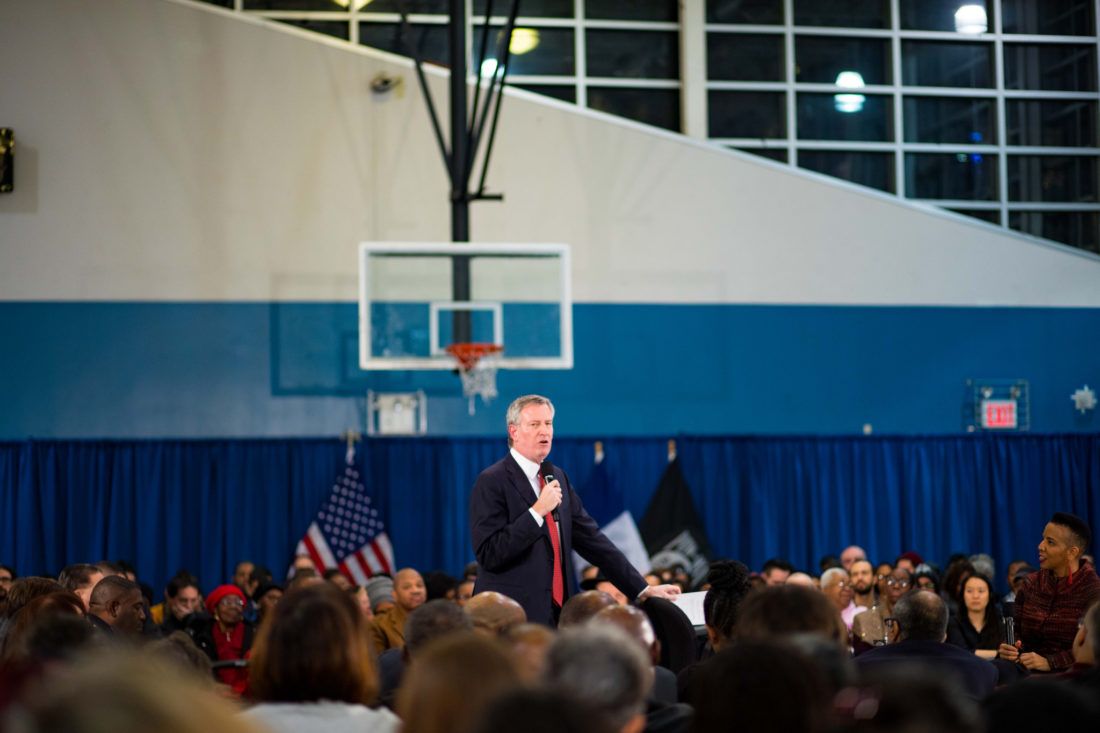 The mayor then highlighted a list of community and citywide developments, accomplishments, and plans for the future:
You may wish to know that 2017 was the safest year in New York City in half a century and that there are 2,000 more officers on patrol today than two years ago.
Mr. de Blasio assured the audience that "Public housing will remain public housing and will not be privatized."
This coming spring the "Cure Violence– Crisis Management" program will be introduced in the 88th Precinct, which includes the Whitman, Farragut and Ingersoll houses.
The number of Pre-K seats was doubled in District 35.
The number of after-school programs for middle school students has increased to fourteen from three, and after-school programs in District 35 reach 1,000 more children.
$250,000,000 plan to protect Mitchell Lama buildings. Keeping 15,000 apartments that might have slipped into privatization and protecting them as affordable housing for the long term.
The Right to Counsel law, giving free legal service to low-income tenants. Mayor de Blasio stated that "New York City is the first city in the country to ensure that anyone facing an eviction case can access legal assistance. New Yorkers should not lose their homes because they cannot afford a lawyer. And, stopping wrongful evictions from happening makes both ethical and economic sense."
Increased security cameras, lighting and layered access controls in NYCHA areas.
Free legal services to stop families from being deported
As of January 2, cars will no longer be allowed in Prospect Park.
$3.5 million investment for Elijah Stroud Playground improvements– with completion in 2018.
$1.4 million investment for the Washington Hall Playground.
$200,000 allocated to increase litter basket collection beginning December 21.
A bit of drama ensued after the mayor's general remarks.  A contingent of protestors from Crown Heights Tenant Union, who have been engaged in a protracted dispute regarding plans for the Bedford Union Armory proposal in their neighborhood, disrupted the evening. They began to chant loudly: "Whose armory? Our armory!" until they were ejected from the meeting.
Local issues that were brought up included:
Renovations to Commodore Barry Park
Lloyd Rodriguez, who for the past decade has run youth football programs out of Commodore Barry Park, Brooklyn's oldest park, addressed the mayor about concerns with the state of the park's playing fields, which have long been neglected. Mr. de Blasio turned to Parks Department Commissioner Mitchell Silver, who agreed that funding was needed for park repairs. The mayor then committed that he would put "on the docket" at the next City Council meeting a proposal for $5,000,000 that will pay for lighting in the park.
Overcrowding in PS 9 in Prospect Heights
Sakura Amend, a parent of a student attending PS 9, stated that the school has doubled in size since 2012—the year the school lost Title 1 funding. There were approximately 450 students five years ago. Currently, there are 940 pupils in the school, a result, Amend said, of de Blasio's highly praised pre-k program.
She asked the mayor what can be done to alleviate the problem of overcrowding. Deputy School Chancellor Gibson responded that the Brooklyn East Collegiate Charter School, which is co-located in the building, has agreed to give back classrooms to help alleviate overcrowding at its partner institution. Also, the city will be revisiting the building utilization plan to see if the footprint of the two schools can be re-configured to give PS 9 more classrooms.
Amend spoke to us later and said, "I wish I got more than just a stock answer. I really was hoping for more, in light of Mayor de Blasio's presence. That said, the mayor IS very pro-active and I was really impressed by that. He immediately connected his staff with the people who had issues."
Asbestos issue at the Bedford Union Armory project
Dr. Juan Blanco Ruiz spoke about his grand plan for an alternative energy proposal that if realized, would pay handsome dividends for the city. He cautioned that his proposed location, at the Bedford Union Armory, was imperiled by asbestos that had been identified in the roof of the site's drill shed—what he described as "1.2 acres."
He was answered by James Patchett, President and CEO of the New York City Economic Development Corporation, who affirmed that there was a plan in place for asbestos removal.
"The asbestos removal will be done according to a specific plan that will be developed under very strict regulations from state regulators as well as the city's Environmental Protection Agency. That plan will be sealed and approved by those regulators before any asbestos is removed."
Landscaping changes to Fort Greene Park
Lucy Koteen of Friends of Fort Greene Park addressed proposed renovations at Fort Greene Park. The renovations are part of the city's Parks Without Borders initiative, a $40 million effort to make eight city parks more accessible. This contentious proposal has seen numerous hearings and accusations. The plan calls for the removal 57 trees—a choice that Friends of Fort Greene Park and other local organizations have resisted.
Koteen who said earlier today that she went into the event "curious" and not knowing what to expect from Mayor de Blasio or Councilwoman Cumbo.
"They were both very upbeat, positive and open," she said. "I was happily surprised about that."
The mayor addressed his Parks Commissioner, Mitchell Silver, and asked, "What's the status of the trees?"
Silver mentioned two separate projects, saying that of the 57 trees that are proposed for removal, more than half were Norway maples, which he called "an invasive species" and at the end of their lifecycle. The new design calls for the planting of 80 new trees.
Koteen has previously stated that, "The Parks Department lied continuously throughout the process, saying repeatedly that the trees were in bad condition and at the end of their life cycle. This is an absolute contradiction to city policy, to remove over fifty large shade trees."
Wednesday night's event was more of the same for the civic-minded Clinton Hill resident.
"I really didn't expect Silver to say anything different than he has been saying all along," Koteen said. "He didn't disappoint me."
At the conclusion of the Q&A, the city officials were available to anyone with any complaint, question, or comment.
Here is the full video from the Town Hall Meeting last night: