Say Farewell To Fort Greene General Store And Hank & JoJo, Closing After Four Years
It's almost time to say farewell to the Fort Greene General Store, which has occupied the storefront at 218 DeKalb Avenue ever since it began life four years ago as Hank & JoJo. The clothing and general home and lifestyle accessories store will be closing its doors in two weeks on Thursday, April 28 at 8pm.
Until then, you'll find that prices are seeing major markdowns, and this weekend (April 16-17), there are extra discounts, including 20% off for email subscribers.
But such closing sale deals are small comfort for our sadness at seeing one of our favorite local shops and team of small businessowners leave.
The feeling is apparently mutual, as owner Andriana Spence expressed in a goodbye letter to customers, wherein she explains that her main goal in opening these businesses "was to bring something needed to the neighborhood that I love so dear" and that "if we could live off of an act of love, we would run this shop together for 100 years."
"Unfortunately, with only increasing expenses and rent, we have to shutter our doors and continue in different directions," Spence explained. "We can't thank you enough for all of your support, fun antidotes, hours spent chatting, creating and smiling. We hope our beautiful shop doesn't become a Starbucks! Thank you."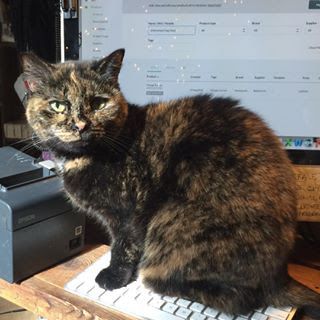 On the plus side, all three of our intrepid women entrepreneurs have other projects that we'll be able to support and follow. Spence will continue to run Camp Fort Greene, Rebecca Cherewka will continue to operate her online vintage business Honeysuckle & Hearts Vintage, and Anne Woodman will focus on her company Anne Woodman Jewelry Design and her jewelry and art shop in Bar Harbor, Maine.
Shop pet Rebecca The Cat is also now seeking a new home. The adorable, sweet, kid-friendly 13-year-old-going-on-2 cat is up for adoption; reach out to hello@fortgreenegeneralstore.com if you are interested.