Saturday: Dan's 5K Fun Run In Gerritsen Beach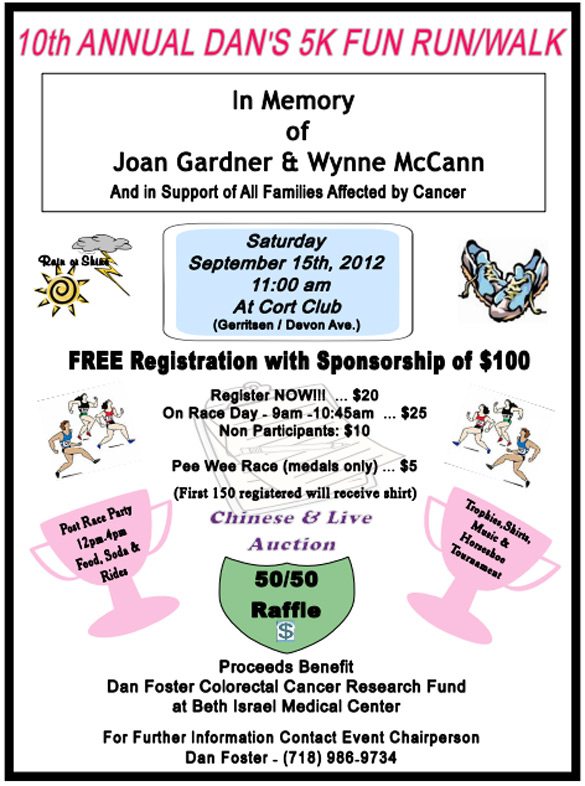 Dan Foster, the cancer survivor and Gerritsen Beach resident who organizes the neighborhood's annual "Fun Run" to raise money for cancer research, will kick off this year's event tomorrow at 11:00 a.m. All the details are in the flier above, and Dan also sent us the following:
I realize how lucky I am so I'm trying to give something back. After being diagnosed in 1996 at 47 years old ( young), in 1999 I started the Walk Of Hope in which I walked from the Montauk Point Lighthouse to St Patricks Cathedral – a 7 day trek and approx. 150 miles in Memory of those succumbed to Cancer but more importantly to give others Hope. I was blessed by the late John Cardinal O'Connor.
In 1999 my Cancer spread to both lungs but I didn't give up. Life after Cancer really changed I threw out the first pitch to Mike Piazza at Shea Stadium, Gift of Life where at Christmas I rented a horse and carriage and dressed up as Santa and gave people in the Gerritsen Beach community a free ride as my wife made hot chocolate, cookies and gave out candy canes and stuffed toys, Candle Light Vigil for Cancer in the community gardens.
I now belong to many different Cancer organizations. Each year Dan's Fun Run is in memory of someone from the community and the families decide where the money will go, Since this is the 10th annual I decided that the money would go to Beth Israel Medical Center . The funds raised this year will benefit the Dan Foster Colorectal Cancer Research Fund which supports- state-of-the art patient care, education and research by the Division of Colorectal Surgery at Beth Israel Medical Center where I had my surgery. For further information please don't hesitate to give me a call.