Authorities Outline Sandy's Impact On Jamaica Bay, Short- And Long-Term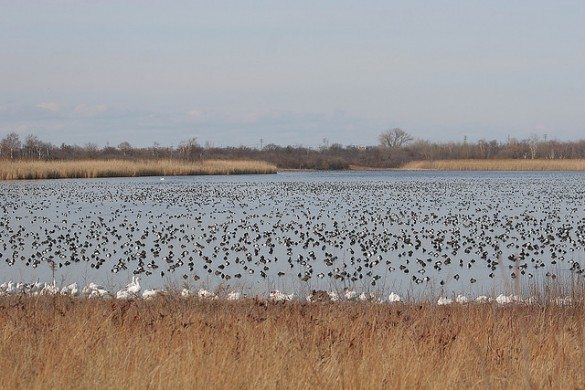 A cadre of city, state and federal representatives spoke of Superstorm Sandy's impact on Jamaica Bay last Tuesday at the latest Jamaica Bay Task Force meeting, according to a report by Rockawave.
The gathering was stuffed with over 150 people, all eager to hear from officials over the state of the Bay.
"Whatever you think of climate change, it is an indisputable fact that in the past 100 years water levels have risen," said Carter Strickland, an NYC Department of Environmental Protection representative.
According to the Jamaica Bay Ecowatchers blog, Strickland also spoke of the challenges in keeping the waste water plants running after an event as devastating as Sandy:
The Commissioner stated that in a relatively short time the DEP was able to get all of their plants up and running and at the time of the meeting was able to state that all plants surrounding the bay were up to full treatment capacity. This is in stark contrast to adjacent municipalities that have had their sewage treatment plants down for months. Questions were asked as to whether the DEP would … take additional steps to prepare for future possible storm events and the commissioner indicated that it was a process already underway.
National Park Service Superintendent Linda Canzanelli focused her remarks on the status of the Gateway National Recreational Area. She noted that federal funding will allow for full repairs to the park, but that the damage to places like Floyd Bennett Field, which was a staging area for FEMA relief areas, was extensive. Because of the current state of disrepair, it'll take more time for the parks to reopen.
Representatives from the US Army Corps of Engineers spoke of marsh restoration projects while New York State Environmental Region 2 director Venetia Lannon addressed the state and progress of cleanup operations. To date, 307,000 gallons of residential oil and and contaminated from over a thousand homes have been successfully pumped out of Rockaway/Broad Channel region.
While there is much work to do, almost all of the participants agreed that the funding headed to the Bay via the Sandy Supplemental bill was extremely positive for the health of the region.
"The silver lining of this storm is the amazing collaboration between (city, state and federal) agencies," said Lannon.