"Safe Haven" Shelter Planned for Apollo Street in Greenpoint
A new 145-bed shelter is coming to Greenpoint, and it will cost the taxpayer $5,273 per bed/month over the next eight years and two months.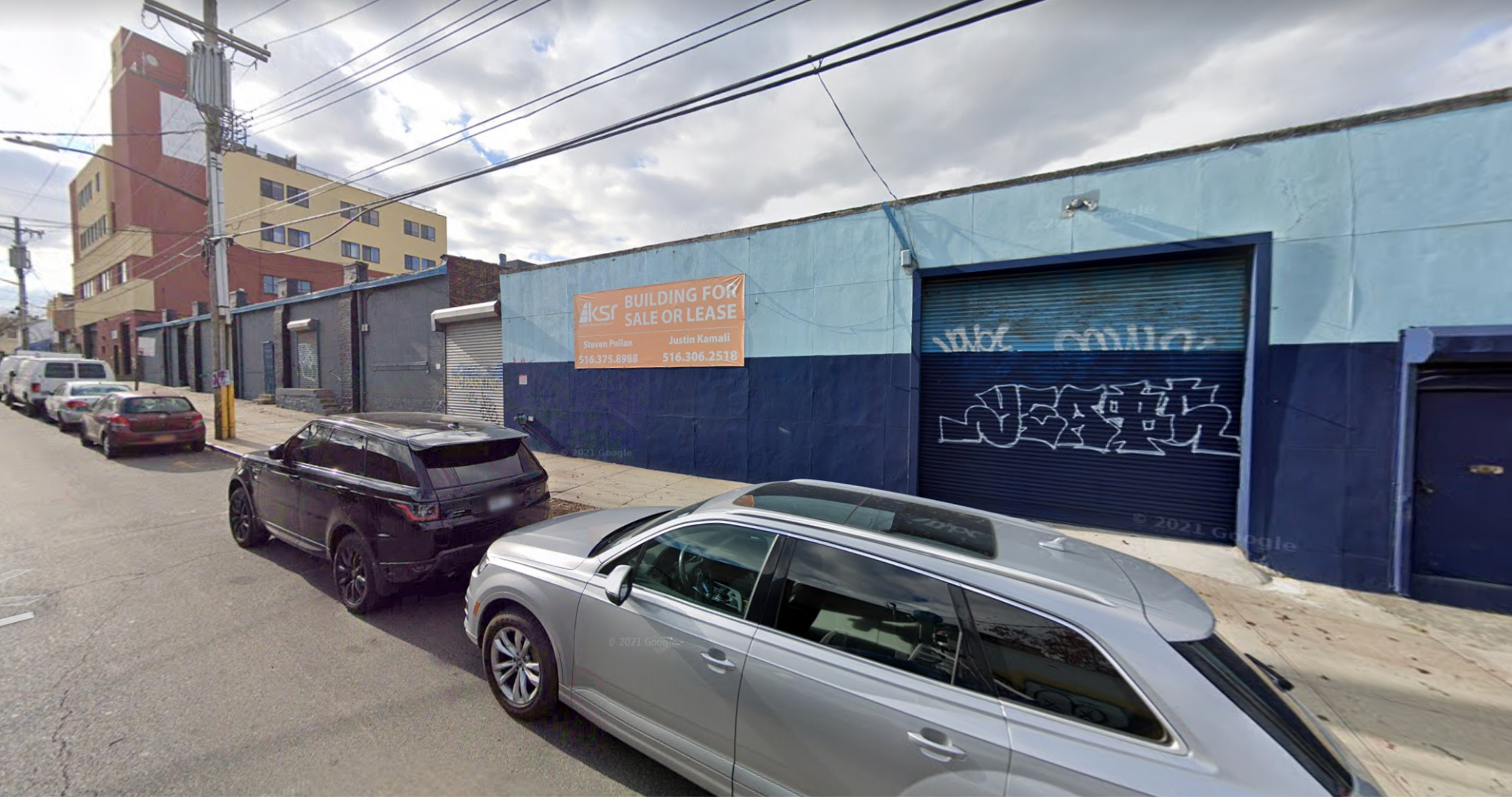 A new 145-bed shelter is coming to Greenpoint, and it will cost the taxpayer $5,273 per bed/month over the next eight years and two months.
The city's Department of Social Services (DSS) and the nonprofit service provider Breaking Ground are planning to open a shelter at 83-97 Apollo Street, DSS confirmed to Bklyner.
The shelter at the site will be a "safe haven" facility with a low threshold for admission, specifically targeted toward single adults who may be resistant to accepting other services, including traditional shelters, the agency said.
"These lower-barrier programs provide on-site services and compassionate staff who work closely with each individual to rebuild trust, stabilize their lives, and encourage further transition off the streets and into permanent housing," DSS spokesperson Neha Sharma said in a statement.
An application for permits by Kasra Sanaddaji of 83 Apollo Owner LLC, to construct a new four-story "transient hotel" at the site, located between Norman and Nassau Avenues, was approved by the city's Department of Buildings in July. The filings show plans for a lobby, cafeteria, lounge and office space on the first floor, while the hotel rooms are spread across floors two through four. The fourth floor will also have a computer room, lounge, laundry room and men's and women's locker rooms.
Breaking Ground will be leasing the yet-to-be-constructed facility from Sanaddaji.
Intake at the site will occur 24/7, according to documentation shared with Bklyner; the majority of social service staff at the site will work traditional business hours, though at least some social service staff will remain on-site until 10:00 pm. Breaking Ground is expected to provide 24/7 on-site security, the documents say, with at least five staff members at the facility at all times.
The lot currently hosts two single-story industrial buildings that were previously occupied by the Northern Adhesives glue company, according to online records and a 2014 image of a company truck parked near the site. The company later moved to Maspeth.
Records show the property is owned by Manhattan-based Apex Investments, a real estate firm controlled by Kasra Sanandaji. Apex purchased the property last year for $10.6 million.
Sherma said DSS had notified local elected officials and community members of its plans for the shelter in December 2020.
The agency did not provide Bklyner with a timeline for construction or indicate when the shelter would open. A letter sent from agency commissioner Steven Banks to Mayor Bill de Blasio indicated the contract with Breaking Ground was set to start in December 2022. A city notice for a public hearing on the contract with Breaking Ground, meanwhile, said the contract term would run from May 1st, 2022 to June 30th, 2030.
That notice also indicated the city plans to pay the nonprofit $74,939,671 for its work, which would work out to $764,690 per month or $5,273 per bed/month over the length of the contract.
Breaking Ground, which offers outreach and housing services across Brooklyn, Queens and Manhattan, did not respond to a request for comment.
According to a "fair share" analysis conducted by DSS earlier this year, there are no other city shelter facilities within a half-mile of the site. The Apollo Street shelter will be the eighth city shelter facility in Brooklyn Community District 1, which includes Greenpoint and Williamsburg, the analysis says.
Other facilities in the district include one shelter for adult families, five shelters for single adults and one commercial hotel for families with children. The city has committed to closing the hotel site by the end of 2023. Another shelter is also planned for 39 Ainslie Street in Williamsburg.
As part of its HOME-STAT homeless outreach initiative, the city has expanded the number of "safe haven" and similar specialized, dedicated beds across the city from 600 in 2014 to over 3,000 today, said Sharma of DSS.
"This high-quality Safe Haven in this Community District will offer 145 New Yorkers experiencing unsheltered homelessness a place to come inside, receive support, continue staff engagement, and begin to rebuild their lives as they transition off the street and subways," Sherma said.