Russians Face A Hard Road To Immigrate To America, And Numbers Are Dwindling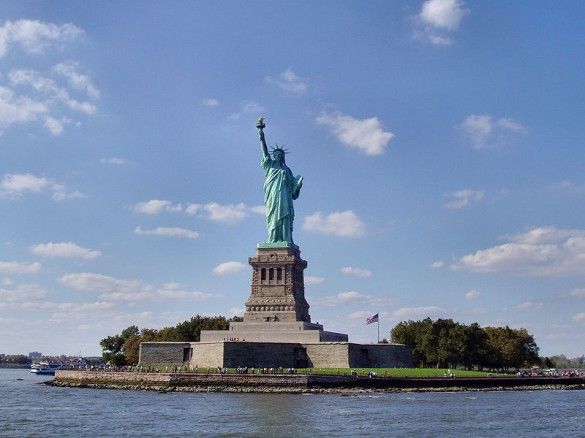 When the Boston Marathon bombings shook the nation last week, many Russian immigrants living in the United States began expressing fears that the actions of the two Chechen brothers, Dzhokhar Tsarnaev and Tamerlan Tsarnaev, would limit immigration possibilities for Russians seeking to gain entry to America.
While actions of two terrorists is unlikely to officially change the policy of United States immigration laws, Russians have faced a harder road in making it to America, according to an editorial analysis published by Russian Bazaar and translated by Voices of New York.
Gathering data from the Department of Homeland Security (DHS) and various non-profit human rights organizations, the report concluded that immigration from the former Soviet Union has steeply declined, speculating that in five to six years, Russian-speaking immigrants will account for less than one percent of all U.S. green card and passport holders.
In explaining why immigration from Russian-speaking countries is shrinking, the report presents a list of five speculative reasons. Below I present each reason plus a highlight of the analysis.
The First Reason: The Unavailability of Visas
Today, to obtain a B-1/B-2  tourist visa, it is necessary to provide the consulate with tons of comprehensive information in the form of certificates, contracts, reports, commitments, etc.
In other words, each Russian (Ukrainian, Belarusian, etc.) going to America must have a stable and well-paid job, own an apartment and a car, have a bank account with a decent amount, a spouse, as well as children. Plus, a passport with visas from other (preferably European) countries.
The Second Reason: The Scale of Immigration Fraud in the Commonwealth of Independent States (CIS)
You will laugh, but there are probably more businesses on post-Soviet space offering "guaranteed move to the States for a few thousand dollars," than immigrants who actually came to the U.S. within the last year. People are fooled into giving away millions of dollars and such promises as "we will increase your chances of winning the green card lottery" or "our company has exclusive ties with the U.S.," which are used by virtually all "intermediaries."
As a result, millions of people think that they will soon find themselves in America, while only hundreds of them finally enter. According to human rights organizations, profits from underground businesses concerning "immigration to the United States" in post-Soviet countries are nearing $3 billion a year.
Blind faith in the corruption of the U.S. immigration system plays a bad trick on those devoted to seeing the Statue of Liberty. They assume that if they couldn't obtain a visa legally, they can try to pay someone extra money to get around the system.
The Third Reason: Disappointment with America
Newcomers complain about cruel and vicious employers, pseudo-lawyers, phony landlords, etc. "We thought that there was a real Russian-speaking community out there, which would give us a hand," wrote one green card lottery winner. "However, we faced only greed, contempt and indifference from our compatriots. You have to become a wolf to survive there."
The Fourth Reason: Crime
Like it or not, "our brother" is notoriously known for drunk driving, smoking marijuana, and committing health insurance fraud. Deportees regularly board the planes heading to the capitals of the CIS. This is evident from reports from the Immigration and Customs Enforcement (ICE) office.
Moreover, in 2009, President Barack Obama passed a law according to which green cards holders with a criminal record should be sent home in handcuffs. Therefore, in the last four years, a few thousands of "our" illegals and green card holders have left the United States against their will.
The Fifth Reason: The Reluctance to Reunite with Family
As bitter as it may sound, natives of the Soviet Union, who immigrated to the United States and became full-fledged Americans, rarely use their legal right to reunite with relatives (parents, children, brothers and sisters). By this measure, we fall well behind people from Africa, Latin America and the Middle East. The Iranians, Cubans and Mexicans, on the contrary, almost never miss an opportunity to bring their family members into the United States.
For immigrants who actually make it to the country, navigating the language barriers, the web of con artists, scammers and limited employment chances is tough for anyone, be they Russian, Mexican or anything else. For those who believe that their ethnic group is unfairly targeted by law enforcement, the government's treatment of criminals who flaunt the law should not be the stick by which all immigrants' chances of success are measured. It is already difficult enough for immigrants who play by the rules due to the aforementioned language barriers and shaky economy.
The conclusions drawn from this analysis points to the general difficulty of immigrating to the United States, regardless of the country of origin.