Tonight: Forum To Plan Future Of Floyd Bennett Field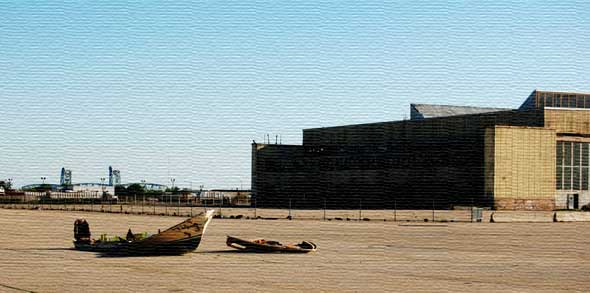 Floyd Bennett Field is a beautiful local resource… if you like desolate, semi-industrial wastelands with a view of the Manhattan skyline.
But to most, it's in desperate need of infrastructural improvements that will make it a destination for generations to come. Cue our local leaders, who have called a public forum to discuss development plans for the remnants of New York City's first municipal airport.
Congressman Anthony Weiner and Senator Charles Schumer have formed a Blue Ribbon Panel to provide recommendations on possible improvements to the 1400-acre field, which is part of Gateway National Recreation Area. The panel, staffed by the Regional Plan Association and National Parks Conservation Association, wants to hear suggestions and opinions from Southern Brooklyn residents before coming up with a final proposal to the federal politicians.
There's a lot at stake in the proposal. Will it get the support it needs to remain one of America's most visited national recreation areas? Will ideas that benefit the entire community be implemented, replacing overgrown airstrips with, perhaps, public pools, community facilities, camp grounds, and cultural centers? Or will it be a handoff of government contracts to private interests?
"The problem is there are too many visions for the future," Community Board 15 Chairperson Theresa Scavo told Sheepshead Bites. She added that the Department of Education has proposed putting a charter school for at-risk students on the land, an idea blasted by State Senator Carl Kruger and others. Residents need to get involved to ensure the best – and fairest – use of land and money, according to the chairperson.
"Big taxpayer dollars are being put forth from Schumer and Weiner and it is a good idea to have area residents there to give some ideas before they make it a waste of our money," she said.
When: 6:00 p.m. tonight
Where: Aviator Sports Complex
Hanger 5
Floyd Bennett Field
3159 Flatbush Avenue, between the Belt Parkway and Aviation Road
Note: Take exit 11 off the Belt Parkway, traveling south on Flatbush Avenue. Entrance is on east side of road
Can't make tonight's meeting? A second community meeting will be held at Jamaica Bay Wildlife Refuge in Far Rockaway, Queens, from 6:00 p.m. to 8:00 p.m. on Monday, September 27.
Useful links:
RPA website
RPA flyer
Panel Member Biographies