Roll-N-Roaster Gets Illustrated In New Village Voice Feature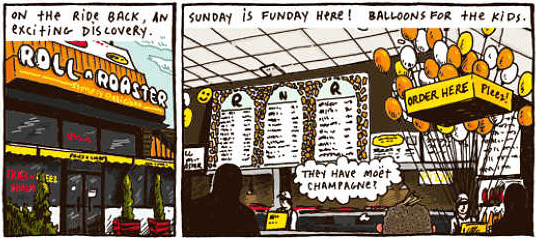 The Village Voice chose Roll-N-Roaster (2901 Emmons Avenue)as the subject for the inaugural post of "Gears 'n'Grub," their new illustrated series about foodstuffs found while the author bikes through the city.
The writer, L. Nichols, took a ride over to "Bottle Beach" – the name hipsters have given to what we know better as Dead Horse Bay – before finding himself in front of a plate of roast beef and Cheez fries.
Nichols made a wise choice by going with the standard Express-Line order, except for one rookie mistake – ordering soda instead of home-made Lemonade.
Looks like he'll have to get back on that bike and take another trip down here. You want to order soda at Brennan & Carr's? Go right ahead. Order soda from Roll-N-Roaster? Consider your meal incomplete.