Curb Enthusiasm: Rideshare Parking, Electric Chargers, And Citi Bikes Coming To A Corner Near You
The city is making parking permanent on more streets for years to come as it works to curb emissions.
The city is expanding its program dedicated to ensuring dedicated parking for carshare companies to hundreds more residential street corners this year, with 20 new locations coming to Brooklyn in the next two weeks. The locations will be reserved for exclusive use by cars from Getaround and Zipcar. The third authorized carsharing company, Truqit, currently has no locations in Brooklyn.
The city is also expanding bicycle lanes and Citi bike locations, adding bus lanes, rethinking Brooklyn's bus network, loading zones, garbage storage and disposal, and so much more.
Dedicated Parking for Carshares
Such parking sites are located in pairs at the corners of residential, unmetered blocks, within 40 feet of the nearest intersection, where alternate side parking or street cleaning takes place no more than twice a week. The companies pay the city an annual fee of $475 per on-street curbside parking site.
"We now have the proof that convenient access to carshare frees New Yorkers from the burden of car ownership – while helping to fight climate change," said DOT Commissioner Rodriguez, announcing the expansion today.
And while there are definite environmental as well as individual pocketbook benefits to sharing rather than owning cars in a city as dense as NYC (Streetsblog looked at the report on the pilot program back in December), what the city does not advertise as prominently is that these "Spaces must be sited in a permanent parking lane (cannot convert to a moving lane)."
This has significant implications for the future use of streets.
And while the city has been busy rethinking the use of the curb spaces, there has been little by way of public discussion on this topic – local news outlets are not what they used to be, and few go to the community board meetings –  so let's see what else is planned.
Bicycles
In addition to this car-sharing parking expansion, the city is also expanding and looking for curb space for bike sharing (Citi bike), along with expanding bike lanes in Flatbush and Midwood, East Flatbush, and a very long list of other projects.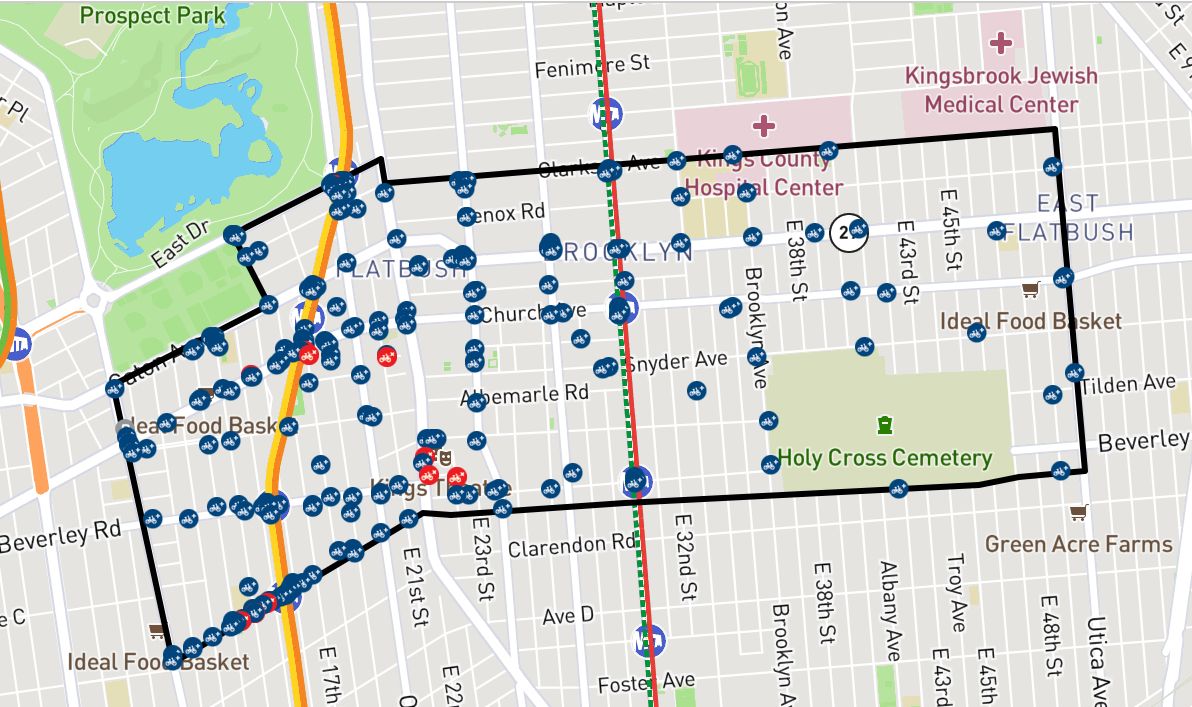 CitiBike is coming to parts of Flatbush and East Flatbush, bordered by Coney Island Ave to the west, Caton and Clarkson Avenues to the north, Utica Ave to the east, and Cortelyou Road to the south, this year as the final installment of Phase 3 expansion of the network in Brooklyn.
The city's Department of Transportation is currently soliciting feedback on the best locations for new bike stands (as well as where they should not be placed - as of today, over 600 responses have been logged in their system). Train stations and libraries are popular spots, as are commercial strips like Church Ave, Bedford Ave, and Cortelyou Road, along with notes to make the bike lanes permanently protected.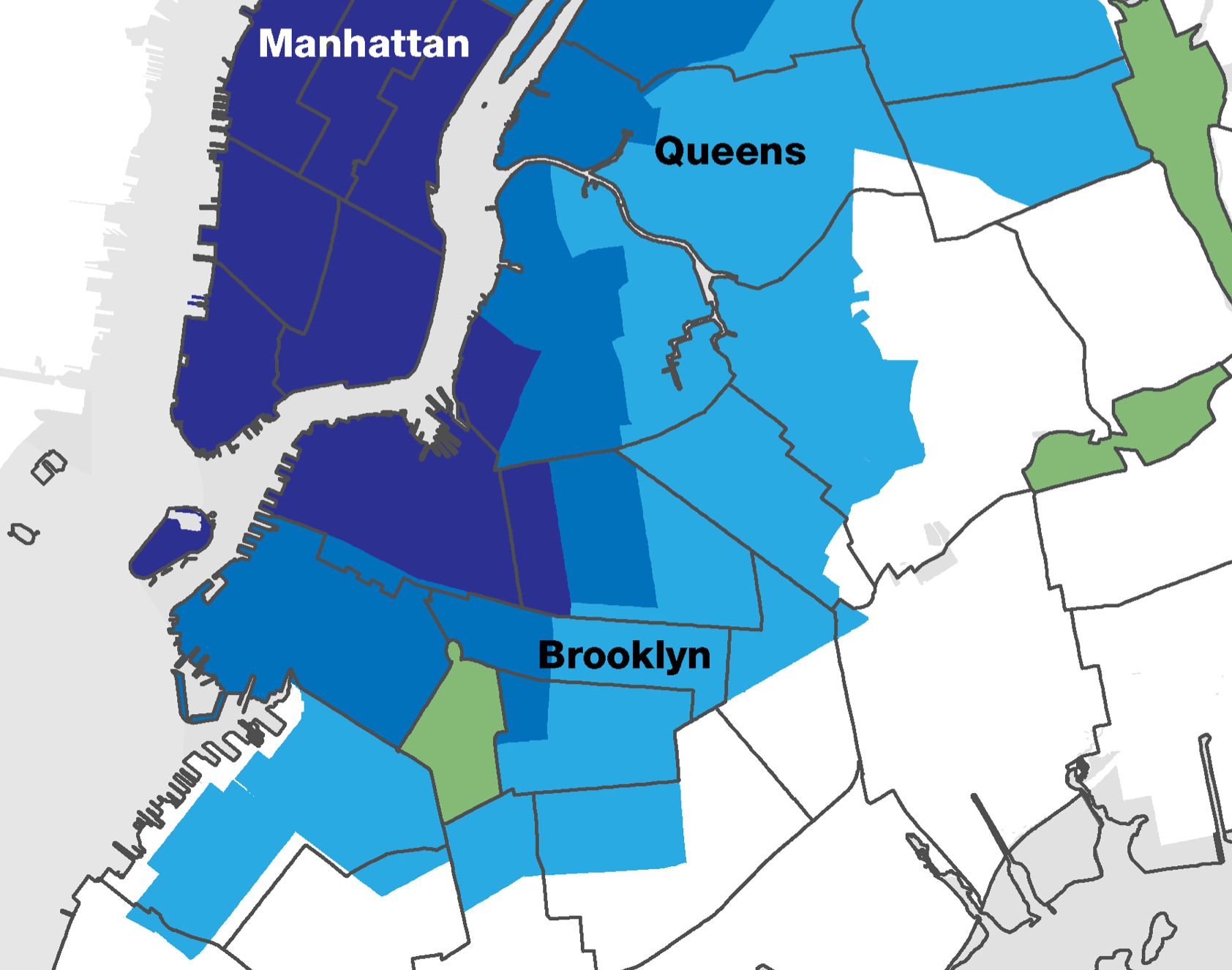 Buses
The city is also looking at reorganizing its bus network and increasing the number of dedicated bus lanes – that means looking at available curbs as well.
Electric Vehicle Charging Stations
The city is also currently piloting electric curbside charging, which is likely to be expanded to 10,000 spots, locking in even more parking spots permanently.
When the city celebrated the installation of the 100th Level 2 public electric vehicle charging port in August of 2022, ConEdison, who is funding the 4-year pilot, put out a press release saying it "sees an increasingly vibrant EV market in New York, citing the interest in its PowerReady program which offers incentives covering up to 100 percent of the infrastructure costs of installing new chargers. The company aims to support the installation of approximately 19,000 chargers by 2025."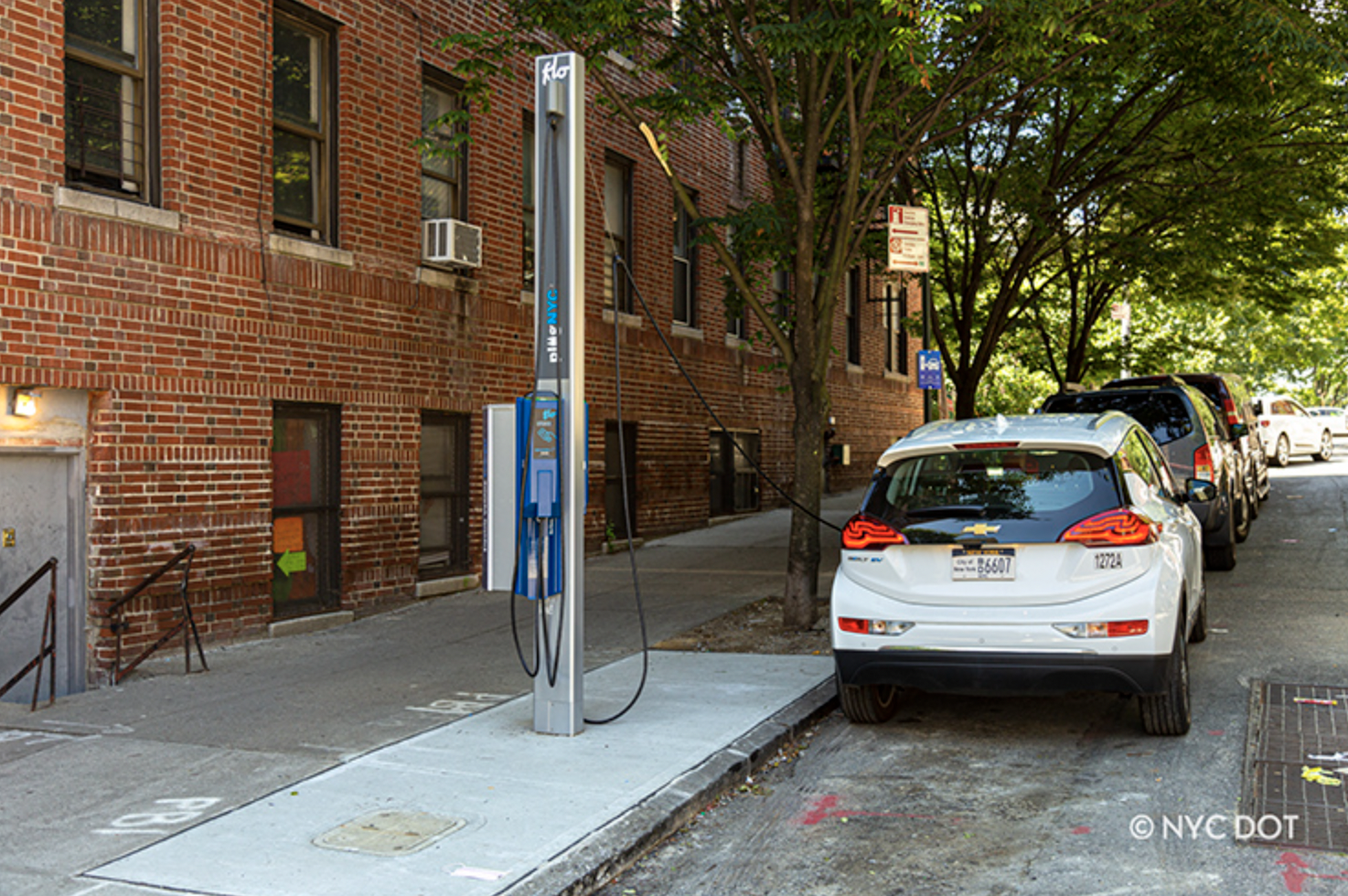 It's good business. The city says that at EV charging stations, "Users pay for charging on a per hour basis, with a cost of charging that is competitive with the cost of gasoline for an internal combustion engine vehicle." They also pay for any on-street parking meters where charging stations are located.
Concerns for Future
Once installed, the streets on which these charging facilities are located can no longer be converted to what the city calls "moving lanes" – bus lanes, bicycle lanes, or anything but parking. Dedicated parking for carsharing is of a more temporary nature – after all, it is just paint on the ground and a new sign –  but that, too, signals what is and what is not coming to a block near you.
---
Below are the locations of the new and existing carshare and electric vehicle charging stations across Brooklyn.
New Carshare Locations
Getaround 586 74th Street, Brooklyn, NY 11209 Brooklyn
Getaround 252 Irving Avenue, Brooklyn, NY 11237 Brooklyn
Getaround 887 Broadway, Brooklyn, NY 11206 Brooklyn
Getaround 1009 Broadway, Brooklyn, NY 11221 Brooklyn
Getaround 970 Hancock Street, Brooklyn, NY 1122 Brooklyn
Getaround 1401 Greene Avenue, Brooklyn, NY 11221 Brooklyn
Getaround 344 Central Avenue, Brooklyn, NY 11221 Brooklyn
Getaround 4401 5th Avenue, Brooklyn, NY 11220 Brooklyn
Getaround 308 76th Street, Brooklyn, NY 11209 Brooklyn
Getaround 6401 11th Avenue, Brooklyn, NY 11219 Brooklyn
Getaround 2133 Strauss Street, Brooklyn, NY 11212 Brooklyn
Getaround 635 Watkins Street, Brooklyn, NY 11212 Brooklyn
Getaround 724 Mac Donough Street, Brooklyn, NY 11233 Brooklyn
Getaround 84 Mother Gaston Boulevard, Brooklyn, NY 11233 Brooklyn
Getaround 37 Dumont Avenue, Brooklyn, NY 11212 Brooklyn
Getaround 890 Rockaway Avenue, Brooklyn, NY 11212 Brooklyn
Zipcar 34 Gunther Place, Brooklyn, NY 11233 Brooklyn
Zipcar 2065 Pacific Street, Brooklyn, NY 11233 Brooklyn
Zipcar 34 Marconi Place, Brooklyn, NY 11233 Brooklyn
Zipcar 1209 Herkimer Street, Brooklyn, NY 11233 Brooklyn
Zipcar 2310 Dean Street, Brooklyn, NY 11233 Brooklyn
Existing Carshare Locations As of February 7, 2023

Zipcar 133 Ainslie Street, Brooklyn, NY 11211 Brooklyn
Zipcar 352 South 5th Street, Brooklyn, NY 11211 Brooklyn
Zipcar 349 Grand Street, Brooklyn, NY 11211 Brooklyn
Zipcar 226 Humboldt Street, Brooklyn, NY 11206 Brooklyn
Zipcar 192 Maujer Street, Brooklyn, NY 11206 Brooklyn
Zipcar 84 Meserole Street, Brooklyn, NY 11206 Brooklyn
Zipcar 239 Metropolitan Avenue, Brooklyn, NY 11211 Brooklyn
Zipcar 151 Metropolitan Avenue, Brooklyn, NY 11249 Brooklyn
Zipcar 229 Montrose Avenue, Brooklyn, NY 11206 Brooklyn
Zipcar 180 North 12th Street, Brooklyn, NY 11211 Brooklyn
Zipcar 180 North 5th Street, Brooklyn, NY 11211 Brooklyn
Zipcar 166 North 8th Street, Brooklyn, NY 11211 Brooklyn
Zipcar 63 Roebling Street, Brooklyn, NY 11211 Brooklyn
Zipcar 326 Wythe Avenue, Brooklyn, NY 11249 Brooklyn
Zipcar 146 South 2nd Street, Brooklyn, NY 11211 Brooklyn
Zipcar 386 Hooper Street, Brooklyn, NY 11211 Brooklyn
Zipcar 171 South 4th Street, Brooklyn, NY 11211 Brooklyn
Zipcar 103 Seigel Street, Brooklyn, NY 11206 Brooklyn
Zipcar 352 Union Avenue, Brooklyn, NY 11211 Brooklyn
Zipcar 34 Dean Street, Brooklyn, NY 11201 Brooklyn
Zipcar 232 Hicks Street, Brooklyn, NY 11201 Brooklyn
Zipcar 87 Nevins Street, Brooklyn, NY 11217 Brooklyn
Zipcar 116 Bond Street, Brooklyn, NY 11201 Brooklyn
Zipcar 110 Smith Street, Brooklyn, NY 11201 Brooklyn
Zipcar 110 Dikeman Street, Brooklyn, NY 11231 Brooklyn
Zipcar 254 Baltic Street, Brooklyn, NY 11201 Brooklyn
Zipcar 60 Butler Street, Brooklyn, NY 11231 Brooklyn
Zipcar 135 Carroll Street, Brooklyn, NY 11231 Brooklyn
Zipcar 407 Clinton Street, Brooklyn, NY 11231 Brooklyn
Zipcar 226 Columbia Street, Brooklyn, NY 11231 Brooklyn
Zipcar 112 Congress Street, Brooklyn, NY 11201 Brooklyn
Zipcar 562 Court Street, Brooklyn, NY 11231 Brooklyn
Zipcar 215 Garfield Place, Brooklyn, NY 11215 Brooklyn
Zipcar 590 Henry Street, Brooklyn, NY 11231 Brooklyn
Zipcar 115 Kane Street, Brooklyn, NY 11231 Brooklyn
Zipcar 372 2nd Street, Brooklyn, NY 11215 Brooklyn
Zipcar 475 6th Avenue, Brooklyn, NY 11215 Brooklyn
Zipcar 347 6th Avenue, Brooklyn, NY 11215 Brooklyn
Zipcar 400 6th Avenue, Brooklyn, NY 11215 Brooklyn
Zipcar 208 6th Avenue, Brooklyn, NY 11215 Brooklyn
Zipcar 199 8th Avenue, Brooklyn, NY 11215 Brooklyn
Zipcar 1203 8th Avenue, Brooklyn, NY 11215 Brooklyn
Zipcar 411 8th Avenue, Brooklyn, NY 11215 Brooklyn
Zipcar 688 Union Street, Brooklyn, NY 11215 Brooklyn
Zipcar 912 8th Avenue, Brooklyn, NY 11215 Brooklyn
Zipcar 101 8th Avenue, Brooklyn, NY 11215 Brooklyn
Zipcar 139 Prospect Park West, Brooklyn, NY 11215 Brooklyn
Brooklyn's on-street charging locations (Street followed by cross streets and the number of level 2 chargers):
| | | | | |
| --- | --- | --- | --- | --- |
| 13th Street | 5th Avenue | 4th Avenue | 2 | Brooklyn |
| 3rd Avenue | 33rd Street | 34th Street | 6 | Brooklyn |
| 43rd Street | 5th Avenue | 4th Avenue | 4 | Brooklyn |
| 8th Street | 6th Avenue | 7th Avenue | 2 | Brooklyn |
| Brooklyn Avenue | St. Marks Avenue | Prospect Place | 2 | Brooklyn |
| Clarkson Avenue | 40th Street | Albany Avenue | 4 | Brooklyn |
| Court Street | 1st Place | Carroll Street | 2 | Brooklyn |
| Elton Street | Flatlands Avenue | Locke Street | 4 | Brooklyn |
| Lenox Road | New York Avenue | East 34th Street | 4 | Brooklyn |
| Linden Boulevard | East 96th Street | Rockaway Parkway | 2 | Brooklyn |
| Marcus Garvey Boulevard | Broadway | Park Avenue | 2 | Brooklyn |
| Meeker Avenue | Metropolitan Avenue | Rodney Street | 6 | Brooklyn |
| Norman Avenue | Dobbin Street | Guernsey Street | 4 | Brooklyn |
| North 4th Street | Bedford Avenue | Berry Street | 4 | Brooklyn |
| Prospect Park West | 5th Street | 6th Street | 2 | Brooklyn |
| Stuyvesant Avenue | Fulton Street | Chauncey Street | 2 | Brooklyn |