Reynoso To City: Bushwick Rezoning Plan Falls Short On Housing
BUSHWICK – Tuesday night, about 50 people piled into a conference room at the Bushwick Multi-Service Center to discuss updates to the Bushwick rezoning plan put forth by the city. Among them were Brooklyn Community Board 4 members, anti-gentrification advocates, Bushwick residents, and elected officials.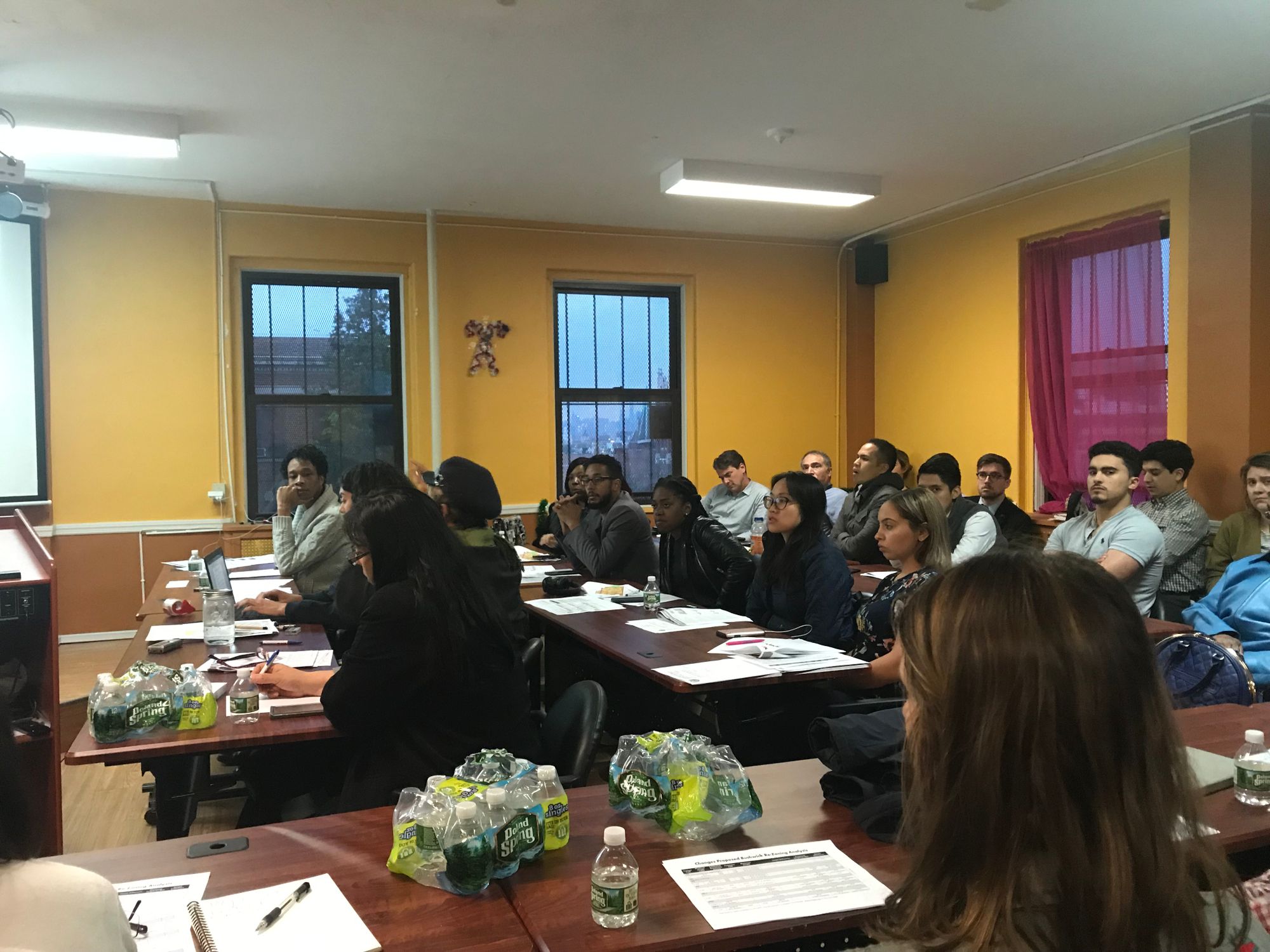 City officials communicated how they plan to rezone Bushwick and what parts of the Bushwick Community Plan (BCP) they were going to implement. The BCP, which was submitted in September, calls for down-zoning housing, declaring some areas historic districts and investing in open space and health resources. It was created by residents, nonprofits and local politicians who were upset by the gentrification and rapid displacement of longtime Bushwick residents. The plan the city presented last night, however, deviated from the BCP quite a bit.
At the top of the meeting, CB4 Land Use Committee Chairperson Martha Brown announced that questions would be limited as they only booked the room from 6pm to 7:30pm, a statement which added tension to an already-tense meeting. CB4 Chairperson Robert Camacho added that like many people at the meeting, he too was against working with the city to rezone Bushwick, but after "being on the forefronts" of this plan, he believes that this is the most effective way for the community to be heard. Urging community members to listen to what the city was presenting, he said "this is not a debate, this is not a fight, this is not an argument."
Sarit Platkin from the Department of City Planning (DCP) presented the comprehensive Bushwick Neighborhood Plan that she said was "based in large part on the outreach that has been conducted over several years by the Bushwick steering committee and their community planning document."
Regarding housing, the city proposed using some already-existing plans such as the Neighborhood Pillars Program, launched in December 2018, the Landlord Ambassadors Program, launched in 2017, and the Certification of No Harassment Pilot Program, launched in September 2018, to protect tenants and support landlords. They also proposed offering loans and tax incentives to encourage building owners to keep homes affordable.
For affordable housing, the city said they want to make the application process easier for Bushwick residents, and create 100 percent affordable housing at city-owned sites. Some specifics offered include building 28 affordable rental homes at 63 Stockholm Street, 24 units of affordable homeownership apartments at Old Stanley and up to 16 stories of new family and supportive housing at 1531 Broadway.
Regarding land use, the city proposed keeping all side street and midblock buildings at three or four stories (zoned R5B and R6B), depending on surrounding structures. This is supposed to combat any out-of-context developments.
They are also evaluating the historic preservation of three historic district areas and six individual buildings, which were included in the BCP. The historic district study areas include Northeast Bushwick (roughly bounded by Ridgewood Place, Knickerbocker Avenue, and Putnam and Halsey Streets); Moffat Street (between Central and Evergreen Avenues); and Bushwick Avenue (between Greene and Madison Streets). The buildings recommended for individual landmark designation include Little Sisters of the Poor, Public School 52, Hamburg Savings Bank, Ulmer Rowhouses, 71 Cornelia Street, and Arion Hall.
In mixed-use corridors, such as the intersection of Knickerbocker Ave. and Stockholm St. and neighborhood corridors, such as Wilson Ave., the city proposes "medium density" development, meaning that buildings can reach six or seven stories (zoned R6A and R7A), and be used for commercial use and affordable housing. Transit corridors, however, will be zoned for higher density, mixed-use development, including residential, retail and commercial. In these areas, namely along Broadway, Myrtle and Wyckoff Avenues, buildings could reach up to 16 stories. All of the areas, the DCP says, would meet Mandatory Inclusionary Housing (MIH) requirements.
For industrial areas, DCP wants to continue to prohibit new residential uses, but allow new industrial, community facility and commercial developments. In industrial areas, buildings would be able to reach between eight and 14 stories.
Other highlights in the plan include investing $10 million in parks, increasing pedestrian safety by implementing more crosswalks and curb extensions, and a reconstruction of the Myrtle/Wyckoff Plaza. They also said they want to ensure Bushwick residents have access to healthy food and will continue to provide service through the Shop Healthy Program, an initiative started in 2012.
Although only a few questions were allowed, it was clear that community members were not happy with the city's plan.
During the affordable housing part of the the presentation, one attendee yelled "What do you mean by 'affordable?'" At the time, the question was skipped, but later answered by Deputy Commissioner of Neighborhood Strategies Leila Bozorg who said the MIH program and other affordable housing strategies would be considered.
The BCP specifically does not include manufacturing in residential developments, but the city's plan does. This was something CB4 District Manager Celestina Leon told Bklyner she anticipated pushback before the plan was even presented. The city's plan also includes much more market-rate housing than the BCP, and only provides the MIH-required amount of affordable housing.
Council Member Antonio Reynoso (District 34, Williamsburg, Bushwick, Ridgewood) was in attendance and said that the city's plan "fell short," especially when it comes to housing. Some buildings which the BCP requested to be zoned R6, are zoned R7 and R8. He also says that there are more market-rate housing units (6,000 to 8,000) included in the city's plan, and not enough affordable housing.
Reynoso adds that many of the programs presented as part of the city's plan to preserve Bushwick are already in existence, and the city shouldn't "sell them back to the community" as a unique effort meant to help this specific neighborhood.
But, he still believes in the plan and is hoping that if passed, it will be a version closer to the original BCP. "If we didn't have this process, I can only imagine how much worse it would have been," Reynoso said.
When Platkin concluded her presentation by saying "all of this will result in," a community member interjected yelling "displacement!" At that time, many attendees expressed their disappointment in the city, including Martha Brown. "This affordable housing you're speaking of is a dream to us," she said. "You're about five years too late."
Another attendee said that after 20 years, she is moving out of Bushwick. "The hurting is not seeing kids in the neighborhood," she said.
Alex Fennell from the nonprofit Churches United for Fair Housing said that this is pretty much what she expected coming into the meeting, and the city's plan will result in tons of luxury housing. She also said that affordable housing options aren't affordable enough for Bushwick residents. "The city continuously dangles affordable housing in front of us and it just seems disingenuous."
Fennell also says that a racial impact study would be helpful to inform the plan. "We're not having a frank and honest conversation about affordability, and we're definitely not having a frank and honest conversation about race," she said.
This is the first of many presentations where the city plans to update the community and hear feedback. The next meeting, with the full Community Board 4, is scheduled for May 15. Click here to see DCP's Bushwick Neighborhood Plan.