Revel Launches Dockless Scooter Share in North Brooklyn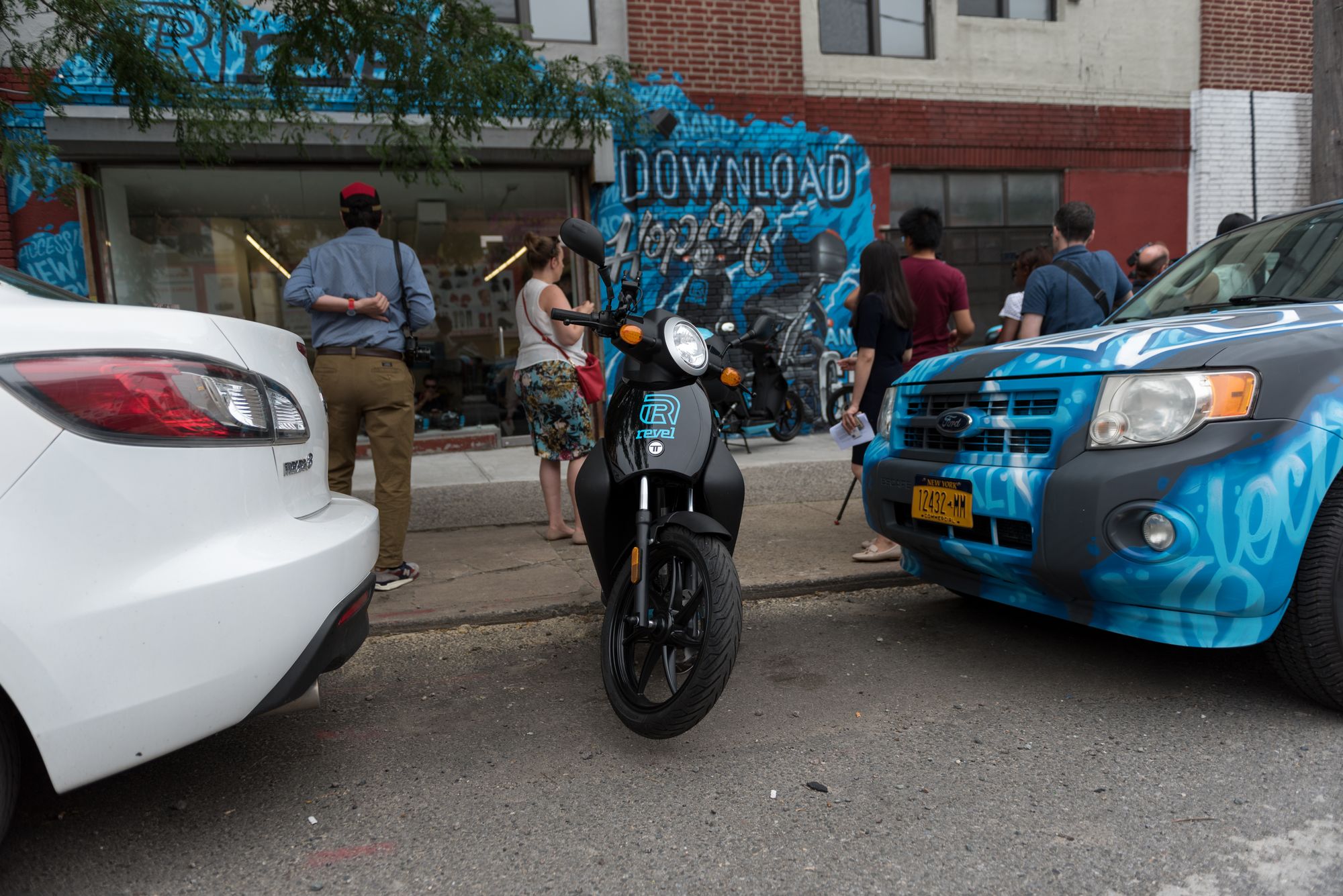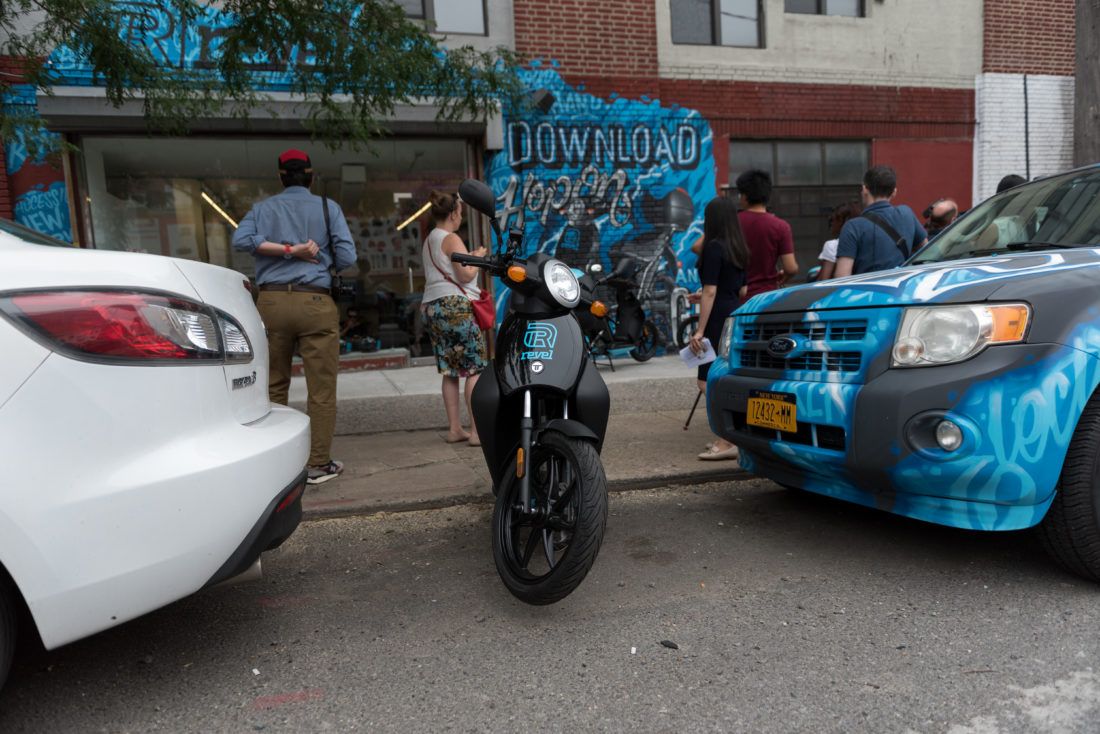 BUSHWICK – Sixty-eight shiny new electric scooters are hitting the streets of North Brooklyn in the next few days as Revel launches its pilot program for a ride-sharing business aiming for the space between CitiBike and subway riders.
After downloading an app, passing a driving background check and paying a one-time registration fee of $25, eligible riders will be able to track down any of the scooters on the streets of Greenpoint, Williamsburg or Bushwick and take it for a ride—for a fee.
Rides will cost $4 for the first 20 minutes, and $0.25 per minute after that ($15/hour). Tracked by GPS, they can be driven in Queens or Brooklyn for the time being, but crossing a bridge into Manhattan will incur a fine. If a rider wants to stop and run into a store or eat dinner, they can reserve their scooter for $0.05 per minute ($3/hour).
No matter where they're taken to, the scooters must be returned to the home area of Greenpoint, Williamsburg or Bushwick before they can be dropped off, and riders must park them legally: in a legal space, perpendicular to the curb.
While many communities are wary of dockless bike shares for their potential to be left on sidewalks and in doorways, cluttering up the streets, Revel intends to avoid that issue with stricter parking requirements.
After all, these are Class B electric motor vehicles, registered with the DMV, featuring license plates. They top out at 29 mph and can be driven on city streets, but not highways or expressways.
To qualify for the service, potential riders must be 21 years or older and have no DUIs on their record in the last 10 years, or speeding tickets from the last couple years. After signing up, riders can either watch an instructional video about how to use the scooters or visit the office near the Jefferson L stop for a free training. But other than that, they're ready to hit the streets.
Pitching the bikes as a middle ground between CitiBike, which hasn't found its way into Bushwick yet, and the subway, co-founder Frank Reig said riding a Revel scooter should cost about $1 more than a similar MTA trip—and be faster.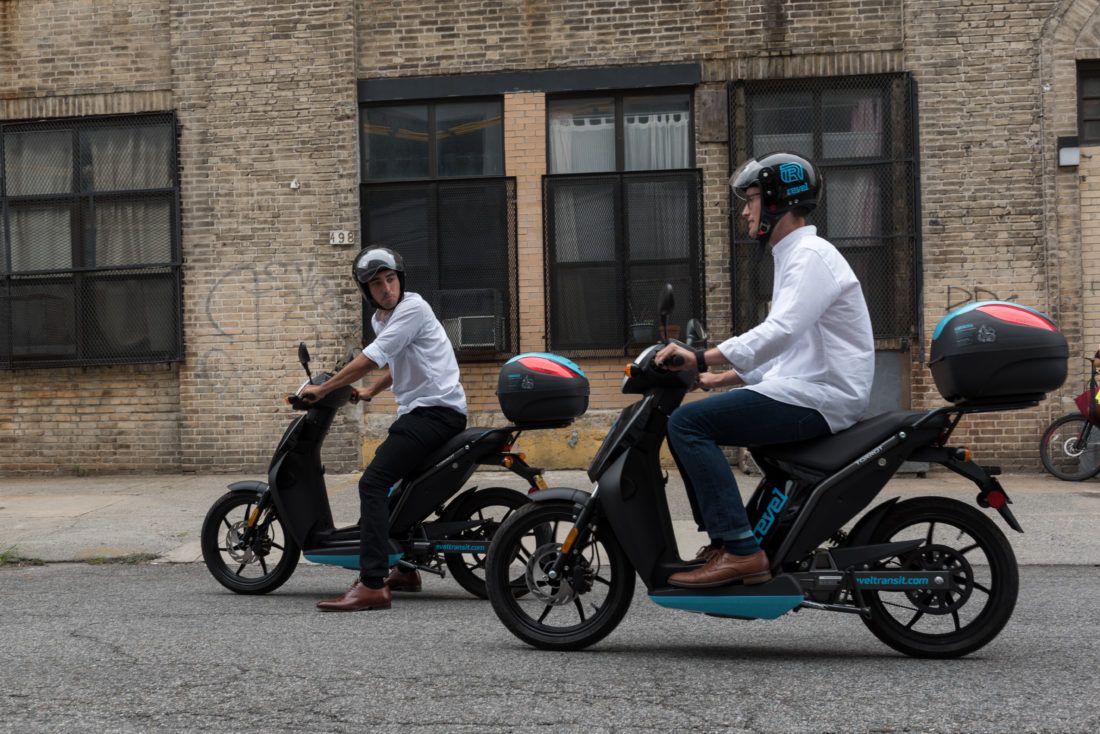 The scooters have a range of 50 miles per charge and will display how far they can go in the app. The company plans to cruise the streets in an SUV during the pilot program, switching out drained batteries in parked scooters to keep customers cruising.
While the program went live today in the three North Brooklyn neighborhoods, co-founder Paul Suhey said that the company hadn't presented to either Community Board 1 or 4, which represent those neighborhoods. He cited the summer recess through September as a reason, but also said the program had been in the works since January.
With 68 new vehicles hitting the streets, and the founders hoping to grow that number significantly, it seems they haven't engaged with local residents much at all. Suhey said they were relying on local Councilmember Antonio Reynoso to help with that.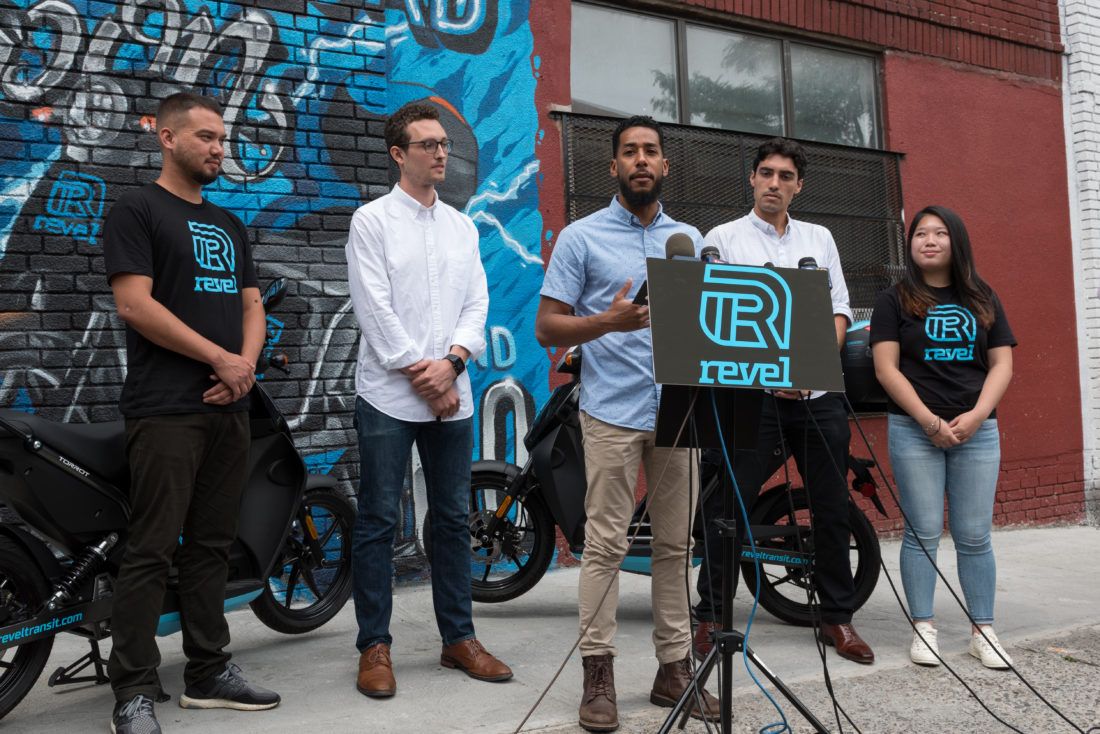 Reynoso spoke at the launch as well, telling those gathered that Revel is adding a missing piece of the transit puzzle when it's extremely necessary—a reference to the coming L Train shutdown.
"I want to make sure we give enough freedom to these companies to think outside the box," said Reynoso, who added it was time to "break down car culture" in Brooklyn.
Both the Revel founders and Councilmember Reynoso cited the air pollution issues in Bushwick and North Brooklyn as a good reason for an electric scooter share, but didn't address the root cause: heavy truck traffic in the neighborhoods, which may provide an extra level of danger for fleets of inexperienced scooter riders zipping around the streets.
At today's event, Reig and Suhey were hesitant to define the length of the pilot program or the number of riders needed to make the company feasible, focusing instead on plans to expand, mentioning hundreds of scooters and name-checking neighborhoods like DUMBO, Crown Heights, and even Bay Ridge.
Feig connected the name of the company to the joy of scooting through the streets of Brooklyn: "Once you get on one of these things," he said, "You don't look back."
Launching their company and looking already to the future, it's clear Revel isn't looking back either.