Resident Brings Times Square Community Art Project To Manhattan Beach – Here's How To Participate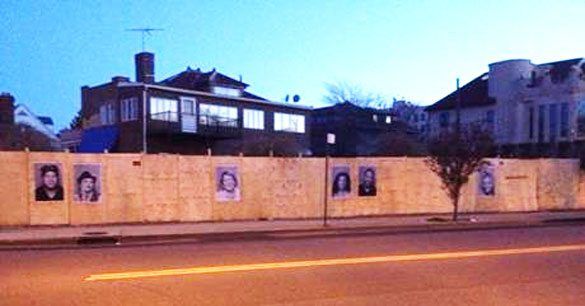 We received the following e-mail this morning, forwarded by the Manhattan Beach Neighborhood Association. The project seems cool. We're going to try and get in on the action; you should too!
Here's the e-mail, which we've edited a bit:
There is an incredibly exciting moment in art that you can be a part of.
It's not often that artists approach people from all walks of life and ask them to help them create their vision. Art is most often a solitary process that is an expression of one's inner most thoughts and creations. Sometimes there is collaboration with peers. Sometimes artists involve others as a form of outreach or to make social commentary. When this happens it is exciting both for the artist and the people involved.
The artist JR has created a project the scope of which I have never seen before. He started out as a simple graffiti artist working the streets of Paris, and has quickly grown to be one of the most influential minds of our generation. You and I have the opportunity to join him in the project he calls 'Inside Out'. hasIt's currently in place in Times Square for the next few days, and he's done this all around the world. He also did a TED talk a year into the project,where he speaks of the impact he made through it.
His goal in coming to NY is to reach all five boroughs. I am inviting you to join me in helping him out. I'd also like to send a message with our community hanging to show how resilient we Brooklynites are.
If any of you were effected by Hurricane Sandy, helped someone in need during that time, or just want to show your support for victims, I'd like you to have your photo taken so that we can hang it in Manhattan Beach and send a visual message of strength. We will be helping JR make artistic history and also be making history of our own.
Here's what to do:
Go to Times Square any day from now until May 10th to have your photo taken (NO CHARGE). The photo truck will be at 47th and 7th Avenue (from 12-8 PM) every day and will print your photo out on the spot.
Once you have your photo, bring it back to Brooklyn to hang yourself. Wheat paste is the glue used to hang these photo paper posters. There are also instructions on how to make wheat paste online. It's very simple. I believe that they might be giving out wheat paste at the Times Square truck too.
We will be hanging the photos on the corner of Hastings Street and Shore Blvd. in Manhattan Beach (see photo above). The family whose house was devastated by Hurricane Sandy has been gracious enough to allow us to hang these posters on the shed that is barricading their house. Their home was badly damaged during the hurricane and they were forced to leave.
Hanging these posters will also serve as a message of support to this family who were abruptly forced to evacuate their home.
The sooner we hang the posters the better. As they go up we will need to document what we have done through photos that we can share with JR. He will post these on his site for all to see and we will be added to the community of people that are part of Inside Out all over the world.
Rina
You can get a PDF of the project guidelines here.