Report: No Evidence Of Union Slowdown After Blizzard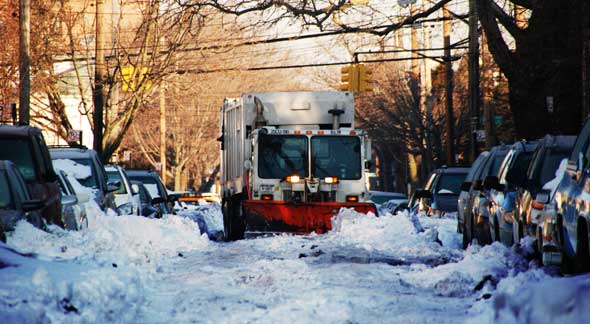 More than five months after allegations surfaced blaming a union slowdown for the city's bungled response to the crippling December 26 blizzard, New York City's Department of Investigation released a 47-page report saying there is no evidence indicating an organized union action brought the city to a halt.
The report, issued Friday, was the culmination of testimony from 150 witnesses, as well as video and photos from city dwellers, in response to allegations by Councilman Dan Halloran. The Queens pol claimed a handful of Sanitation Department personnel came clean to him in private meetings. He refused to name all but two of the employees, and the two he named told investigators they did not reach out to the councilman, nor did they tell him there was a slowdown in effect.
"In toto, Mr. Halloran's information about city employee statements contributed no actual evidence about a possible slowdown," the report concluded.
Without testimony from DSNY personnel, investigators could not find sufficient evidence to prove the allegations, though they did note systemic failures and instances of abuse or inefficiencies during the blizzard cleanup.
In at least a half dozen instances among hundreds reviewed, investigators did find that trucks were idle or operators were driving with the plow raised for no apparent reason. Using city-owned surveillance cameras as well as photos and video obtained by residents, investigators also found several cases in which drivers left their vehicles to buy beer or coffee, though noted that those trucks were usually stuck. Those found buying alcohol while on the job are now facing disciplinary charges, the union told the New York Times.
Other deficiencies included a controversial decision to halt street salting, the use of fragile snow chains, and the failure to declare a snow emergency – all of which hampered the cleanup effort, investigators concluded. Investigators also recommended expanding the use of surveillance cameras and GPS, as well as reviewing the protocol for stuck DSNY vehicles, as possible remedies in the future, either for reducing complications or evaluating efficiency after the storm.
Overall, the report appears to vindicate the embattled Sanitation union, which became a whipping boy for anti-union advocates nationwide.
"The report confirms my contention that the members of this union would never participate in an organized action that puts our city and its people at risk," Harry Nespoli, the president of the sanitation workers union, said in a statement reported by the Times.
Councilman Halloran, though, is now facing heat for stoking flames by misdirecting residents' anger towards the union.
In a Saturday editorial, the Daily News said of Halloran's claims: "every bit of it was a lie."  They wrote:
As for big-mouthed, publicity-loving Halloran, DOI concluded that his account of being tipped off by supervisors was bogus to the core. The two men swore under oath that they had never told Halloran anything remotely like the fantastic tale that put him on the front page.
They also testified that Halloran attempted to badger them into supporting the slowdown fable – which they refused to do.
Halloran also purported to have other whistleblowers. He has refused to name them for the grand jury. Of course he did, because they surely do not exist. This guy is unfit for office.
Halloran, meanwhile, is sticking by his claims. He said the absence of evidence is not the evidence of absence, saying that the report did not "come to any definite conclusion" about a union slowdown.
"I am proud that my constituents felt I would have the courage of my convictions to take on the city," Halloran said in a statement reported by the Times. "They expect me to stand up for them and be their voice and I am going to keep doing that."
The half-dozen or so cases of individual, isolated abuse identified by the report will face further investigation, the report noted.