Report: Many Of Brooklyn's Bridges Need Serious Repairs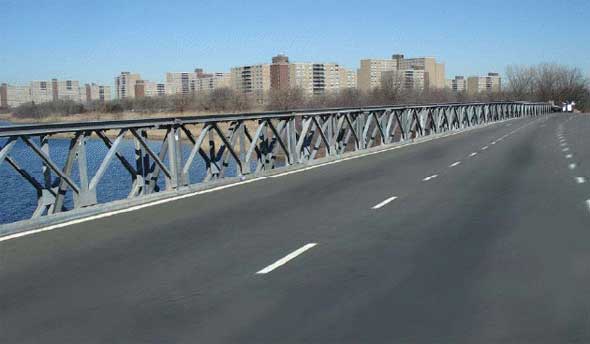 The borough of Brooklyn has a serious bridge problem, as 240 of them, which is more than half, need serious repairs, according to a new report. The New York Daily News is reporting that some of the worst bridges in the borough include the seven bridges along the Belt Parkway that are in the process of rehabilitation.
Of the 240 Brooklyn bridges cited for serious repair, 15 were designated as "fracture critical" and "structurally deficient" by the Federal Highway Administration. Bridge expert Barry LePartner told the Daily News that analysis such as this spells bad news.
"Every time you see a bridge classified as structurally deficient and fracture critical it means that bridge could fall at a moment's notice," LePartner said, ""It's extremely dangerous for people going over these bridges."
The Daily News reported that in the time of Mayor Michael Bloomberg's reign as mayor, the federal government has given New York City $6 billion for bridge repair with an estimated $1 billion designated for Brooklyn. A majority of that money has gone to the Brooklyn Bridge ($500 million) and the seven bridges of the Belt Parkway ($365 million) but experts say that more money and effort are needed to repair and restore many of the crossways, many of which were built over 70 years ago:
A large number of the bad bridges date back to the 1930s and 40s, and take years to fix.
For example, it has been four years now since the city undertook a $365 million project to rebuild seven crumbling bridges along the Belt Parkway. Those crossways carry an estimated 150,000 cars a day through Brooklyn and Queens to John F. Kennedy Airport and Nassau County to the east, and to the Gowanus Expressway and Verrazano-Narrows Bridge to the west.
Those bridges are located at the Paerdegat Basin, Gerritsen Inlet, and by Bay Ridge Ave., as well by the Fresh Creek Basin and Rockaway Parkway in Queens.
Councilman Lew Fidler told the Daily News that the city was working to repair the bridges but that the issue is serious and costly.
"We all know those bridges are the worst of the worst. Those bridges have launched the careers of so many personal injury lawyers," Fidler told the Daily News.