Report: DOE Stacked Deck Against Sheepshead Bay High School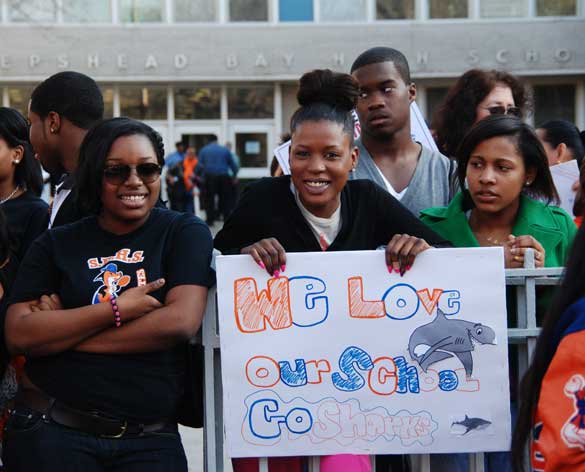 Sheepshead Bay High School, which the city decided to "phase out" at the end of last semester due to poor performance, had the deck stacked against them by Department of Education policies that overloaded them with difficult students.
A new study by the Annenberg Institute for School Reform confirms the departments policies of dumping high-needs kids in struggling schools, worsening their chances at success.
The New York Post reports:
The students who don't participate in the regular high-school selection process — known as "over the counter," or OTC, students — are likelier to be new immigrants, have special needs, be homeless or have a prior history of behavioral issues.
Yet the DOE knowingly assigned huge numbers of them to dozens of schools that were either already being shuttered for poor performance or that were subsequently approved for closure, the study found.
"Compelling evidence suggests that the DOE's inequitable assignment of OTC students to struggling high schools reduces the opportunities for success for both the students and their schools," said Norm Fruchter, an Annenberg associate and one of the study's authors.
At Sheepshead Bay HS in Brooklyn, the percentage of OTC kids assigned each year grew from 18 percent in 2008 to 25 percent in 2011 — well above the average for large high schools. After the school's performance began to suffer, it was approved for closure earlier this year.
The report confirms claims made by Sheepshead Bay High School (3000 Avenue X) supporters that gains they had made in recent years were rapidly undermined by a growing student body of high-needs students, a claim the fell on deaf ears at public hearings over the school closure.
Even with the high rate of OTC students, Sheepshead Bay High School administrators had claimed they had a tremendous success rate at converting those low-performers into achievers, through less traditional means like extra-curricular activities and special programs.
Still, their graduation rates weighed on the rest of the student body, leading to the closure of Sheepshead Bay High School.