Rep. Michael Grimm Blames Obama For His Legal Woes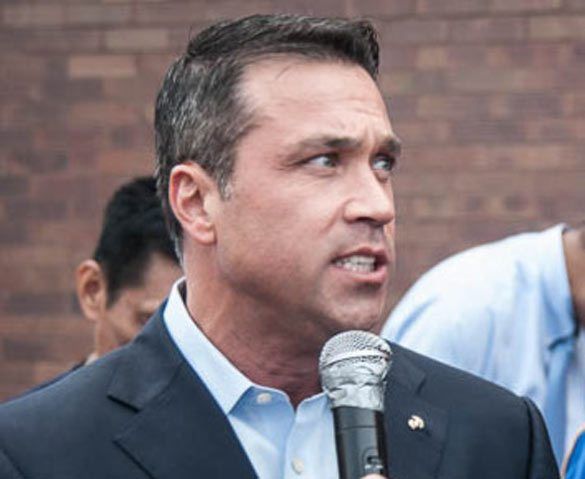 Congressman Michael Grimm faces a 20-count indictment for tax evasion and illegal employment practices stemming from a restaurant he operated before running for Congress, charges he said are because the nation's commander-and-chief wants to see him gone.
Grimm made the allegations against the Obama administration on Tuesday before a gathering of Republican supporters rallying for gubernatorial candidate Rob Astorino. He also compared the United States to oppressive regimes in Iran and North Korea.
New York Observer reported on the statements:
"They change policy, they use regulation to legislate, they circumvent the Congress–this is now the norm for the Obama administration," Mr. Grimm fumed at the Bay Ridge Manor in Bay Ridge, Brooklyn.
"And when you look and see why they come after me so hard, every day another negative story [against] the only Republican in New York City, it becomes obvious: they don't want any opposition. This administration wants to do what it wants to do and they want you to forget about the America that you grew up in," he said.
… "Sometimes I wake up in the morning and I'm not sure what country I'm living in," he said. "Four Americans are killed and murdered in Benghazi–no one's held accountable …. The IRS, arguably the most feared agency in our entire government targeting people because of their political views. Now this happens in Iran, this happens in North Korea, but this is the United States of America."
The site reported that the statements "drew loud cheers."
Grimm has long maintained that the investigation against him, which began as a probe into his 2010 campaign fundraising, was a "political witch hunt" by Democrats looking to see the city's lone Republican congressman unseated. Prosecutors, however, have submitted paperwork to the court suggesting that Grimm's own documents show he kept two sets of books and paid employees – some of which were undocumented immigrants – in cash to avoid taxes.
Grimm's assertion that he is the subject of political retaliation has sparked snark from colleagues, including State Senator Diane Savino. The pol, whose district is largely within Grimm's, let forth a tirade on Facebook about Grimm's conspiracy theory back in April:
[G]et a grip folks, Mikey is not that important, he is no threat to the power structure, he is a slick talker with a nice resume who seems to be in trouble. he was not on track for greatness as a national leader, not on track to upset the national scene. Conspiracy, please….
Grimm pleaded not guilty to the charges.