Removal of Manhattan Beach's Planters Begins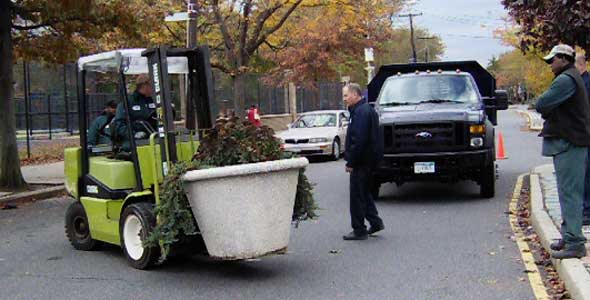 In an apparent victory for Manhattan Beach residents, officials began removing Oriental Boulevard's concrete planters on Friday.
The decision to remove the planters came after residents berated Mayor Bloomberg's community liaison during a Manhattan Beach Community Group meeting attended by the parents of the 4-year-old killed in a tragic bus accident last month. Residents stated in no uncertain terms that it was time the mayor prodded the agencies to action on traffic safety initiatives.
Sources told Sheepshead Bites that the mayor put in a call directly to the Parks Department's newly-instated Brooklyn Commission, Kevin Jeffrey.
But it's not the city doing the actual work, it's Kingsborough Community College. The city, which placed the 31 planters there four years ago, said it did not have the equipment to move them.
Kingsborough removed the first planter on Friday, placing it on the school's grounds.
"The offer to remove the planters was made as a courtesy to the community," KCC spokeswoman Ruby Ryles told the Daily News. "We have the space and it would enhance the safety of the boulevard."
Members of both of Manhattan Beach's civic associations celebrated the development.
"Thank you to everybody in the community that worked for the past three years to help make this a reality," MBCG president Ira Zalcman wrote on the group's website. "This is a wonderful victory for Manhattan Beach."
"It's about time," Manhattan Beach Neighborhood Association spokesman Edmond Dweck told the Daily News. "This has been going on since they were put in."
The planters were installed in 2005 at the request of the MBCG (at the time, the MBCG was the only civic group in Manhattan Beach), but were much taller than the ones requested. The group immediately heard complaints from residents that the four-foot-tall planters blocked the view of oncoming cars as drivers made turns off Oriental Boulevard. The community remained at loggerheads with the Parks Department's former Brooklyn commissioner, Julius Spiegel, who repeatedly dismissed their concerns.