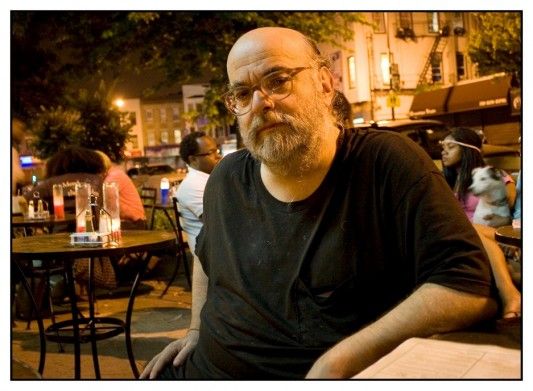 When many people in Ditmas Park think of what "neighborhood" means, about how it's the people who make that concept a reality, they often think of Ric Menello, a man who even if you didn't know him (and it seems everyone did), you at least saw him, someplace, everyplace, all the time. So when he passed away yesterday of a heart attack at the age of 60, it hit us, as a neighborhood, hard.
Raised in various areas in Brooklyn, Ric ended up in New Jersey as an adult and, in 2007, he moved back to Brooklyn — to Ditmas Park. He soon became a fixture at Vox Pop (so much so that he had a sandwich named after him), where he would write, drink tea, and talk with neighbors who stopped by. In his blog about Vox Pop's fascinating regulars, Bruce Zeines wrote a lovely piece about him in 2010:
Ric is an unassuming presence in our neighborhood. Middle aged, rotund with an Orson Welles like beard and funky clothing. One would automatically have judgmental thoughts in response to his physical appearance. But underneath the illusion of a jalopy, lies a well running, vintage Mercedes Benz.
One of thing that fueled Ric was film. He earned a degree in dramatic literature and cinema from NYU, and continued there with some postgraduate work in cinema studies. While at grad school, he was working part-time as a desk clerk on an overnight shift at a dorm, and he ended up befriending the Beastie Boys, Rick Rubin, and Adam Dubin, who would stop and talk to Ric about movies. Soon after, when the Beastie Boys were looking for someone to direct the video for "(You Gotta) Fight for Your Right (To Party)," they wanted Ric to do it — but he knew nothing about producing a video. Adam joined in to help, and they had one weekend to do it in, which he described in a story about the making of the video:
Menello and I definitely came up with the pie fight in the end, because we are such silent movie fans. We modeled the video after the party scene in the great movie Breakfast at Tiffany's. We just threw in every gag in the book…
Ric Menello's folks are the parents you see in the beginning and then again at end of the video. Ric had to hit his own mother in the face with the pie at the end…. Everybody pulled together, pitched in, and it all worked out. I can still remember cutting the back of the guitar, so that it would explode when they smashed it. But it was Ric Menello's idea for that great shot that everyone remembers…where the Beasties are on the couch singing the first chorus.
The pair also co-directed the video for "No Sleep 'till Brooklyn," in which Ric appears in the beginning as a club promoter. When the Beastie Boys' Adam Yauch passed away last year, Ric discussed the two videos with MTV News, saying jokingly, "If I knew that people were going to be looking at them 26 years later, I would've done better!"
Ric had a lot to be proud of in his career in cinema that followed. As a writer, he worked on scripts including the critically acclaimed  (and Oscar-snubbed) Two Lovers, directed by James Grey, who recently completed Lowlife, another one co-written by Ric, that is due out this year. When Bruce Zeines asked him why he choose this path of writing, Ric answered simply.
"Because, I cannot do anything else," he said.
In 2011, Ric was interviewed by The Wandering Corpse, and they discussed the many choices he made as a writer, like the calculated references to other films. They asked him what it was like to be a writer, compared to being a director.
"As long as I can make a living doing this and do some good work I am satisfied," he said. "Well, everyone likes to be acknowledged but in the end it doesn't matter all that much except as far as it gets you more work and more money."
He also named some his favorite films: The Searchers, Vertigo, Night of the Hunter, The Sweet Smell of Success, Rossellini's Voyage to Italy. "The best film of the last twenty-five years or so is Akira Kurosawa's Ran," he said.
Ric shared his love of film with the neighborhood in a few ways. He hosted a talk show about film called "That Menello Show," which you can catch on YouTube (you can also see him in a few recent Adam Dubin videos). Before it closed in the fall of 2010, he also hosted a number movie nights at Vox Pop. More recently, you could catch him sitting at the bar at Sycamore, always ready to provide more information about film than you thought possible.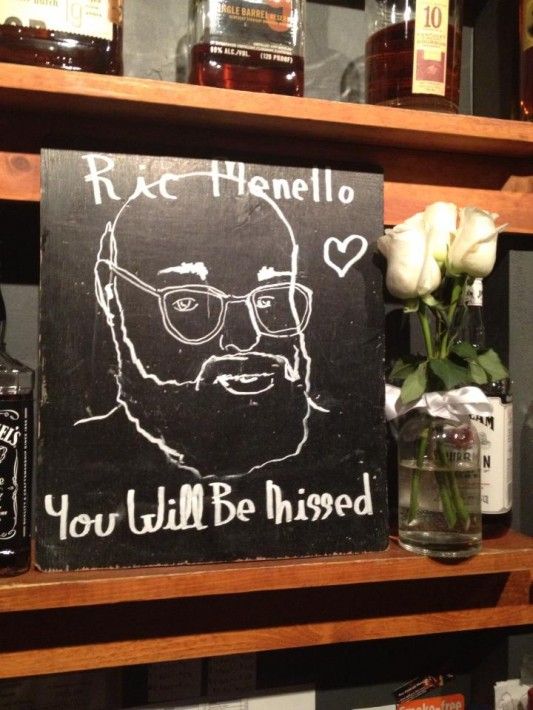 As word of his death spread around the neighborhood, a memorial was quickly arranged in Sycamore's basement last night. Whether people were able to attend or not, anecdotes and impressions have quickly popped up on the event's Facebook page. None are more powerful and able to create the picture of Ric, and this neighborhood, than the story shared by Angela Welch Stucker, who, with former Vox Pop owner Debi Ryan, encountered difficulties with the staff at the emergency room where Ric was taken yesterday:
When I told the cop that Ric lived alone and she said, "oh, so he was recluse," that's when I got a bit testy. Granted, we need to cut those folks some slack, when we said we were family, not blood, but still, and then couldn't give his address ("I know he lives on Beverly Road across from Mike Fiorito and Arielle Pezold-Fiorito" or his birthday ("I know he's a Leo"), well, you know. So I looked at the cop and said "you need to understand what our neighborhood is, I may not know his exact address, I know that he likes mushroom gravy on his mashed potatoes, and that he doesn't drink coffee, and that he loves Claude Chebrol movies."
So from then on, every chance we got we would tell people – "Ric is a brilliant screenwriter, "have you seen Two Lovers?", that he directed "No Sleep til Brooklyn" and "Fight for Your Right," and that his mom is the one in the video who gets a pie in her face (and that's Ric's hand that does it), that he is an amazing person with a whole lot of friends, that he may look a bit "homeless," but he is anything but, that he is a kind and thoughtful friend, that he IS SOMEBODY important to a lot of people. That he is my friend and you better treat him as such.
Ric's passing leaves a big hole in the heart of the neighborhood, and so we send our condolences out to everyone, to all of Ditmas Park.
A funeral will be held on Tuesday, March 5 from 4-8pm at Andrew Torregrossa & Sons, 2265 Flatbush Avenue. Flowers and expressions of condolences can be sent to the funeral home. A Ric Menello memorial event is being planned and should take place in the next few weeks, we'll let you know when we hear.
Top photo by Jeffrey Price
Drawing via Sycamore/Suzanna Cameron