Remember When: Pappas Restaurant Gave Lundy's A Run For Its Money?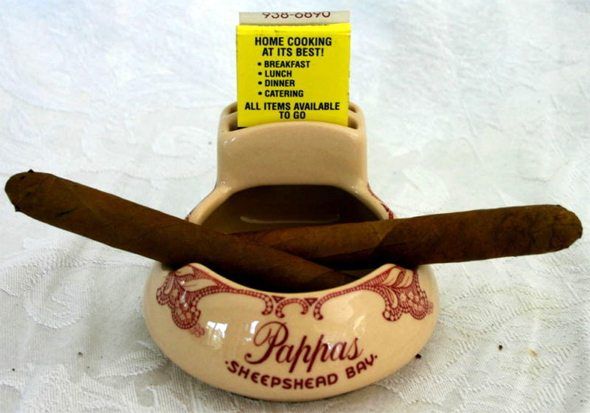 Here we have a lovely multi-purpose ceramic ashtray for cigars, with the name Pappas written in flowery script, which just fetched a remarkable $52.57 on eBay by seller "antiquesart," after an opening bid of $9.99. It was advertised as such: "SHENANGO Advertising Cigar Ashtray PAPPAS Matches OLD." Two sets of matches, one of which contained the telephone number "938-6890" (I believe this is a Park Slope exchange), were sold with the ashtray.
For those of you too young to remember — myself included — Pappas Restaurant & Chop House was a steak and seafood joint located at 1821 Emmons Avenue (where El Greco is now), previously owned by the Pappas Family and similar, in vein, to Tappan's.
Steve Pappas, owner of the building behind Lundy's, I am reasonably sure is related to the family who owned the steak and seafood house, although I am unsure if there is any relation to Sheepshead Bay resident (and Coney Island native), The Very Reverend Father Eugene Pappas, Protopresbyter of the Three Hierarchs Greek Orthodox Church on Avenue P and East 17th Street.
On a RoadFood.com message board, "Brooklyn Bill" writes: "Pappas Restaurant was a block west of Lundy's. Their fish was almost as good and they served a very good complimentary tossed salad."
Even if their fish was "almost as good," Pappas Restaurant sure did have some damn fine looking cigar ashtrays (made by the Shenango China Company, which was incorporated in 1901 — old school). It holds not one, but two books of matches! Impressive as hell, don't you think?
Antiques Roadshow, here I come, baby!