Remember When: Big Daddy's Competed With Nathan's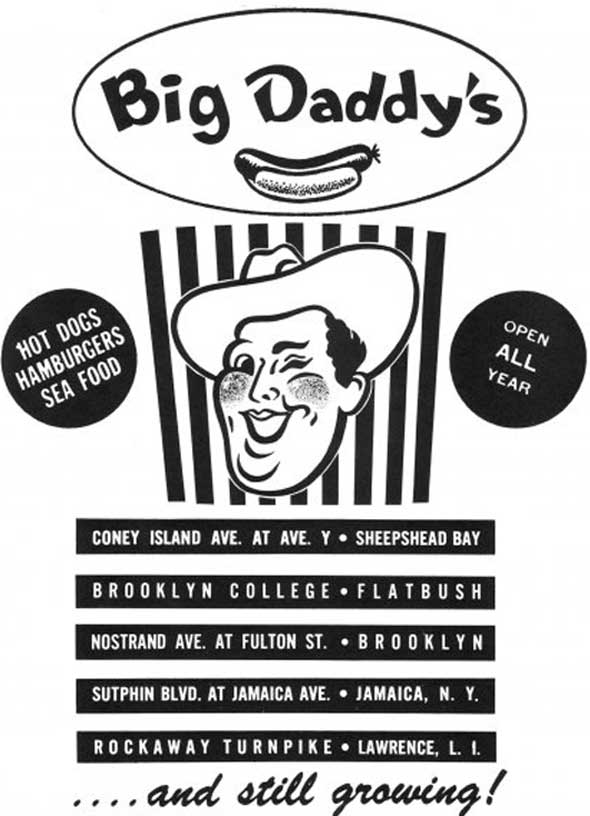 From Wikipedia:
The first Big Daddy's Restaurant opened in 1964, and was located on Coney Island Avenue in the Sheepshead Bay section of Brooklyn, NY. It was known to be the only true competitor of Nathan's Famous Hot Dogs. The driving force behind Big Daddy's success was half-owner Murray L. Handwerker, the nephew of Nathan Handwerker, founder of Nathan's.
In addition to serving hot dogs and crinkle-cut french fries, Big Daddy's also served pizza, chow mein on a bun, roasted pork sandwiches, and had a full deli as well as a clam bar. The restaurant was known for its decor of red and white candy stripes and pictures of partner Robert Napp surrounded by the famous celebrities of that era. It was also known for offering kiddie rides in the parking lot to create a Coney Island Atmosphere.
…
The Big Daddy's in Sheepshead Bay closed in 1977, The Lincoln Road Mall location closed in 1986, and the last known location on Washington Avenue on South Beach closed around 1991.