Red Fish Smoking Takes A New Turn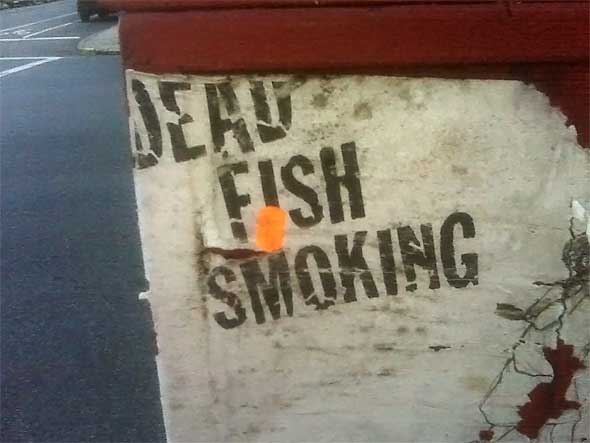 This new twist on the Red Fish Smoking graffiti made us smirk. Found by reader BrooklynQ near Bedford Avenue and Avenue U, the new name has a bit of history. First, PayPaul, the apparent arch-nemesis to suspected man-behind-the-mayhem Uzef, created a similar spin on the tag in which he photoshopped a cigarette in the mouth of a dead stingray along with the words Dead Fish Smoking (which he first linked to in our comments section). Then, way back in January, a reader sent in this photo of a, um, dead fish… smoking. And we, of course, mused about the connection to Red Fish Smoking (there was none). Now, after some comments left on our earliest post about the graffiti "artist," and the fact that he showed up to Grillin' On The Bay to snag a sticker and write his name all over it, we're pretty sure RFS is a reader. Maybe he was inspired by our twist and ripped us off?
Red Fish Smoking, if you're reading this, drop us a line. Let's do an interview – we can keep your real name out of it if you want. But people are curious about what you're doing… why not share?