Recchia Outlines His Strategy To Take Down Grimm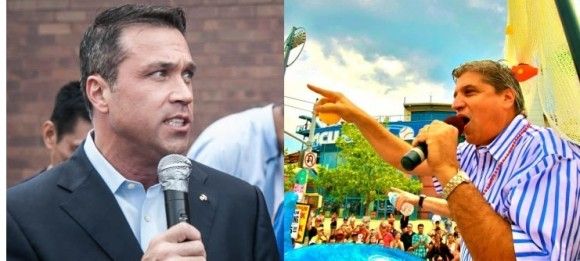 The upcoming race between Congressman Michael Grimm and Councilman Domenic Recchia has already been contentious, and pundits have yet to point to a clear favorite. Politicker is reporting on Recchia's strategy to unseat Grimm, New York City's only Republican representative to Washington D.C.
The bad blood between Recchia and Grimm has been brewing since Recchia announced his intention to challenge the two-term congressman for his seat. Most recently, Recchia blasted Grimm over the ongoing government shutdown and his ties to the Tea Party. Speaking to members of the Bay Ridge Democrats, Recchia revealed that his strategy to capture the 11th congressional district relies heavily on drawing votes from Brooklyn.
"We have to win Brooklyn big. We win Brooklyn big, we take the North Shore, we fight Michael Grimm on the Mid-Island and we get all the Italian-Americans on the South Shore. That's our focus. People laugh but this district has one of the largest number of Italian-Americans than any other congressional district in the country," Recchia said.
Politicker laid out how shifting demographics Recchia could carry the councilman to victory as well as the roadblocks he'll have to overcome:
But evolving demographics could buoy Mr. Recchia. Staten Island's North Shore is home to a growing number of minorities and immigrants who are more likely to vote Democrat. And the conservative and heavily Italian South Shore could be willing to vote for an Italian Democrat, as Mr. Recchia contended.
Working against Mr. Recchia, however, is history. Brooklyn Democrats have traditionally fared poorly in the district.
Grimm dismissed Recchia's strategy, comparing it to someone playing fantasy football.
"When someone's strategy is running on their ethnicity, it is pretty obvious they have nothing of substance to offer – even after a decade in the City Council," a Grimm spokeswoman said. "This is the exact same tactic used by Grimm's 2010 primary opponent  – also from Brooklyn –  and he lost by almost 40 points. Recchia's strategy is just like fantasy football – a lot of fun, but it's not real."