Ready, Set, Kindergarten Program For Kids Held At Local Libraries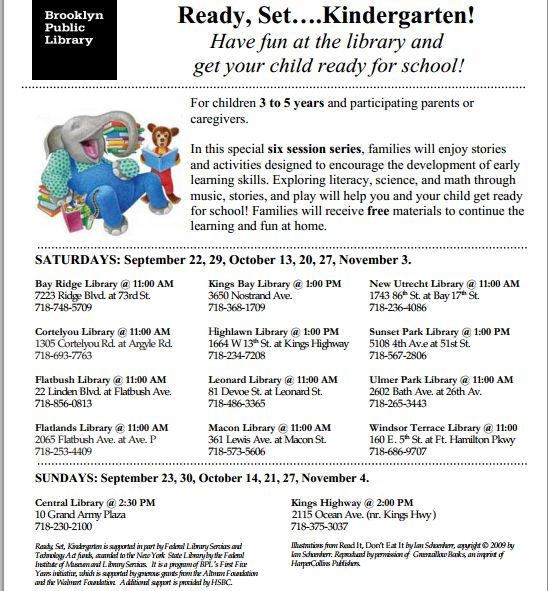 A little about the program from Program Administrator at the Ulmer Park branch, Sean Fodera:
The program is called "Ready, Set, Kindergarten", for children 3 to 5 years with their parents.  We meet for one hour every Saturday (Sundays in some branches), and the first session is this weekend.  The program was previously known as "Weekend Stories for Pre-Schoolers", but has been revamped with a more academic focus to teach early learning skills to both the children and the parents.
We spend the hour reading picture books, doing fingerplays, rhymes and songs, and an arts-and-craft activity.  While all of this entertains the children, and gives them some familiarity with a classroom-type environment, we are also giving the parents tips on how to find time and materials to read and play with their children, and how to incorporate things like reading, writing, drawing, math and science into daily activities.  For example, write the names of common supermarket items on a card, and have your child do a scavenger hunt for the words as you walk the aisles.
According to Fedora, interest at the Bensonhurst libraries has been strong in previous years. This year, they're looking to work with new students as the kids in their program have been moving on to Pre-K and Kindergarten.
Hope this helps the moms and dads looking to do a fun and educational activity with their kids.