Reader To Wear Speedo For First Pitch At Bites Night @ MCU Park!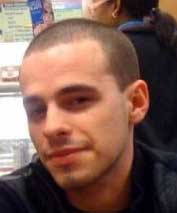 Congratulations Boris Royzen, our relentless reader who campaigned to win the chance to throw the first pitch at MCU Park (Cyclones Stadium) during tomorrow's Sheepshead Bites Night!
Royzen garnered more than 50 percent of the vote (351 votes) – besting two other candidates for the opportunity of a lifetime. And he did it all by promising to make an ass out of himself.
It was a competition to end all competitions; one that tells us much about the human condition. Readers were presented with three options: a bonafide hero, a loser begging for redemption, or Royzen, a guy who was just willing to embarrass himself the most. And, with the votes tallied, Royzen's victory shows what our readers care about most: humiliation.
We wouldn't have it any other way, and neither would Royzen. The former high school swimming star is pulling out his old purple Leon M. Goldstein H.S. speedos and slapping on a Sheepshead Bites sticker, then taking to the mound to throw the first pitch. And he's got a conscience, too. Moved by the story of fellow contestant Joseph Brodoff, a local hero who, after his wife's death, created several facilities and programs that assist cancer patients at two city hospitals, Royzen said he'll be making a contribution to the foundation's cause.
But, for now, it's the game he's looking forward to. Sort of.
"I'm nervous and excited," said the 27-year-old owner of Gravesend-based B&T Marlboro Pharmacy (2845 86th Street). "I really hope it doesn't rain."
Well, we really hope only one ball makes an appearance on the mound…
Sheepshead Bites Night at MCU Park (Cyclones Stadium) is tomorrow, August 19, at 6:30 p.m. Discounted tickets for Sheepshead Bites readers can be bought here with the promo code "BITES." There will be a pre-game presentation in which Sheepshead Bites promotes the neighborhood with videos on the jumbotron, a performance by students from the Covenant Ballet Theater of Brooklyn's Dance Academy, a ceremony honoring St. Mark Catholic Church for it's 150th year honoring the community, and free t-shirts launched into the crowd (shirts will also be for sale on the mezzanine).