Randy Weston Way: Lafayette Avenue Block Co-Named In Honor Of Late Jazz Musician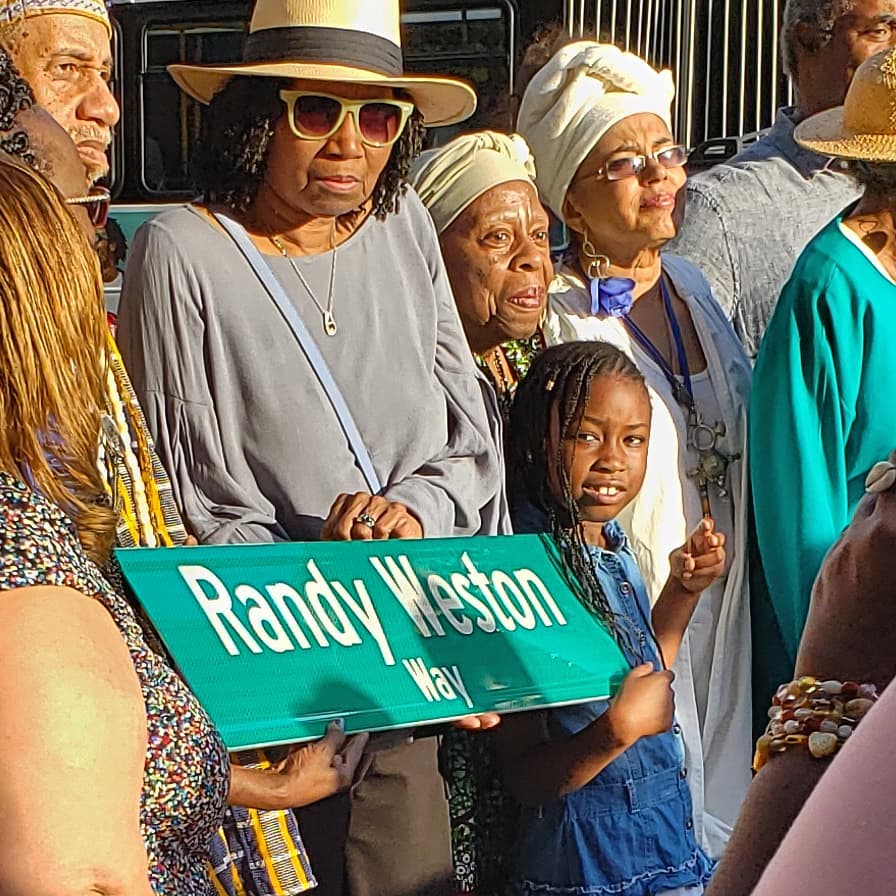 CLINTON HILL – As hundreds gathered on Sunday to celebrate to co-naming of part of Lafayette Avenue in honor of Brooklyn-born jazz musician Randy Weston, NYS Attorney General Letitia James took advantage of the occasion to call for a "permanent home to promote jazz" in the borough that would equal Manhattan's Lincoln Center.
It was a dramatic example of NYC Council Majority Leader Laurie Cumbo's observation that ceremonies like the street-naming "solidify the history of black presence and creativity" in the community. The recommendation was immediately embraced by Brooklyn Borough President Eric Adams, who pledged $1,000,000 to the project.
Adams quipped that there are recent residents of Brooklyn who think of themselves as "modern day Christopher Columbuses," but reminded the crowd of those who were "here before Starbucks. We woke up sometimes to gunshots instead of alarm clocks, but we stayed," he said. "And we made Brooklyn."
Weston was one of those who stayed. His father, Frank, owned a restaurant called Trios that was a popular hangout for many of the jazz musicians who lived in Brooklyn during the 30s and 40s. Frank later bought a brownstone near the corner of Lafayette and Grand, where the street sign honoring Weston now hangs. Randy Weston, after spending years playing and hosting music at a Morocco nightclub, returned to the building after his travels and lived there until his death a year ago.
Sunday's celebration had the air of a reunion, with musicians who played with Weston and fans who cherished his music exchanging greetings with friends and family, including two of Weston's daughters, Pam Weston and Kim Weston Mortin.
Cumbo, who was instrumental in re-naming the street, was just one of many Brooklyn public officials on hand. Assemblymembers Walter Mosely and Charles Barron also addressed the crowd, as did Councilmember Inez Barron. The importance of symbolic measures to create a physical record of African-American heritage in Brooklyn, like the renaming of a park in honor of Betty Carter two weeks ago, was a common theme.
Writer Ishmael Reed said that Weston "internationalized jazz," both by revealing the African roots of the music and by bringing American jazz music and musicians to Africa. "Weston admired Charlie Parker," Reed said, "but he had more in common with Marcus Garvey."
Weston's attorney Gail Boyd remembered the musician telling her he didn't play jazz, he played African rhythms—and he chose the name African Rhythms Ensemble for the band he lead for 40 years before his passing, playing along with Alex Blake, Billy Harper, TK Blue, and percussionist Chief Baba Neil Clarke.
Clark opened the ceremony with a libation, a rite used to evoke the presence of an ancestor. Weston's presence was also conjured with a series of musical performances, including songs by Innov Gnawa, a New York collective dedicated to the Moroccan music Weston championed. Other selections came from pianist Monty Alexander and bassist Paul West.
Cumbo noted that she was happy to have secured sites in Brooklyn to honor both Weston and Carter but called for wider recognition of Brooklyn's African-American heritage in its streets, parks and buildings. She predicted that wouldn't come without a struggle and encouraged those on hand to join in. "I hope all who are here for the celebration will be down for the fight," she said.