Randazzo's Sandwich Spot: The Cyclone – The Bite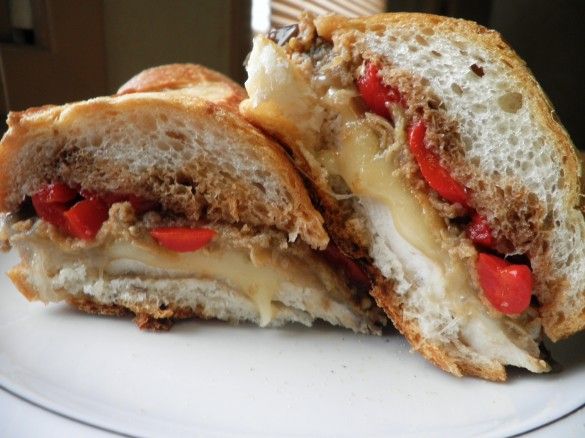 THE BITE: As a father, one of the things I wasn't prepared for was the pride I would feel in my children's success. It's a feeling only a parent can explain, as I sure as hell dismissed it before I had kids. Paulie Randazzo of the legendary Randazzo's Clam Bar surely knows what I'm talking about.
About two weeks ago, Joey Randazzo, son of Paulie, opened Randazzo's Sandwich Spot at 1520 Sheepshead Bay Road. It's great to see a long time Sheepshead Bay family business branch out. Randazzo's Sandwich Spot offers 26 "signature sandwiches" along with breakfast, "toss your own" salads and, of course, the option to create your own sandwiches from a pretty large selection of foodstuffs.
Personally, I like when chefs take the time to create their own dishes, so on my visits, I focused on the "signature sandwiches," many of which are named after semi-local landmarks focusing more on Coney Island than our neighborhood. Unfortunately, none are called "The Sheepshead" or "The Emmons."  I would have loved to see one sandwich created in homage of Lundy's famous shore dinner, which consisted of, among other things, half a broiled lobster and half a broiled chicken. Or how about one that pays homage to Randazzo's Clam Bar itself?
Today's Bite focuses on #22, The Cyclone. The Cyclone ($8.50 on a hero, $7.50 in a panini or in a wrap, $8.00 over a garden salad) contains a chicken cutlet, grilled or fried,  fried eggplant, fresh mozzarella cheese and roasted peppers all topped with a balsamic dressing.  This 8-inch hero is served on some great bread, crusty on the outside, soft in the middle but toothsome enough to stand up to all the ingredients.
This  sandwich consisted of one chicken cutlet that was "grilled" on the flat top griddle.  Three large slices of cold breaded and fried eggplant and a smattering of roasted red peppers.
Biting into the sandwich, the first taste that I encountered was the twang of the balsamic dressing. While some people may be turned off by that, balsamic vinegar is one of my favorite flavors and it immediately woke my taste buds. The pickled flavor of the roasted peppers were next to dance around my tongue with their smokiness apparent before the fried eggplant asserted itself. This soft eggplant was mild and squishy, but worked well in the sandwich. It 's skin was green! I've never seen  a green eggplant before and I've grown them in my yard. Was I fed squash and not eggplant? No matter, it was tasty.
The one player in this hero who phoned it in was the chicken. Frankly, the bland chicken could have been left out of this sandwich and I don't think I would have even noticed. Well, yeah, I would have as I'm a dedicated meat eater. But this chicken was just not there. Not that it really mattered, I enjoyed this sandwich immensely.
I think of Randazzo's as a take out only place. While it does have a small counter with four stools, the place is only about eight feet wide and can get crowded quickly. They do accept credit cards and have an ATM machine as well.
Now I know people are going to comment on the pricing. While the quality of the food is high, so are the prices. At $8.50 a hero, this places Randazzo's Sandwich Shop in the upper price range of the neighborhood for a hero. And, in these recessionary times, that's going to be a problem. Price and portion size plays a large role in my choosing a restaurant and the portion size was small. Most heros offered around here are between 10 and 12 inches; Randazzo's sandwiches come in at 8 inches.
I really wish Joey great success with his new endevour, but frankly, the prices need to come down. When the sandwich spot opened they were charging an introductory price of $6.50 a hero and the place was packed. Now that the prices shot up, it appears that the customers moved on. For $6.50, I'd be hitting the place at least once a week; at $8.50 – not so much.
In the interest of complete transparency, Randazzo's Clam Bar was a participant at last year's A Taste of Sheepshead Bay. Neither Randazzo's Sandwich Spot nor Randazzo's Clam Bar was aware of this review being written. No party was compensated in any way for this review.
The Bite is Sheepshead Bites' weekly column where we explore the foodstuffs of Sheepshead Bay. Each week we check out a different offering from one of the many restaurants, delis, food carts, bakeries, butchers, fish mongers, or grocers in our neighborhood. If it's edible, we'll take a bite.