Randazzo's Clam Bar: Zuppa Di Clams – The Bite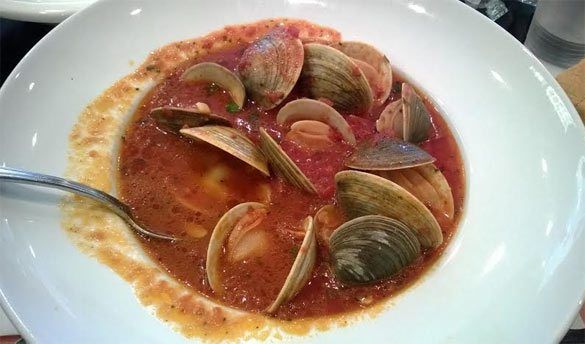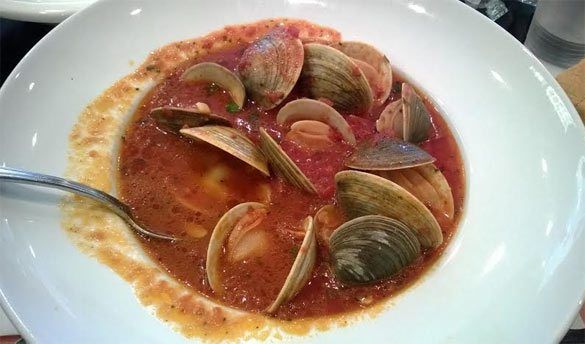 THE BITE: Here on Sheepshead Bites, we've covered some of the recovery of Randazzo's Clam Bar (2017 Emmons Avenue) after Superstorm Sandy wreaked havoc on the long-standing waterfront spot in October 2012. Despite heavy damage, they managed to reopen within months, which was a great source of comfort for a lot of Sheepshead businesses and locals. They are fully up and running, and serving up the seafood and Italian dishes they've been known for over the past several decades.
As we've mentioned in a previous article, Randazzo's wasn't always the only game in town. Joe's Clam Bar and Rubino's Crab House each occupied a plot on Emmons Avenue, and Lundy's was an imposing presence in it's heyday. But Randazzo's is the last man standing when it comes to Italian seafood, with many of its competitors replaced by Greek, Turkish and Eastern European takes on the ocean's catch.
Randazzo's began in 1916 as a fish market with a small counter for quick and easy food. In the 1960s, a clam bar was added and Helen Randazzo, daughter of the fisherman founder, began making her famous red sauce in medium or hot. A larger cafeteria opened next, and pastas and more robust Italian dishes were put on the menu. Ultimately, the fish market closed and the cafeteria and clam bar consolidated, evolving into the restaurant we know today. Still a family-owned operation, Helen's grand- and great-grandchildren now run the place.
Feeling the need to order clams and sauce to properly pay my respects to this long history, I got the red Zuppa di Clams for $18.95.
The soup arrived in an enormous round white plate, steam curling off the bright red sauce that shimmered golden with olive oil. About a dozen clams lay open at odd angles in the dish, and with just a little coercing I pulled the meat out of the shells with my fork. They were soft, slightly chewy, and very fresh, going great with spoonfuls of that oregano-spiked sauce. I asked for the hot, which wasn't extremely spicy, but did have a little kick. A hunk of hard, white Italian bread was served alongside with butter. But with a plateful of sauce like that, who needs butter?
If you've come to Randazzo's, I'd venture to say you either came for the fresh seafood, or for the famous red sauce. If you can't decide which you've come for, then get both – you have plenty of options that combine the two at "The Pride of Sheepshead Bay."
Randazzo's Clam Bar, 2017 Emmons Avenue, (718) 615-0010.
– Sonia Rapaport
The Bite is Sheepshead Bites' weekly column where we explore the foodstuffs of Sheepshead Bay. Each week we check out a different offering from one of the many restaurants, delis, food carts, bakeries, butchers, fish mongers, or grocers in our neighborhood. If it's edible, we'll take a bite.