Rabbi Heidi Hoover Talks Latkes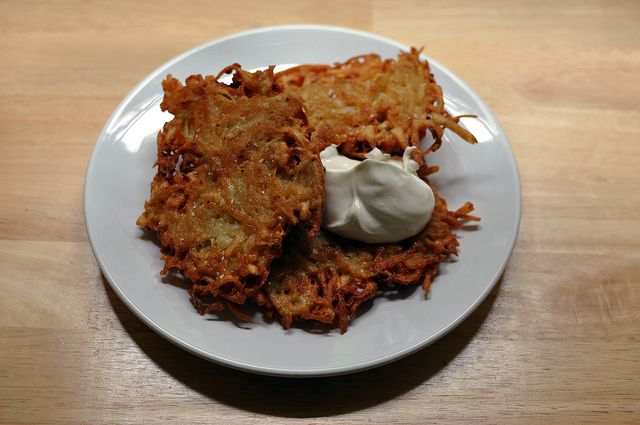 Hanukkah, the Jewish Festival of Lights, begins at sundown tomorrow. The eight-day holiday is observed by lighting the menorah, and, for many, by eating foods fried in oil.
Temple Beth Emeth will be holding its Hanukkah service next Friday, December 15, which will including menorah lightings followed by communal snacking, and people are invited to bring latkes and sufganiyot (jelly doughnuts) for all to try. Looking for suggestions on what recipes to try for the service, we checked in with Rabbi Heidi Hoover to see if she had any favorites in her family.
"I have a couple of favorite latke recipes, but not much of a story behind it–perhaps that's the story behind it," Rabbi Hoover tells us.
Born in Pennsylvania to a Lutheran pastor, she didn't grow up "with a bubbe (grandma) making latkes," she explains. So as she started making latkes on her own, she's ended up creating her own traditions.
"I had to find my own latke recipes and techniques," Rabbi Hoover says. "I don't feel compelled to, for example, hand-grate the potatoes–I use the shredding attachment on my food processor."
Her favorite latke recipes come from Joan Nathan's Jewish Cooking in America. Rabbi Hoover recommends that you make sure to use plenty of salt, and adds: "These latkes are delicious, and you can make them ahead, freeze them, and reheat in the oven and they're just as good as fresh."
Crispy Traditional Potato Pancakes
by Joan Nathan, Jewish Cooking in America
2 pounds russet (baking) or Yukon Gold potatoes
1 medium onion
1/2 cup chopped scallions, including the green part
1 large egg, beaten
Salt and freshly ground pepper to taste
Vegetable oil for frying
1. Peel the potatoes and put in cold water. Using a grater or a food processor coarsely grate the potatoes and onions. Place together in a fine-mesh strainer or tea towel and squeeze out all the water over a bowl. The potato starch will settle to the bottom; reserve that after you have carefully poured off the water.
2. Mix the potato and onion with the potato starch. Add the scallions, egg, and salt and pepper.
3. Heat a griddle or non-stick pan and coat with a thin film of vegetable oil. Take about 2 tablespoons of the potato mixture in the palm of your hand and flatten as best you can. Place the potato mixture on the griddle, flatten with a large spatula, and fry for a few minutes until golden. Flip the pancake over and brown the other side. Remove to paper towels to drain. Serve immediately.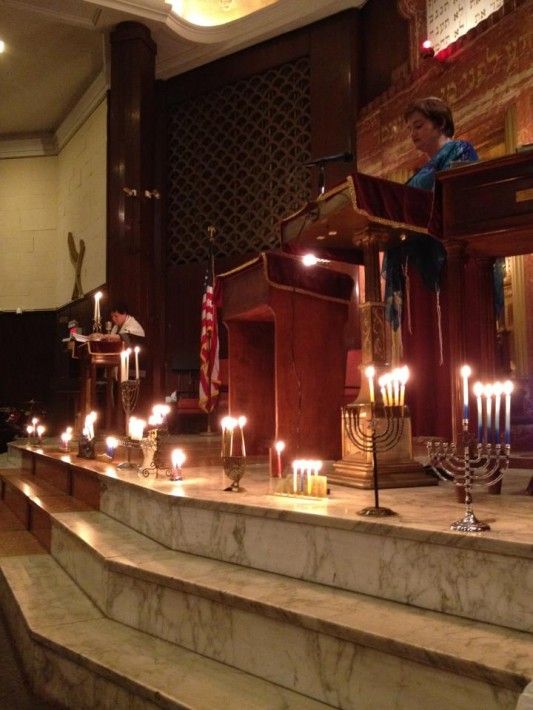 Curried Sweet Potato Latkes
by Joan Nathan, Jewish Cooking in America
1 pound sweet potatoes, peeled
1/2 cup all-purpose flour
2 teaspoons sugar
1 teaspoon brown sugar
1 teaspoon baking powder
1/2 teaspoon cayenne powder
2 teaspoons curry powder
1 teaspoon cumin
Salt and freshly ground pepper to taste
2 large eggs, beaten
1/2 cup milk (approximately)
Peanut oil for frying
1. Grate the sweet potatoes coarsely. In a separate bowl mix the flour, sugar, brown sugar, baking powder, cayenne pepper, curry powder, cumin, and salt and pepper.
2. Add the eggs and just enough milk to the dry ingredients to make a stiff batter. Add the potatoes and mix. The batter should be moist but not runny; if too stiff, add more milk.
3. Heat 1/4 inch of peanut oil in a frying pan until it is barely smoking. Drop in the batter by tablespoons and flatten. Fry over medium-high heat several minutes on each side until golden. Drain on paper towels and serve.
Rabbi Hoover says this spiced twist on the traditional latke might not be for everyone.
"The grownups loved it, but it was too spicy for the kids," she says. "In response, I made what I call 'dessert latkes.' Same recipe, but instead of the cayenne powder, curry powder, and cumin, I added more sugar, ground cloves, ground ginger, nutmeg, allspice and cinnamon. They were delicious."
Temple Beth Emeth's Hanukkah service is on Friday, December 14 at 6:30pm at 83 Marlborough Road. Everyone is invited to bring a Hannukah menorah and candles, and they will all be lit on the bimah. The Shabbat service features Hanukkah songs interspersed throughout. Everyone is also invited to bring their latkes or sufganiyot, and after the service there will be a a special oneg to eat them all! It's a great opportunity to try lots of people's latkes.
Photo of Rabbi Hoover at Temple Beth Emeth via Facebook