Quick Thinking Bungalow Residents And Landlord With Heart Of Gold Rescue Neighbors During Flooding
There is no shortage of heroes that came out of the devastation of Hurricane Sandy, but it seems everyone on Lake Avenue agrees that two quick thinking residents of their bungalow colony and a nearby landlord are their first first responders.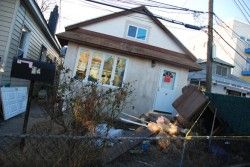 When flood waters breached the bulkhead of Sheepshead Bay and engulfed Emmons Avenue, it advanced forward, rushing into the bungalow colony alleys located below street level. With no drainage systems, approximately 60 residents of Lake Avenue – just off Nostrand Avenue and Emmons Avenue – realized their one-story bungalows were about to be submerged.
"All of a sudden the water started pouring into the house. My 94-year-old father and I live in the house together," said Lake Avenue resident Wendy Mitchell.
That's when neighbors Missy Haggerty and Peter McCandless rushed out of their homes and began banging on doors, telling people to get out. Some were sleeping or in the middle of eating dinner, and looked up the block to see a waterfall rushing down the steps into the colony's dead end alley.
"I got out and I'm trying to hold the door open [for my 94-year-old father] and Peter got him out finally," Mitchell said. "When we first left, the water was up to the knees. By the time we got about five houses down it was under my arms. I'm five-foot-five and it was under my arms."
Mitchell said she never would have been able to get out of there if it weren't for Missy and Peter – and the landlord of a nearby building that abuts the alley.
Haggerty had called Arthur Nazarov, the son of the owner of a three-story, six unit unoccupied condo building on Nostrand Avenue. Without a second thought, Nazarov gave the green light to allow Haggerty entrance to the building, giving refuge for the 60 or so residents through a backdoor facing the alley. Without that, many of the block's elderly and disabled residents – and even some of the healthy ones – may not have been able to get off of the property.
"We wouldn't have been able to [get to the stairs], it was a chore getting out on this side," Mitchell said.
Amazingly, the condo did not lose power, heat or hot water throughout the storm, though all of the buildings around it did.
"We were very lucky to get this place. We had everything we needed, thank goodness. We were able to get clothes, we had washing machines and dryers. We were very fortunate to get this place, we really were," Mitchell said, adding that the apartments are beautiful.
If it weren't for Nazarov, "Me, Pete, my brother, we would've all been dead," Haggerty said.
Nazarov, who was there when we visited Monday afternoon, waived away any suggestion that he saved anyone.
"It was all Missy," Nazarov said.
The incident has many on the block angry at the city for failing to provide basic services, like sewer and drainage systems.
"For many year's we've been complaining over and over. Anytime it rains or pours, this block literally turns into a lake. They won't do it, even though we're taxpayers, too," Nazarov said. The city considers the spiderweb of alleyways that connects Emmons Avenue's bungalow colonies to be private property, and will not pay for such improvements.
But on the night of Hurricane Sandy, with no help from the city, neighbors came together to care for each other. Once inside the condo building, Missy Haggerty's father Bob, whose house just finished undergoing renovations after a neighbor's house fire caused heavy damage to his home last year, did his part. Despite being partially blind, Haggerty went door-to-door inside the coop building, checking on his neighbors and bringing them supplies throughout the night.
The residents have started moving out to stay with families and friends, leaving about nine in the building when we visited on Tuesday.
"We all have to stick together," Bob Haggerty said. "Thank God we're alive, and after all this is over, we'll stay together."