Q Train Derailed For Two Weekends In September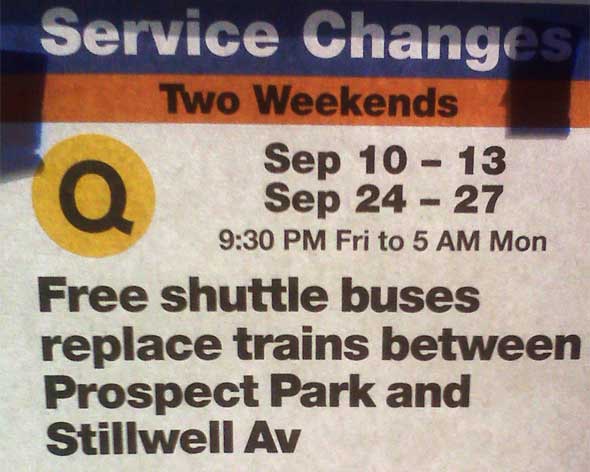 Going to the city this weekend? If you were planning on taking the train, you better seek out an alternative route. The MTA is once again halting Q service between Stillwell Avenue and Prospect Park, and instead providing free shuttle buses. There will be two kinds of buses – one that runs locally, stopping at all Q stations between Prospect Park and Kings Highway; and another express that runs non-stop from Prospect Park to Flatbush Avenue (transfer to the 2 train) and then Kings Highway, before resuming locally to Stillwell Avenue.
But I don't need to tell you this, right? We've been through this routine a couple of times now. And aren't there just spectacular improvements in service after each shutdown?
For those who work in the city and like to grab drinks after work, don't make the kind of mistake I used to make (when I worked in the city, that is). I'd forget these rules go into effect early Friday night and end up drinking too much, then get on the train late only to find that I need to get out and figure this bus crap out while tossed.
It's not fun. Don't do that. Just drink when you get home. By yourself. It's a different kind of pain, but at least it's self-inflicted.