Public Speaks Out Against Gowanus Rezoning At Scoping Meeting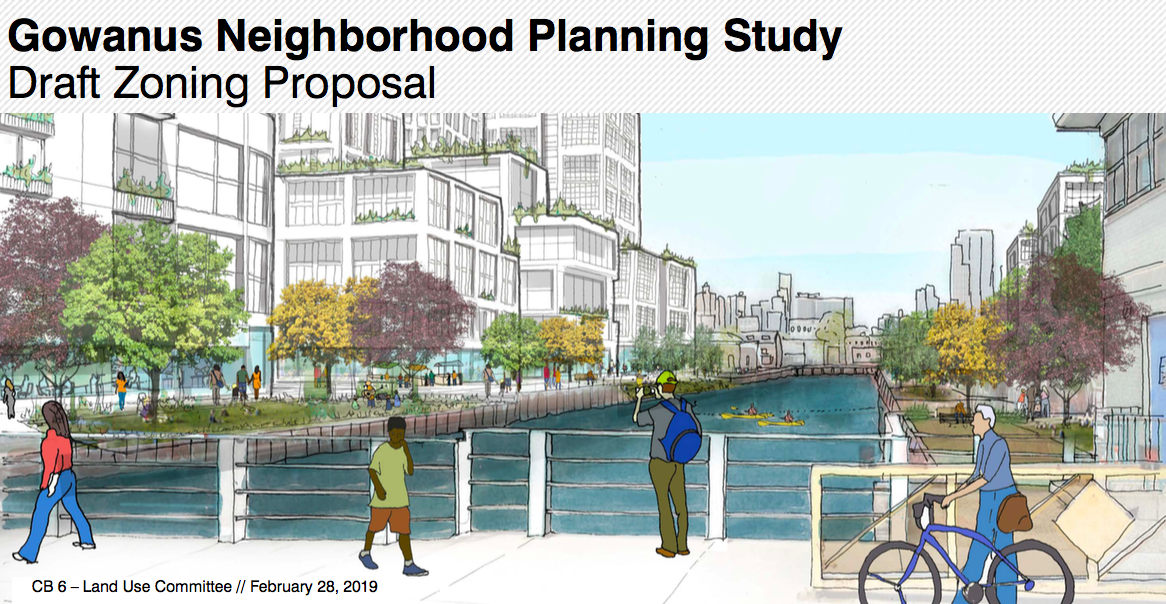 GOWANUS –  NYC Department of City Planning (DCP) hosted a Scoping Meeting  Thursday afternoon at M.S. 51 to hear community feedback on the Draft Scope of Work for the Gowanus Neighborhood Rezoning proposal.
Despite the holidays, more than 50 people testified at the three-and-a-half hour meeting. "We need more time and we're asking for an additional extension of time for scoping comments and for a second scoping period that doesn't occur during the spring break," said Sabine Aronowsky, a community organizer and member of the Gowanus Neighborhood Coalition for Justice (GNCJ) and the Gowanus Canal Community Advisory Group (CAG).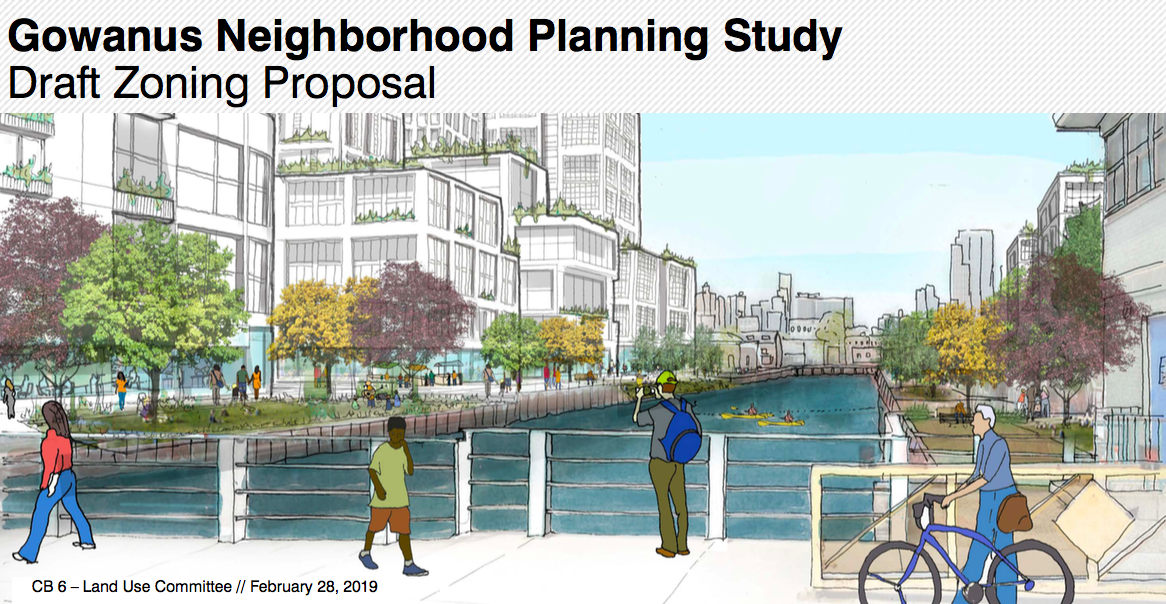 "The Draft Scope of Work identifies the subjects to be analyzed in the upcoming Draft Environmental Impact Statement (DEIS) and describes the methodologies the staff will use in that analysis," explained DCP's Olga Abinader at the start of the meeting. "The purpose of the public scoping meeting is to allow for public participation in preparation of the Draft EIS," she continued. "After carefully reviewing all of the comments, the department will decide what changes, if any, need to be made to the Draft Scope of Work and then issue a Final Scope of Work. It is the Final Scope of Work that will serve as the basis for preparing the DEIS."
Following a brief presentation by DCP's Jonathan Keller, the agency invited comments from elected officials and Community Board 6. Assembly Member Jo Anne Simon was the only official present, with Brooklyn Borough President Eric Adams, NYC Comptroller Scott Stringer, and Council Members Brad Lander and Stephen Levin sending representatives to listen in on the proceedings.
Regarding Levin's absence, "we haven't seen [him] in a month of Sundays….We know that he defaulted to Brad Lander," said Monica Underwood, a GNCJ member and public housing resident. She read a letter aloud requesting that Council Member Levin write to the Mayor in support of the Gowanus Houses, Warren Street Houses, and Wyckoff Gardens. "We demand as residents to be treated like human beings. Put us in the rezoning," she said. Levin represents the district where the three NYCHA developments are located.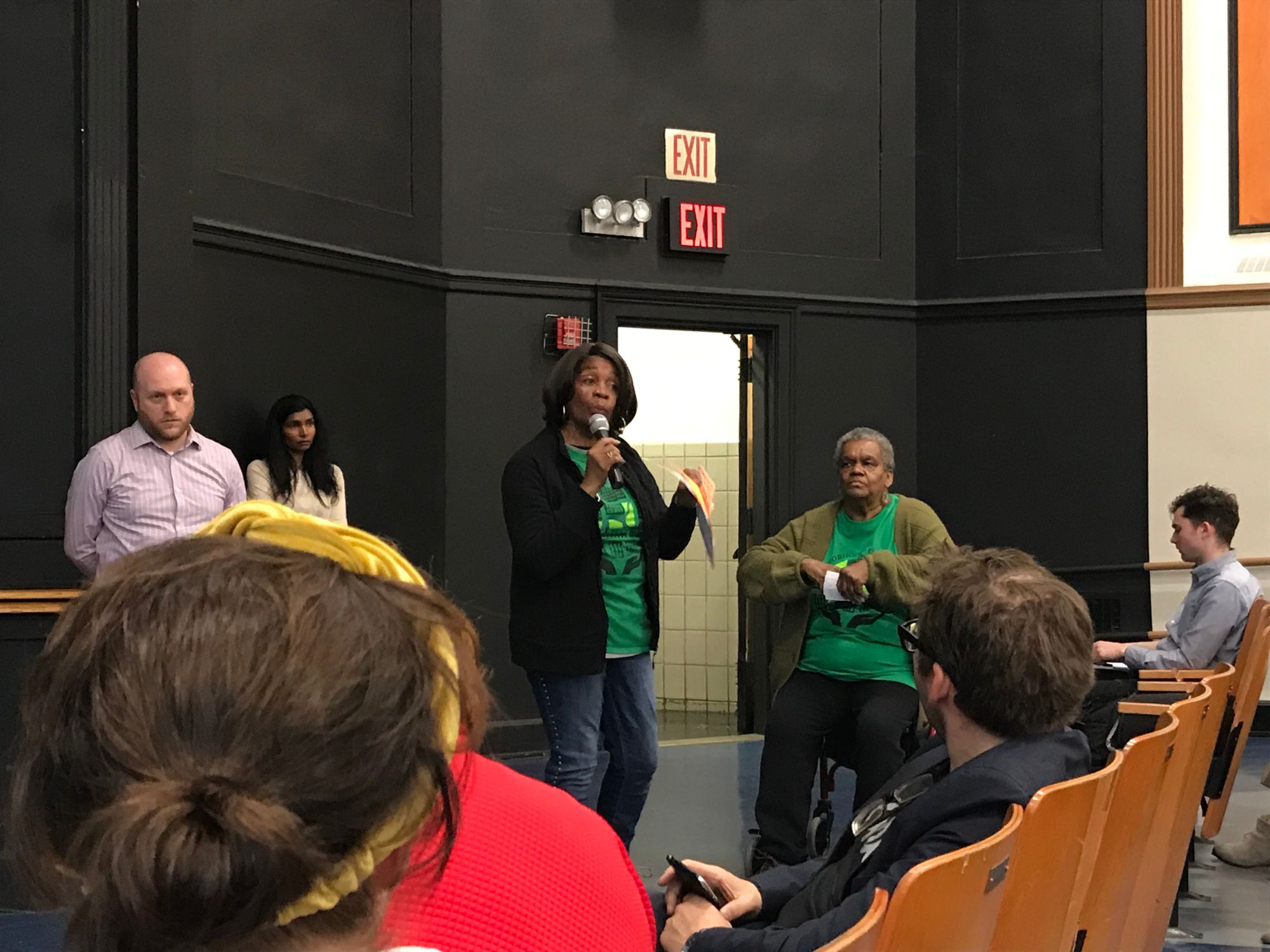 CB6 will provide written comments to DCP in the coming weeks. "I am happy to attend and listen to comments," District Manager Mike Racioppo told Bklyner. "However, as previously reported, the timing of the scoping meeting did not allow us to finish our listening meetings in time to speak at the meeting. We will provide comment after our May 8th general board meeting."
"I do believe that we need to rezone the Gowanus area," Assembly Member Simon said, before noting her concerns which include the potential loss of neighborhood character as well as density that "just goes too far afield."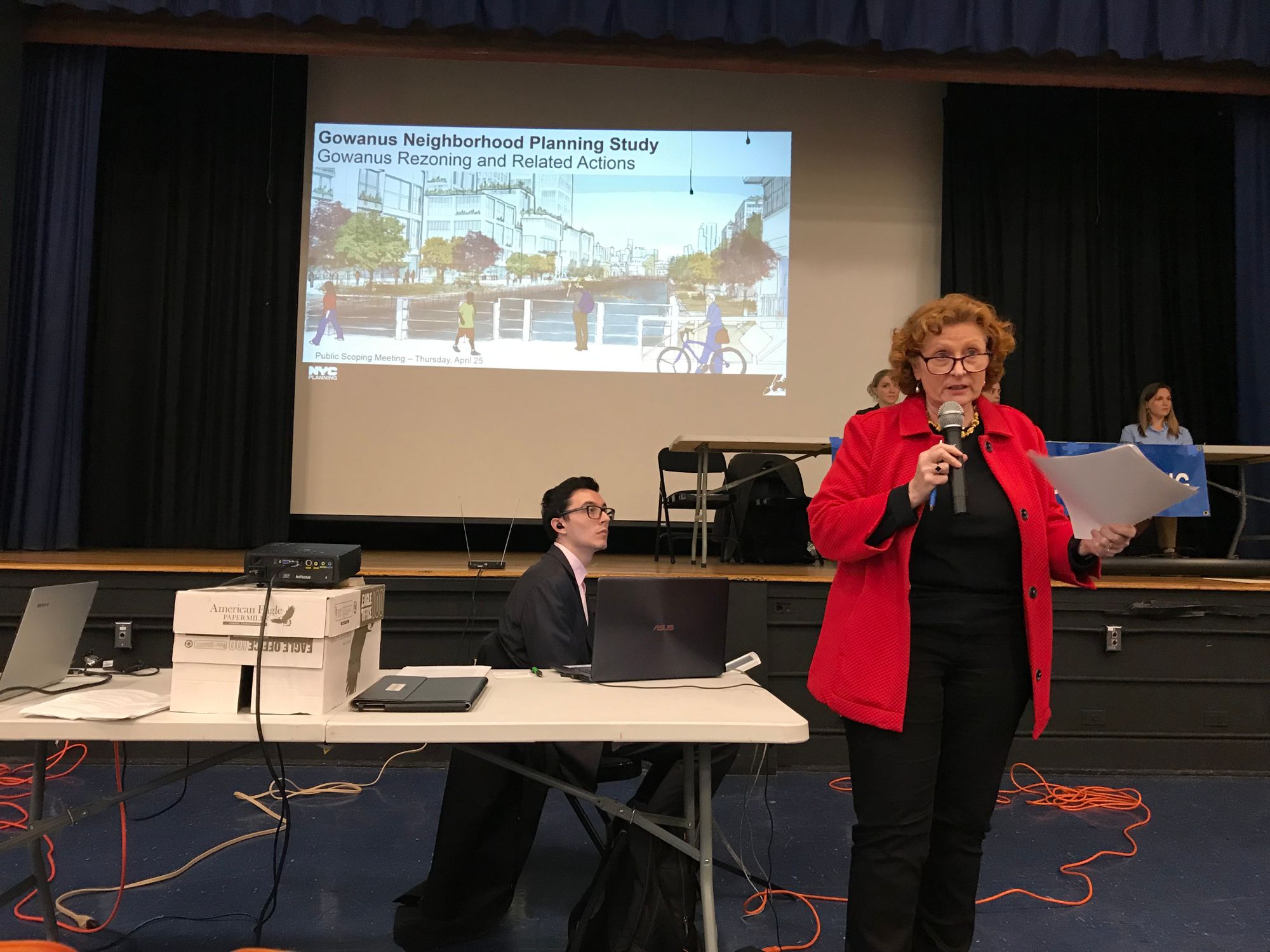 Simon added that she feels the city is not giving enough consideration to sustainability. "It's a tenuous area, we need to be very careful about it, and I don't believe there's been enough attention given to that."
The Assembly Member noted, "I don't see how the city can expect [this] to become a model green neighborhood without taking into account the CSO problems we have." She said she does not believe NYC Department of Environmental Protection's (DEP) planned CSO facilities accommodate "for an increase in population or their associated waste water."
"My biggest concern is that if this plan is built out to its fullest, there will be 18,000 new residents, who along with the current residents, would be living next to a very, very troubled site," she said.
DCP will accept written comments until Monday, May 27th, having extended the comment period from ten to 30 days.
Email comments to 19DCP157K_DL@planning.nyc.gov or mail to:
Department of City Planning
Environmental Assessment & Review Division
120 Broadway, 31st Floor
New York, New York  10271
Click here to see the Draft Scope of Work.
Excerpts from the public testimony:
NYCHA
"Before the zoning is approved, the city must ensure that current NYCHA residents have safe and decent housing…. The city must dedicate enough upfront funding to address the capital funding gap in NYCHA developments in this neighborhood…. The city must live up to its promise to reopen the Gowanus Houses Community Center. Construction must begin on this vital community resource before any rezoning is approved. That center has been closed for over ten years."
"We're asking that the rezoning be slowed down because most people here, not just [from] public housing, don't understand FAR or air rights, or any of those concepts." — Karen Blondel, Fifth Avenue Committee organizer, GNCJ member, and public housing resident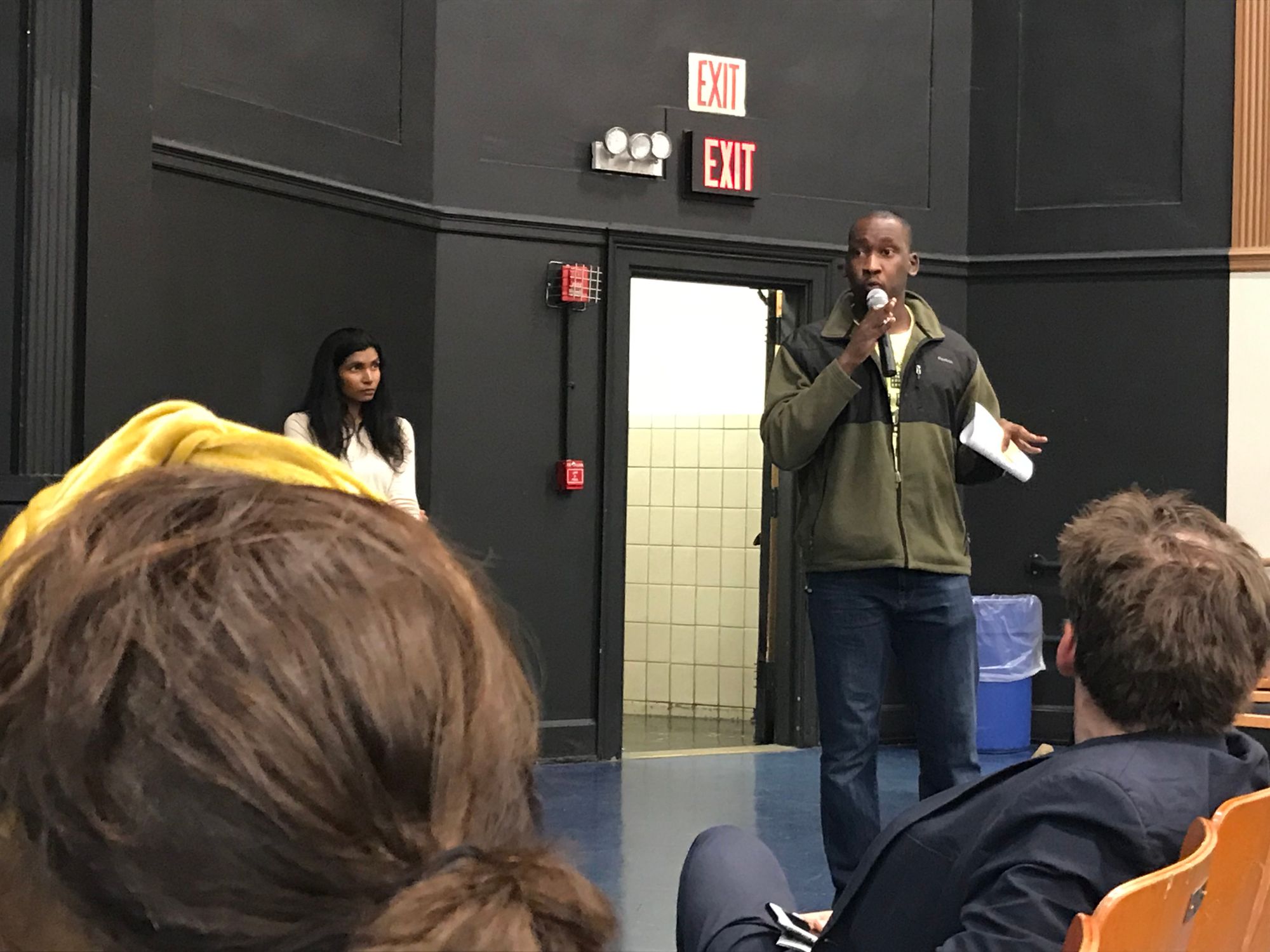 "When we talk about justice, I think we need to center those who have the least and make sure that those are the people who benefit the most…. A part of this [rezoning] process has excluded NYCHA formally from the study zone and I think there needs to be a clear tool to take some of the benefits—and no doubt some of the profits…some of that should go back to public housing." — Michael Higgins, Jr., Lead Organizer for Families United for Racial and Economic Equality (FUREE), GNCJ member
COMBINED SEWER OVERFLOW (CSO) | THE ENVIRONMENT
"You need to create an environmental special district. You've already laid the ground work through mixed use, please build upon this. What the DEP is saying is not acceptable because they are not going to be providing any additional infrastructure to support the increase in CSO. We want no new net CSO brought in as a result of this rezoning. And we must factor in Atlantic Yards [Pacific Park] because the housing that is anticipated there will almost double the amount of anticipated housing…and it's the same sewer and energy shed that is shared." — Sabine Aronowsky, Fifth Avenue Committee, Gowanus resident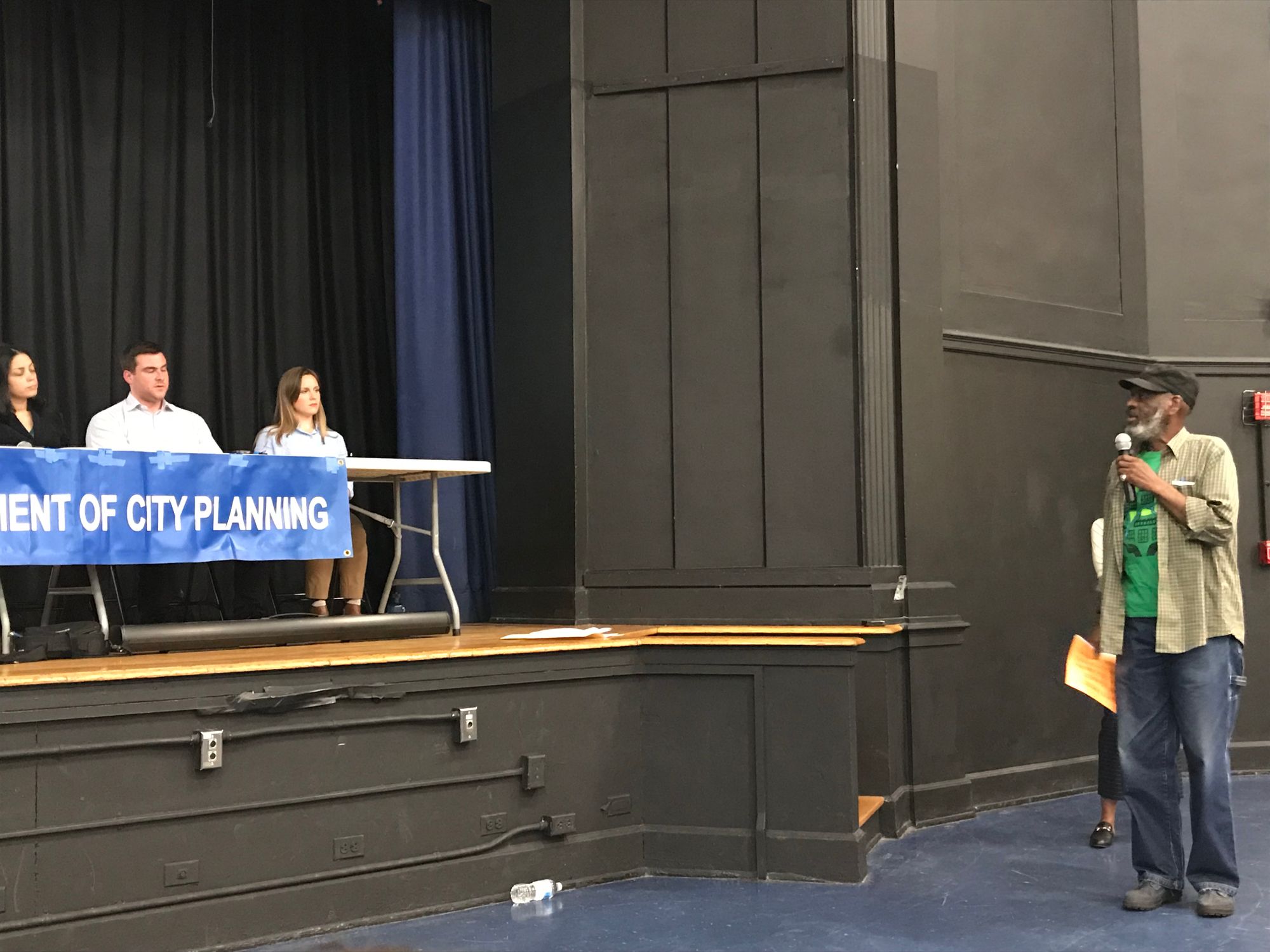 "We have to take into consideration the influx of new people coming into the community. We have to also consider the waste problems, the air quality, the water…and CSO."
"This can't just be bum-rushed on the community….. All of these acronyms—most people don't even understand what they mean…and we're supposed to just go along with it. Then when we want to get a full explanation, we get meetings like this. We get two minutes to speak on it but what we want to do is bring in our own representatives that do the studies for our benefit on water, air, soil, etc."— Mustafa El-Bey, GNCJ member, and Gowanus Houses resident
"The EIS must study water and sewage management at the watershed and CSO-shed scales to accurately measure the impacts and needed mitigation…. Existing plans for managing combined sewage overflow that are already required under the Superfund Cleanup will still leave us with an estimated 115 million gallons of overflow a year not accounting for additional sewage due to land use changes. This already required infrastructure cannot be used as mitigation for additional sewage loading." — Andrea Parker, Executive Director of Gowanus Canal Conservancy, GNCJ member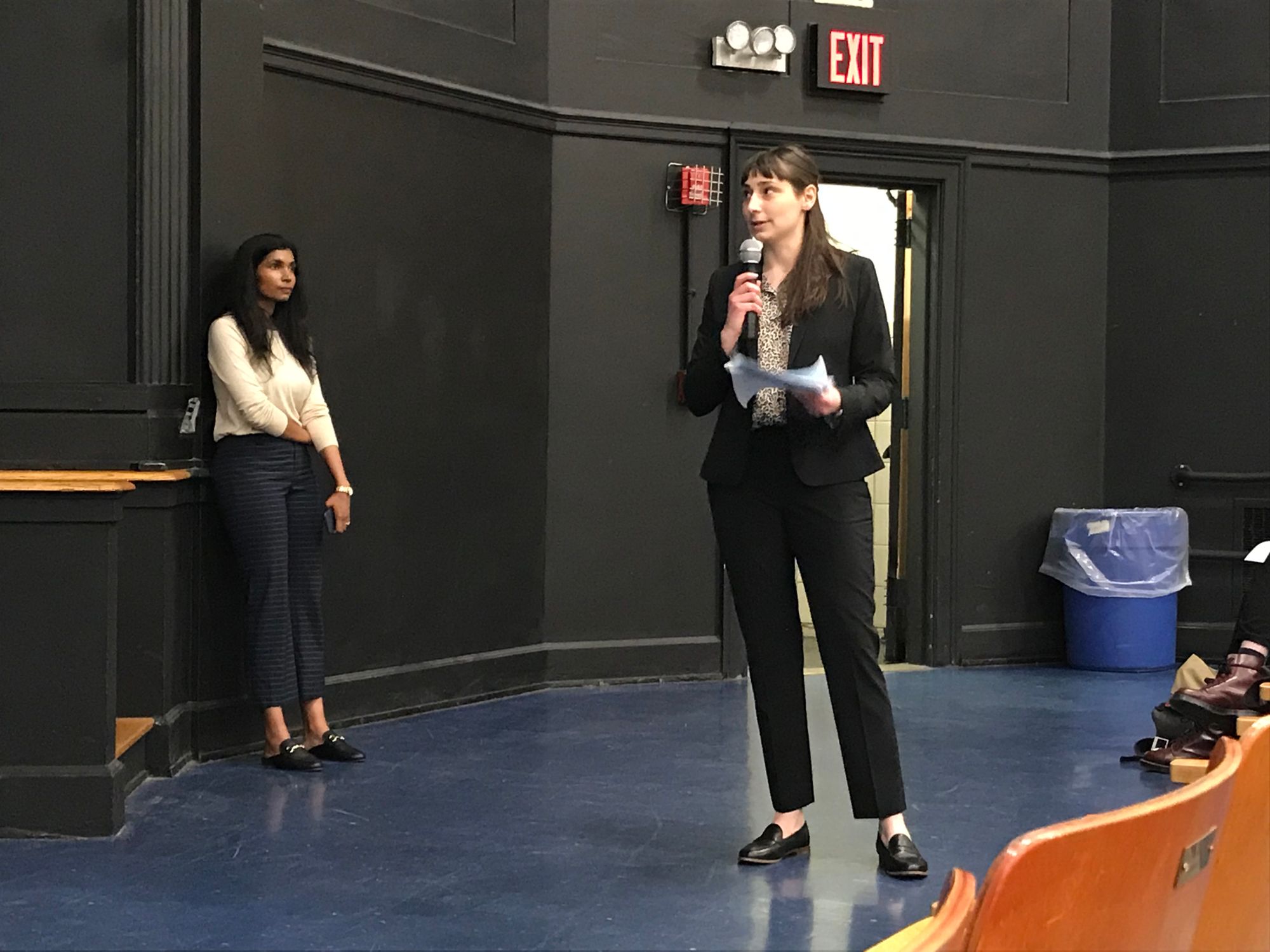 "Let's not forget the Gowanus Canal is a Superfund plague right now and will be for at least the next ten years…. CAG demands: that the City-sponsored Gowanus Neighborhood Rezoning not compromise the Superfund remedy through allowing proposed density to increase combined sewage overflow into the Canal…. [That] the City identify and implement measures to sustain water quality in the Gowanus Canal that allows for primary contact under the EPA's 2012 Recreational Water Quality Criteria before allowing residential development along the Canal…. [And that] the City outlines a clear procedure to implement and monitor mitigation of potential increased CSO in partnership with EPA." — Chrissy Remein, Gowanus Canal CAG member, Riverkeeper Project Coordinator
AFFORDABLE HOUSING
"I support affordable housing in this neighborhood…. I'm not here to protect my property value—in fact I think my property values are obscene. We have come to these meetings over and over for years and years and everything the community has asked for we have not gotten, and everything we have asked to have not happen, has happened…. We need affordable housing but [the city assumes] the only way we can get it is at the cost of everything that makes our neighborhood livable." — Judith Levine, Gowanus resident
DENSITY
"I just want go on record saying that, in my opinion, this rezoning is too much, too tall, and too close to the open spaces we still have around the canal and Thomas Greene Park." — Peter Reich, Gowanus CAG member, Gowanus resident
Not everyone at the meeting was against the proposed rezoning. Developer Brian Ezra of Avery Hall Investments noted that his firm plans to construct a residential building at 4th Avenue and Union—where the Speedway gas station currently operates. His firm has proposed to the MTA a new stairway and elevator for the southbound Union Street R station to accommodate increased ridership. In an effort to create more ADA accessible subway stations, he suggests a transit incentive be included in the Scope of Work that provides developers with "bonus floor area" in exchange for paying for transit improvements such as an elevator. Avery Hall Investments is also behind the plans to develop the 5th Avenue Key Food site.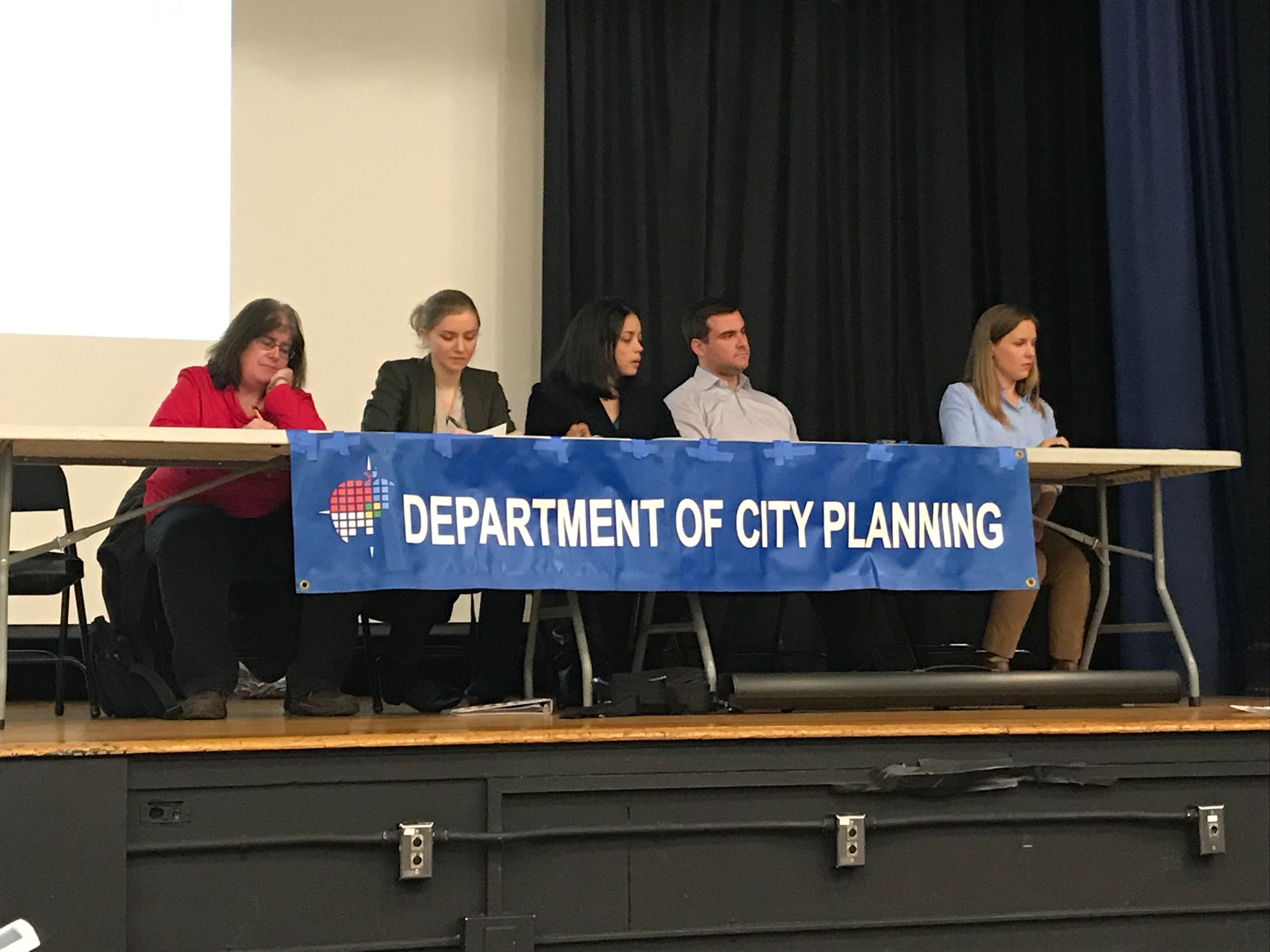 Toward the end of the meeting, a handful of members from the pro-housing organization Open New York spoke in favor of the rezoning and asked DCP to add  more density.
"I've lived in Brooklyn for two years. I'm here to support the proposed rezoning and ask DCP to consider adding more housing than the 8200 units that are currently expected to be added under this plan. If New York wants to aspire to be a sustainable, inclusive and dynamic city, and if DCP wants this particular rezoning to be a sustainable and inclusive rezoning…they will need to add more housing, not only for those who already live in New York, but for all of those who want to move here…. Moreover, adding residential density is integral to the fight against climate change." — Lauren Thomas
"I know you heard from some people who are really happy about the density, they think it's great. I know some of those people—they don't live here. I don't know if they live near any rezoning that is going to be this massive—they can't, because it is the largest rezoning under the de Blasio administration…."
"I know you've heard from lots of different people, lots of organizations, but one voice I think is not being heard…the actual people who live here, who have roots here, who have put down roots here…. We aren't being heard. You guys should know that doing this is going to destroy our neighborhood. It's too much at once. I'm not against adding housing, I'm not against adding affordable housing…. I love this neighborhood. I know it has to change, but this isn't going to change it. This is going to destroy it." — Debbie Stoller, Gowanus resident