Public Art: An Eye-Catching Mural At Industry City & The Return Of Coney Art Walls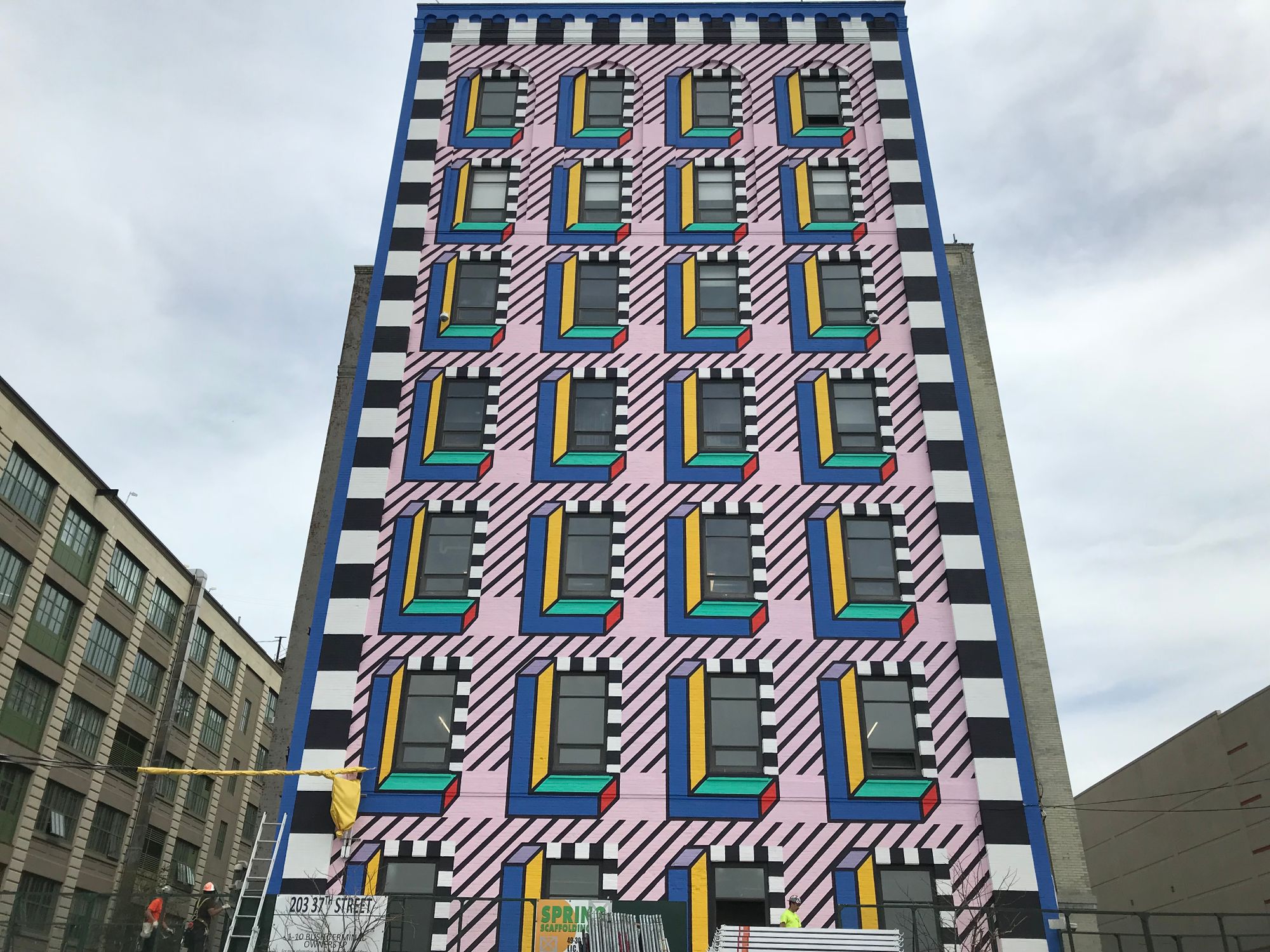 SUNSET PARK/CONEY ISLAND – Last week the London-based artist, Camille Walala, unveiled her vibrant new mural adorning the exterior of an Industry City building at 2nd Avenue and 37th Street.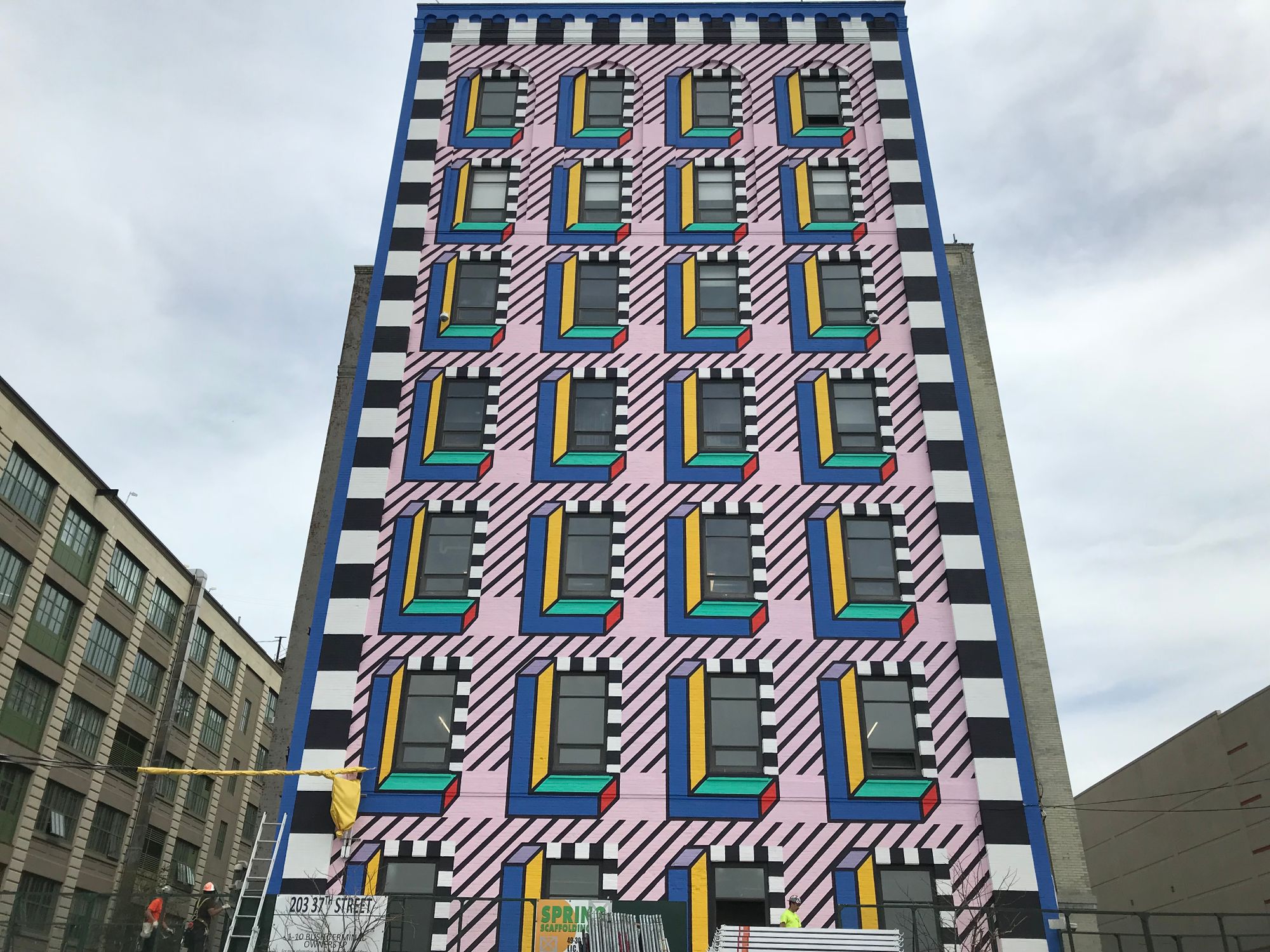 Commissioned by WantedDesign (for this year's NYCxDesign festival) and sponsored by Industry City, Walala created the permanent monolithic mural inspired by the Memphis Design Movement, the Ndebele people, and artist Victor Vasarely, a prominent figure of the Op Art movement.
Emblazoning the facade of a seven-story building, Walala's colorful, graphic mural is her largest to date. The artwork brightens up a row of neutral colored buildings situated across from a parking lot on 2nd Avenue.
"The design has been inspired by the architecture of the building, particularly the repetition of the windows." the artist said in a statement. "The site is bathed in the most beautiful colours at sunset, which has inspired my palette for the project. I'm really excited about this design."
In other public art news, Thor Equities presents the 2018 Coney Art Walls program, an "outdoor museum of street art" featuring live entertainment all summer long.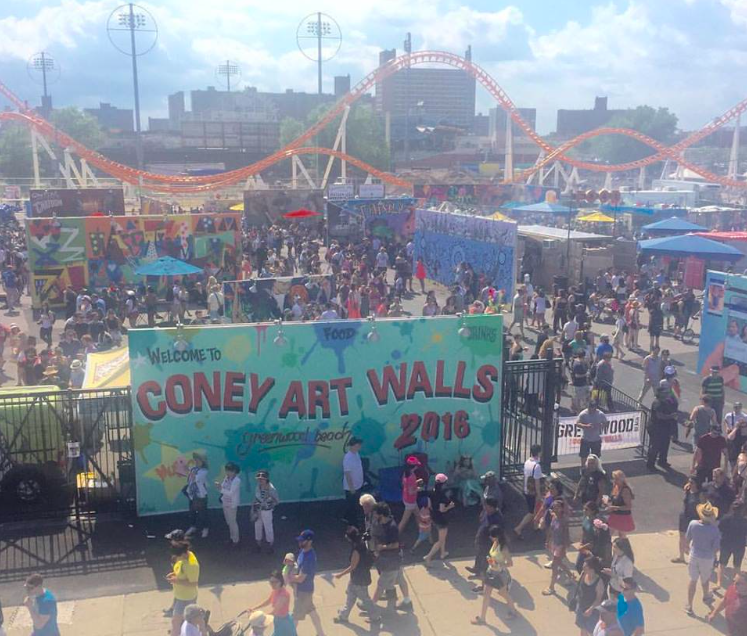 Kicking off on Friday, May 25, this year's edition of Coney Art Walls was curated by Thor Equities Founder and CEO Joseph Sitt and renowned art dealer and curator, Jeffrey Deitch.
"We are excited to launch our fourth consecutive year of Coney Art Walls, which has helped revitalize Coney Island by welcoming tens of thousands of visitors a year to view our amazing murals as well as eat, drink and be entertained," Sitt said in a statement.
Located at 3050 Stillwell Avenue near the historic boardwalk, beach, and Deno's Wonder Wheel Amusement Park, this year's Coney Art Walls roster features artwork from Aiko, Alexis Diaz, Buff Monster, Chris Stain, Crash, D*Face, Daze, Eine, eL Seed, Ganzeer, Haze, How & Nosm, Icy & Sot, IRAK, Jim Drain, John Ahearn, Kashink, Lady Pink, Lee Quinones, The London Police, Mark Bode, Miss Van, Mister Cartoon, Nina Chanel Abney, Nychos, Pose, RETNA, Ron English, Shantell Martin, Sheryo & The Yok, Skewville, Tats Cru, and Tristan Eaton.
Throughout the summer, Coney Art Walls and Live On Air Events will host Magic Carousel Sundays, featuring DJs from around the world, a massive turf lawn, bars, daybeds, and more.
Check out coneyartwalls.com to learn more.