Public Advocate Bill De Blasio Pushes Bill To Protect Straphangers From Sexual Assault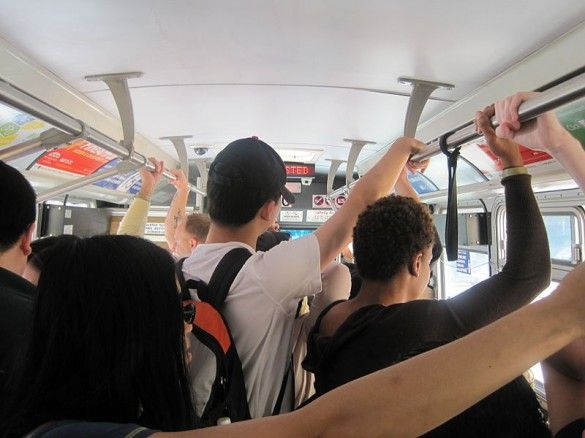 Public Advocate Bill de Blasio and the advocacy group Hollaback want the State Legislature to pass a new law that would protect straphangers from "subway grinders."
A recent court ruling threw out a felony sexual assault case against a repeat offender who assaulted his victims on crowded subways. The judge presiding over the case dismissed the felony charges because the accused did not "use force against his victims," according to a release sent from de Blasio's office.
De Blasio and Hollaback Executive Director Emily May want new legislation passed that allows prosecutors to pursue felony charges and jail time for offenders found guilty of sexual abuse.
De Blasio sent a letter to Speaker Sheldon Silver and Majority Leader Dean Skelos outlining his position. Here is an excerpt:
We write in support of strengthening laws to protect transit riders from sexual assault. A deeply flawed court ruling has effectively downgraded the seriousness of sexual assaults in our transit system, claiming that perpetrators can only be charged with a felony if they utilize force during the assault. This most recent decision severely undercut recent efforts to hold "subway grinders" accountable and protect New York City straphangers—particularly women and children. We urge you to swiftly pass a new law that would enable prosecutors to bring felony charges against sex offenders who assault their victims on crowded trains and buses. We firmly believe that jail time is a necessary deterrent and response to persistent sexual abuse. The crimes involved in recent court cases posed a serious risk to the health and safety of New Yorkers.
In one case, a sex offender with 32 prior arrests was facing charges for rubbing himself to orgasm on three young women aged 24, 22 and 17. Incredibly, the judge in the case threw out felony charges on the grounds that no threat of violence was present during the assaults. The decision is ignorant of the reality facing millions of straphangers. There is little possibility of escape on a crowded, over-capacity train or bus, and victims are restrained and threatened in this environment as surely as if a perpetrator were using force.