Proud Past, Prouder Future: Celebrate Pride In Brooklyn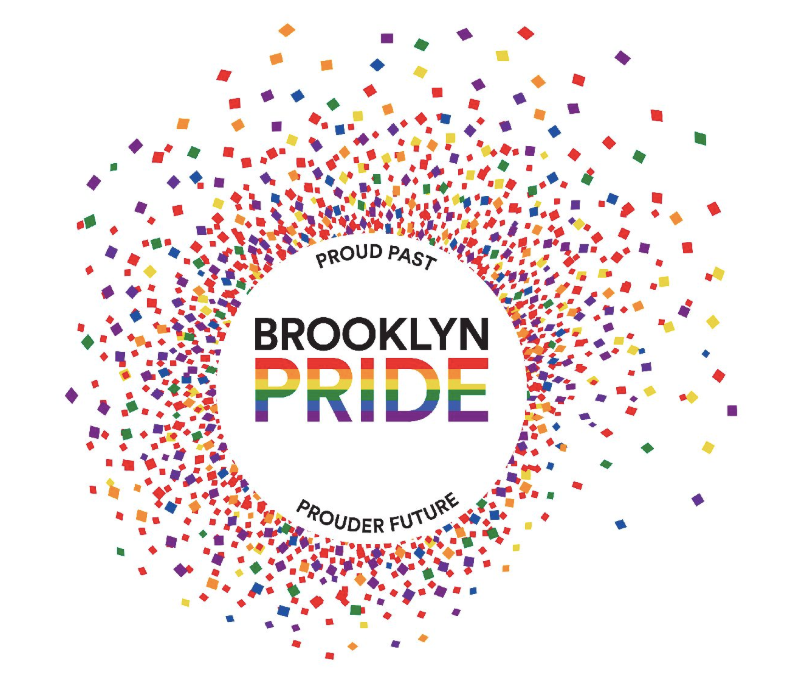 The 23rd annual Brooklyn Pride Week kicks off Monday, June 3, offering six days of events celebrating Lesbian, Gay, Bisexual, Transgender, and Queer Pride in Brooklyn that culminate with Pride Day on Saturday, June 8.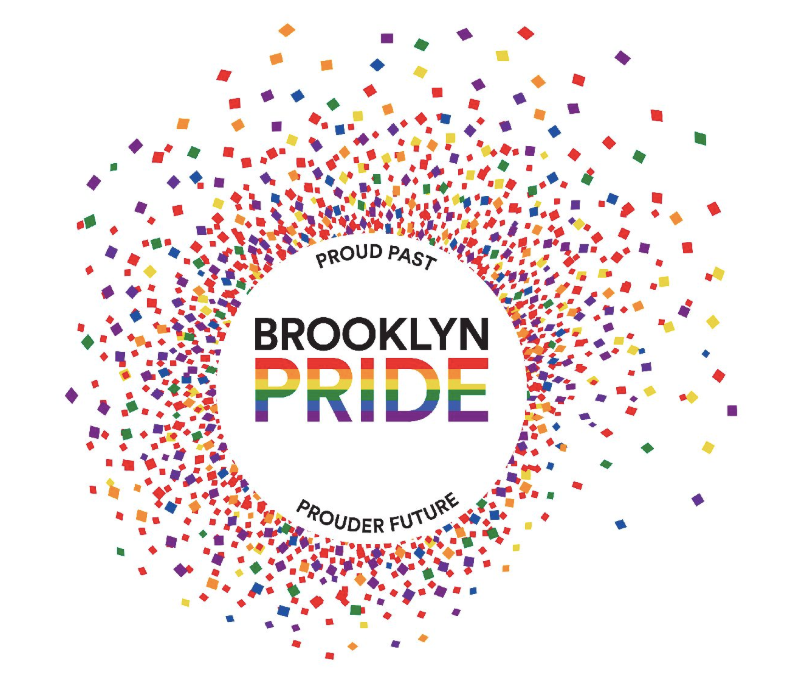 2019 marks the 50th anniversary of the Stonewall Uprising, and this year's Brooklyn Pride Week will feature new and expanded events as well as some first-time sponsors and participants—including Brooklyn Irish LGBTQ Organization (BILO)—honoring the theme "Proud Past, Prouder Future."
Festivities begin on Monday, June 3 at Brooklyn Borough Hall (209 Joralemon Street) where Borough President Eric Adams and Brooklyn Pride will host a Pride Month reception and honor members of the LGBTQIA community. The event will also present the first-ever Lewis A. Fidler Memorial Award for Allyship, established to commemorate the champion for runaway homeless youth—many of who were LGBTQ+. RSVP here.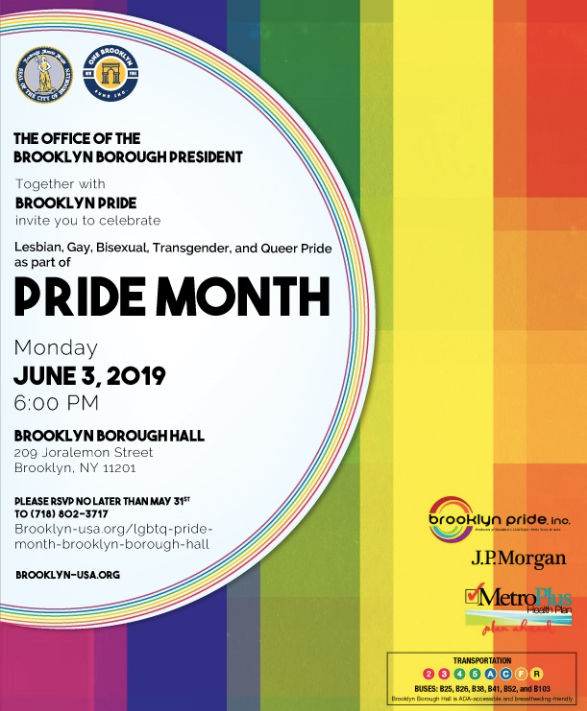 New to the list of events this year is "The Queer Question," a panel discussion examining the evolution of the term "queer" held at the Park Slope Library (431 6th Avenue) on Tuesday, June 4 at 6:30pm. "We're going to have inter-generational, very diverse panelists talk about the concept of the 'queer' word and how it's been used historically and now," explains Brooklyn Pride Co-Chair Mickey Heller.
Pints & Pints will take place on Wednesday, June 5 from 6:30pm to 9:30pm at Ample Hills Creamery (305 Nevins Street at Union). Stop by for a pint of ice cream and a pint of Sixpoint Brewery beer! "Once again, Ample Hills has named a flavor for the month for June—'Baby I Was Churned This Way,'" Heller notes. "For any pint that's purchased at any Ample Hills throughout the city, Ample Hills will donate a dollar to Brooklyn Pride."
Yuk it up on Thursday night (June 6 at 7:30pm) at Brooklyn Pride Comedy Night. Join host Lois Thompson at Brooklyn House of Comedy (1165 Bedford Avenue) where Reece Cotton, Justin Covington, Alysia Hush, Sydnee Washington, and Nikki Carr will perform. Learn more here.
Start the weekend with the Pre-Pride Day Kick Off Party in the garden at Hollow Nickel (494 Atlantic Avenue between 3rd Ave. & Nevins St.) from 6pm to 8pm. Enjoy drinks, music, and giveaways!
For a family-friendly Pre-Pride kick off, head over to The Old Stone House (336 3rd Street between 4th & 5th Avenues) at 6:30pm for an outdoor screening of John Waters' 1988 classic, Hairspray. Bring a blanket and snacks to this movie night under the stars at Washington Park.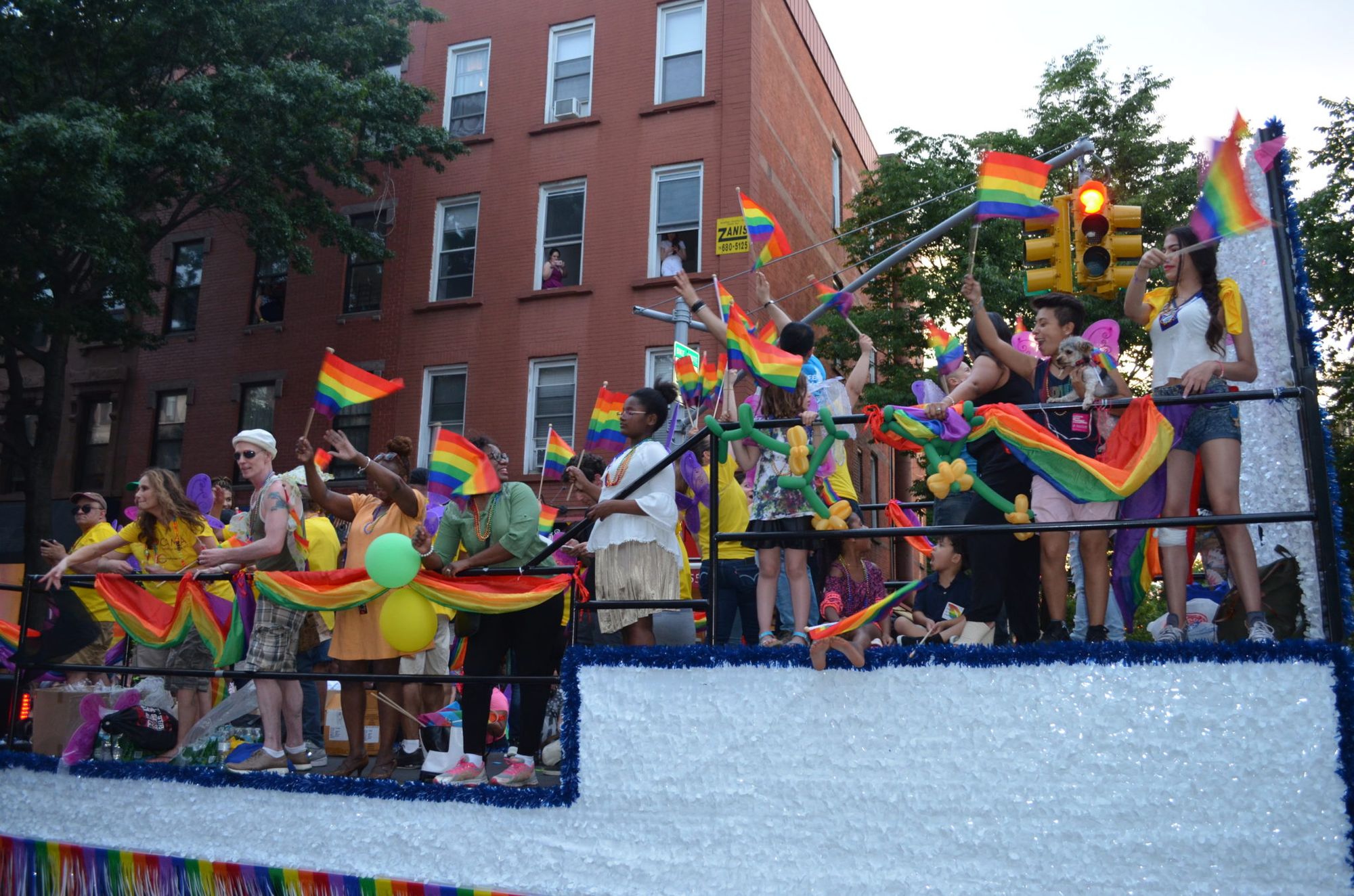 Then get ready for the big day on Saturday, June 8, when the festivities begin at 10am with the Brooklyn Pride 5K Run through Prospect Park. "Our 5K run has expanded from 500 to 700-800 runners this year," Heller notes. Runners will receive full-color running shirts, personalized number bibs, and all participants who cross the finish line will receive a medal.
A new supporter, Estee Lauder, has signed on as the designated sponsor of the 5K Run this year and three organizations will receive the Brooklyn Pride 5K Run Grant. "In the past we've given out one grant from the proceeds of the run," said Heller. "This year we have three community grants." The recipients include Pride Center of Staten Island, New Alternatives, and Drag Queen Story Hour.
Another new Brooklyn Pride sponsor, NewYork-Presbyterian Brooklyn Methodist Hospital, will provide an ambulance all throughout Saturday in case of any medical needs.
From 11am to 5pm on Saturday, head over to 5th Avenue between 1st and 9th Streets and enjoy the Brooklyn Pride Multi-Cultural Festival where local businesses, community and LGBTQIA+ organizations will provide fun, food, and entertainment on two stages!
Between 12pm to 4pm at the Old Stone House/J.J. Byrne Park (5th Ave between 3rd & 4th Streets) you'll find the Family Fun Zone, a family-friendly event with music and activities. "The Department of Education is coming this year and the GSA (Gay-Straight Alliance) at MS 51 and their students are going to be doing arts & crafts, face painting, and lots of fun activities with the kids," explains Brooklyn Pride Co-Chair Jamie Farnam. Drag Queen Story Hour will be joining the family-friendly fun as well.
Vicki Kristina Barcelona will perform a Concert in the Park following the Family Fun Zone from 6pm to 7pm.
The 23rd annual Brooklyn Twilight Pride Parade will kick off at 7:30pm on 5th Ave at Lincoln Street and march down to 9th Street. Over 1,000 participants from more than 60 organizations will join the march with 40,000 expected to watch along the route.
Serving as the Master of Ceremonies once again will be transgender actor and activist Ron B. while the Parade Grand Marshals will include: 11-year-old drag star Desmond is Amazing; Chief Counsel to Governor Cuomo Alphonso David, who helped draft the marriage equality act; and Kate Barnhart, Executive Director of New Alternatives, a drop-in shelter for LGBT homeless youth.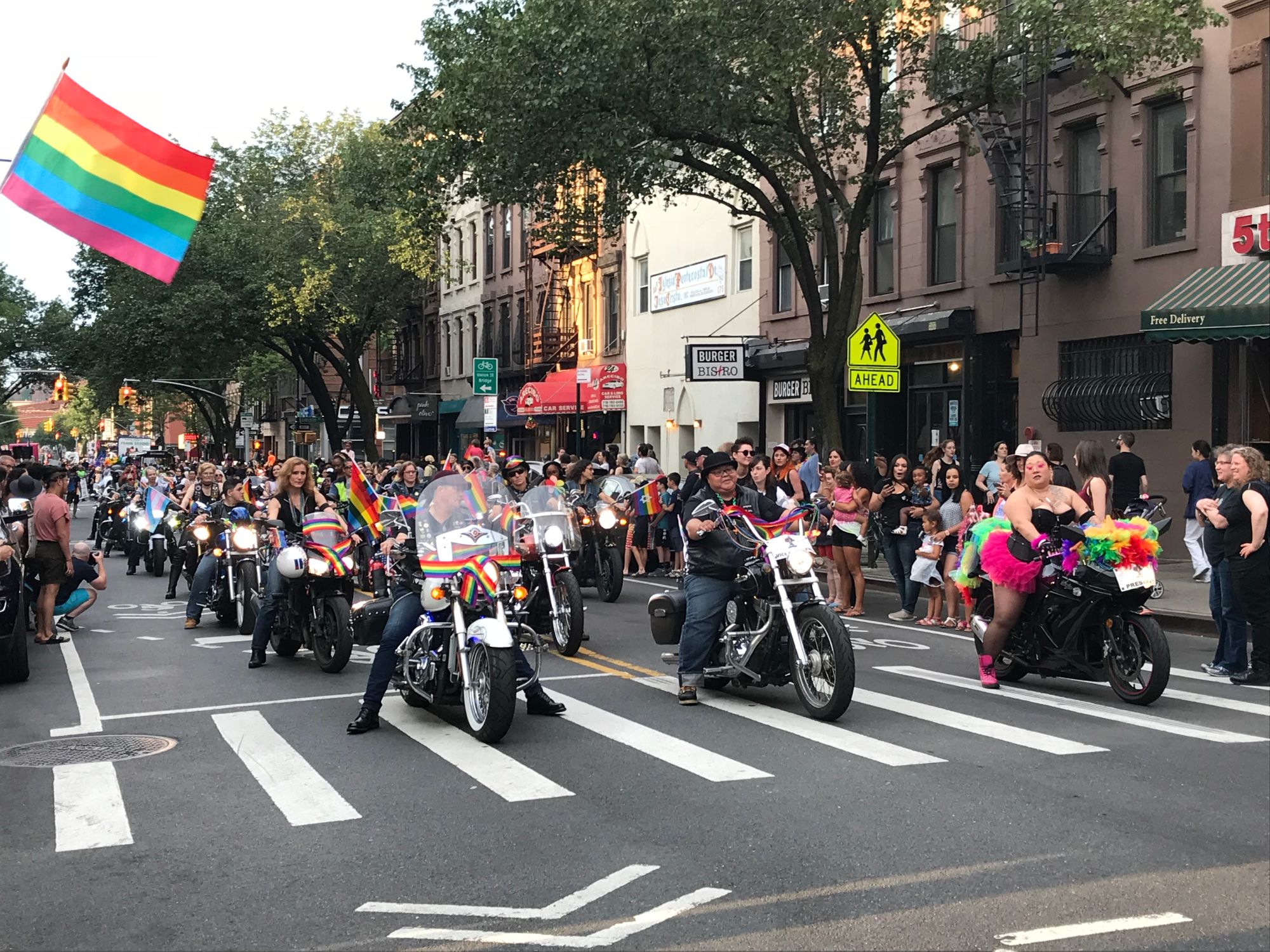 "For the first time this year we're giving three awards," Heller notes. A panel will judge parade marchers in the following categories: "Most Colorful," "Best Representation of the Theme," and "Simply the Best," in honor of MC Ron B. who performs as Tina Turner.
Learn more about the Brooklyn Pride 2019 events at brooklynpride.org.
For even more LGBTQ Pride events happening around the borough, don't forget to check out Nobody Promised You Tomorrow: Art 50 Years After Stonewall at the Brooklyn Museum (200 Eastern Parkway, Prospect Heights).The exhibit commemorates the Stonewall riots by examining the legacy and impact the revolt has on today's queer creative community. On view through December 8. Learn more here.
The Brooklyn Historical Society (128 Pierrepont Street, Brooklyn Heights) currently has two exhibitions on view celebrating World Pride. A Queer Look at Brooklyn—which focuses on overlooked LGBTQ+ history throughout the borough—was curated by 21 high school students in Brooklyn Historical Society's Teen Council program. On view through May 2020.
Also at Brooklyn Historical Society, On the (Queer) Waterfront—the the first exhibit to focus on Brooklyn's lesbian, gay, bisexual, transgender, and queer history—was curated by Avram Finkelstein and Hugh Ryan, the author of When Brooklyn Was Queer. On view through August 4, 2019.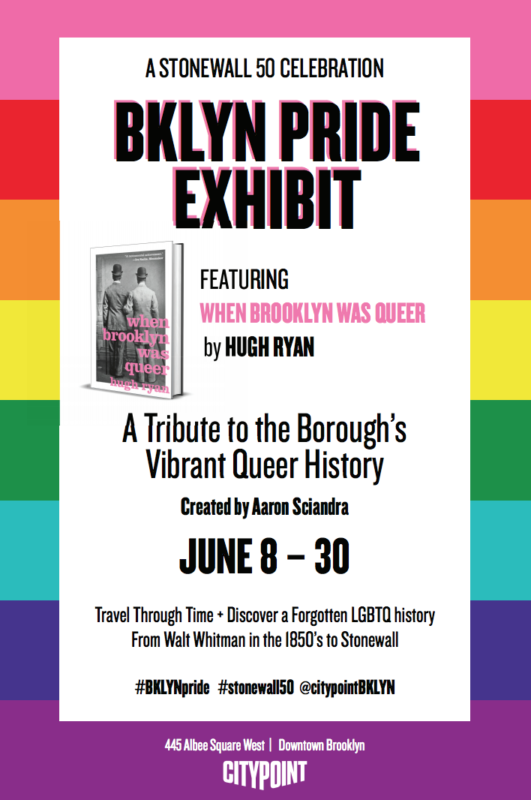 On Saturday, June 8, City Point (445 Albee Square West, Downtown Brooklyn) will unveil its BKLYN Pride Exhibit, an experiential installation by artist Aaron Sciandra that was inspired by Ryan's book. Sciandra's artwork will feature  a rainbow of cascading colors interspersed with references to LGBTQ history. On Saturday June 29th (2pm to 4pm) author Hugh Ryan will be at City Point signing copies of When Brooklyn Was Queer. Installation on view through June 30.
Join the Downtown Brooklyn Partnership and 651 Arts on Friday, June 28 (5pm to 8pm) at The Plaza at 300 Ashland for #EXCUSEMEHELLO, a celebration of transgender activists Marsha P. Johnson and Sylvia Rivera. DJ Antonio Brown will spin and Andre J will perform.
And finally, Threes Brewing has once again released an annual batch of Gender Neutral lager, with a portion of the proceeds from the special brew being donated to the Anti-Violence Project, an organization that works with LGBTQIA+ and HIV-impacted communities.
Threes Brewing will also host several Pride events at their Gowanus taproom (333 Douglass Street and Greenpoint bar (113 Franklin Street). Check out the list below.
Queer First Friday Dance Party with Temescal BrewingFriday, June 7 at Threes Brewing Gowanus
Temescal Brewing is bringing its Oakland, CA party—Queer First Friday—to Brooklyn with guest DJs, drink specials, and Gender Neutral beer.
Brooklyn Pride Run After-Party—Happy Hour Deals for Runners
Saturday, June 8 at Threes Gowanus & Greenpoint
Celebrate after the 5K Run at both Threes locations.
World Pride 2019 Variety Show Featuring Ducky Sheaboi & Friends
Sunday, June 9 at Threes Greenpoint
Join Ducky Sheaboi and his crew of burlesque performers, queens, dancers, and more for a raucous Sunday evening show. (Open to the public with suggested donation.)
Think Olio Lecture Series: Teaching Consent in the College Classroom After #MeToo with Shakespeare's The Taming of the Shrew
Sunday, June 23 at Threes Greenpoint
Tickets $15 at thinkolio.org.
NYC Post-Parade Pride Party
Sunday, June 30 at Threes Brewing Gowanus
Celebrate the close of Pride Month and Stonewall50.
Learn more about Threes Brewing Pride Events 2019 at threesbrewing.com/pride. Happy Pride!