Protesters Demand B64 Bus Restoration In Bath Beach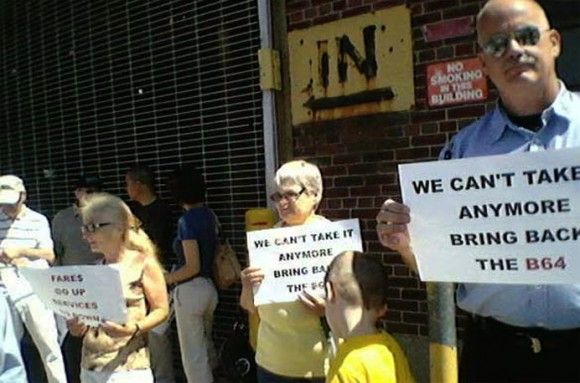 Sheepshead Bites transit columnist Allan Rosen was with members of the Bensonhurst West End Community Council (BWECC), Assemblyman William Colton, Councilman Vincent Gentile, Assemblyman Alec Brook-Krasny and local strap-hangers during a recent rally at Ulmer Park Depot at 25th Avenue near Cropsey Avenue demanding the restoration of the B64 bus route.
He wrote an in-depth piece about the event and other Southern Brooklyn MTA route cuts and how they affect community members for our sister site, Sheepshead Bites.
Among other things, he writes:
Demonstrators gathered at Ulmer Park Depot, 25th Avenue near Cropsey Avenue, at 11:00 a.m. to protest the cutback of the B64 bus from Coney Island to 25th Avenue. The western terminus of the route is in Bay Ridge. The community last protested this service cut shortly after it occurred back in June 2010. Hopefully, this protest will be more successful. It had the support of Local 100 of the TWU, which promised to support restoration of all the 2010 service cuts. Approximately 50 of the demonstrators were Local 100 members. I previously wrote about the B64 just under a year ago and again when discussing the MTA's evaluation of these service cuts last October.
Take a look at his impassioned report as we continue our coverage of the B64 restoration protests and plans.