Protesters Arrested Outside Of District Attorney Ken Thompson's House In Clinton Hill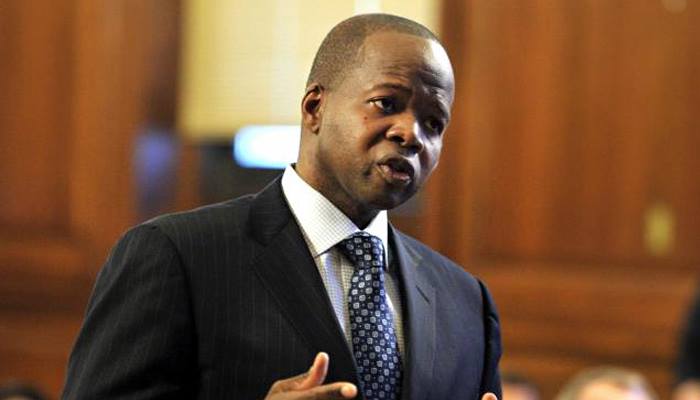 Protesters were arrested outside Brooklyn District Attorney Ken Thompson's house in Clinton Hill earlier this week.
At the dramatic scene, which unfolded at around 1am Wednesday, protesters criticized the prosecutor's recommendation that a judge presiding over the Peter Liang case spare the former officer jail time, reports the New York Daily News:
About 20 people showed up at Thompson's home in Clinton Hill, Brooklyn, around 12:40 a.m. They beat drums and chanted, waking his neighbors and arousing the ire of the DA.
"If the family of Akai Gurley cannot sleep tonight, Ken Thompson will not sleep tonight!" they shouted.
Thompson was at home with his family at the time, a source said.
As our sister site Bensonhurst Bean reported, ex-officer Liang was indicted on February 11 on manslaughter charges, after he fired his weapon into the dark stairwell of a Brooklyn housing project and his ricocheting bullet killed Gurley, an unarmed father-of-two. Commissioner Bill Bratton, police unions, and the mayor have called the shooting an accident, while Gurley's family has demanded a homicide conviction.
Following the conviction of ex-NYPD officer Peter Liang, there have been several protests on both sides of the argument.
Last February, more than 10,000 people, including local politicians and representatives from Chinese-American organizations, went to Cadman Plaza in downtown Brooklyn to protest Liang's conviction.
In March, the Brooklyn District Attorney's Office said they wouldn't be seeking prison time for Liang, which drew the ire of Gurley's family and activists.
The Gurley family felt that the verdict was unfair and were vehemently against the judge's ruling.
Gurley's aunt Hertencia Petersen said, "Akai's life doesn't matter. There's not justice. Black lives don't matter. Justice will be served one way or another."
District Attorney Kenneth Thompson also condemned the verdict.
"My office vigorously prosecuted Peter Liang for manslaughter because the evidence established that his conduct was criminal and the rule of law demanded that he be held accountable for his actions in taking Akai Gurley's life," said Thompson. "While our sentencing recommendation was fair under the unique circumstances of this case, we respectfully disagree with the judge's decision to reduce the jury's verdict and will fight to reverse it on appeal."
The protesters outside of Thompson's home Wednesday held a large banner that had "#ByeKen Blood on your hands" and chanted "If the family of Akai Gurley cannot sleep tonight, Ken Thompson will not sleep tonight! Police murder must stop!"
When the cops arrived, they told the protesters to stop blocking traffic. The protestors refused and were arrested.
"[The protestors] were participating in conduct that is not only constitutionally protected but constitutionally valuable. They have already spent more time in custody than Peter Liang will ever spend for the homicide of Akai Gurley," told the Daily News.