Preschool Honors Veterans With Flag Raising Event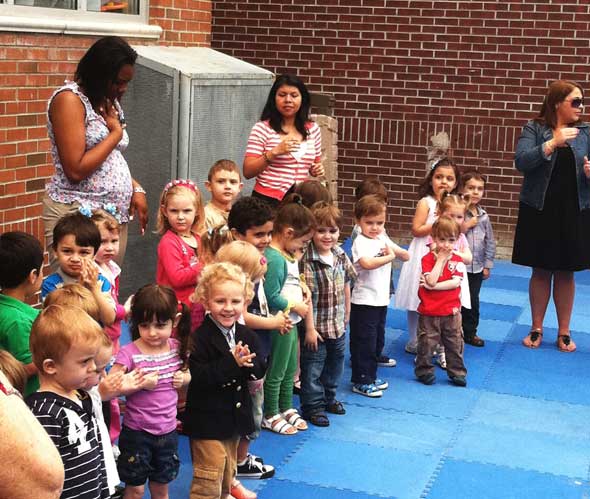 A local preschool assembled its students outside yesterday for a flag raising in honor of those who've given their lives to defend freedom, teaching them the meaning of Memorial Day before the holiday weekend.
Students aged 2 to 6 gathered in Wonderland Preschool's front yard, at 1018 Avenue Y, to recite the pledge of allegiance and raise an American flag. Many of the students are the children of immigrants or immigrants themselves, and the director of the school, Steve Brodsky, thought it would be a good opportunity to teach them about patriotism and honoring the American legacy.
"Our school shows children how to persuade their love and passion for the United States," Brodsky said in a press release.
The event was organized in conjunction with the Be Proud Foundation, a local Russian-American organization formed in 2005 to foster unity and pride in the local neighborhoods.
Having the students raise the flag and recognize the nation's servicemen shows the "true meaning of American living," said the event press release. "Wonderland children and their parents immigrated here in order to live the American dream. Reciting the Pledge of Allegiance is part of our daily lives. Let's honor those who defend our freedom, past to present, by saluting the flag of the United States."
The school opened recently under new management, after the previous preschool in that location, Royal Crown Pre-School Academy and Day Care Center, was shuttered by the Department of Health for a slew of failed inspections, including the discovery that the school went at least seven months without a qualified educational director.