Predatory Towing Service Charges Shoppers Illegal Fees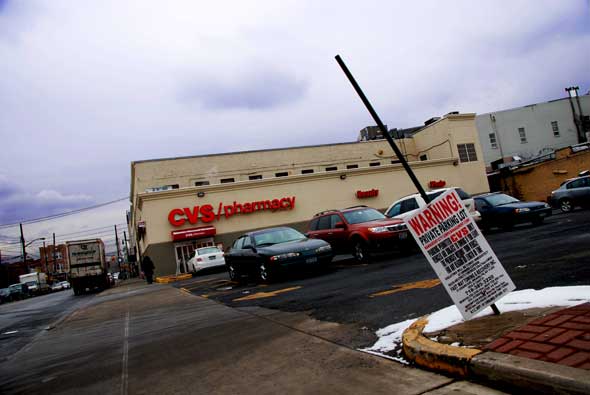 A predatory towing company is stalking Sheepshead Bay's parking lots and charging residents illegal fees – sometimes as much as five times the legally allowed amount.
Williamsburg-based Fast Way Towing & Recovery (31 Grand Avenue) manages several local parking lots, including the CVS at 1402 Sheepshead Bay Road, and Waldbaums, at 3100 Ocean Avenue. And according to area residents, the company is engaged in abusive behavior and charging exorbitant fees.
City law says tow companies servicing private parking lots can charge a maximum of $100 for towing and first three days of storage of a vehicle. If the owner of the vehicle arrives before the vehicle has been removed from the property but after it is connected to the tow truck – known as "on the hook" – the tow operator may not charge more than $50 to release the vehicle. But a number of neighbors say they've been charged as much as $250 just for unhooking fees alone, a violation of the New York City Administrative Code, according to representatives of New York City's Department of Consumer Affairs (DCA).
David Square, a Sheepshead Bay resident of more than 25 years, told Sheepshead Bites he was a victim of this blatant fraud. After purchasing a few products from CVS, Square stopped by Tête à Tête, a café across the street. His car was on the hook within 20 minutes.
"I remained calm with the driver since he did have my car," Square said. "I asked him why I was towed and he said because I left CVS. I showed him my bag to show I purchased items and he said it didn't matter because I went into another store. I also told him he was towing my car incorrectly because it has all wheel drive, and that my driveline would have problems because the wheels would be binding and would cause serious expensive damage."
About $285 later, Square's car was unhooked.
Most galling of all, a sign posted in the parking lot with Fast Way's name and address on it prominently displays the price caps – but it appears tow truck drivers are counting on residents ignoring the sign.
According to a Fast Way office worker, it is those truck drivers, not the company,  that residents should blame. The employee, who would only give her name as Maria, noted that the sign with the towing fees is correct and the truck operators should not be charging fees in excess. She said the company would have to look at individual invoices to discover why a certain amount was charged, which she was not able to do when Sheepshead Bites called.
CVS and Waldbaum's aren't the only lot in the area with the problem. Sheepshead Bites has received complaints about lots attached to Waldbaum's, El Greco and R & S Strauss Auto. And the businesses are pointing fingers at the landlords.
"The building is owned by a landlord, and the landlord is responsible for hiring the private towing company – not CVS," said CVS manager Paul Carpenter.
"Angelo," who Carpenter said was the landlord, did not want to comment for this article. When Sheepshead Bites called, he confirmed he was the landlord, then recanted when he learned the subject of the story, and promptly hung up the phone.
The businesses involved say parking is for customers only, but some residents say that the tow operators act like predators. The Fast Way tow truck can often be seen parked around the corner or somewhere nearby, and one resident said someone followed her around the store. Even if you purchase something, a quick trip to a neighboring shop could yield a hefty fine.
"I parked in the lot, walked into the store, walked across to the library, went back to CVS and found my car was towed," said Stacy-Ann Medwynter. "To top it off, the guy who called the tow truck wrote down the wrong time. I think he wrote that I had been parked there 20 minutes before I even left my house to go there. It was a big fiasco."
A number of similar stories have been posted about Fast Way Towing & Recovery by scorned customers on online review websites. Fast Way also received an ""F"-grade from the Better Business Bureau, after receiving complaints ranging from billing issues to customer service and advertising issues. The towing company never responded to any of the Bureau's seven investigations in the last three years, the BBB's website indicates.
Like Sheepshead Bites, Community Board 15 Chairperson Theresa Scavo said she regularly receives complaints.
Abigail Lootens, a representative from the Department of Consumer Affairs, said that any person who believes they are being wrongfully charged should file a complaint with the Department of Consumer Affairs by calling 311. Scavo adds that you can also contact the Community Board and Better Business Bureau.