PrattSide Public Art Canopy Debuts At Putnam Triangle Plaza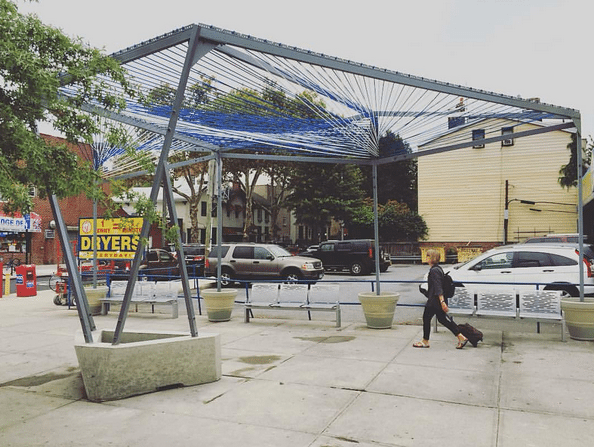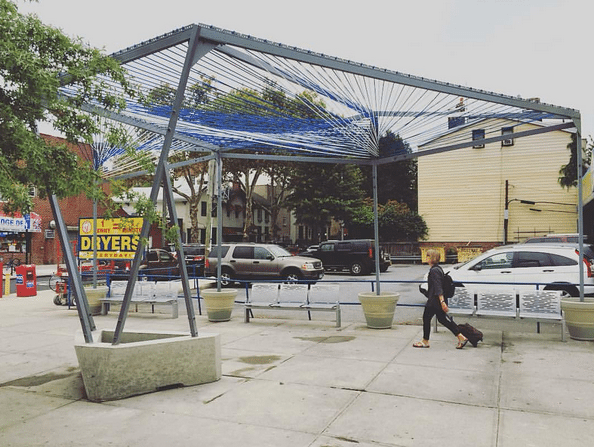 A canopy of silver and blue wire criss-crossing above the pedestrian plaza, the PrattSIDE public art canopy has officially been installed on the Putnam Triangle Plaza (Fulton Street between Grand Avenue and Cambridge Place). The art installation will be there for 11 months and caps off a year of research, design, and materials fabrication by Pratt Institute students.
The canopy — dubbed #putnamtrianglecanopy by PrattSIDE on their social media accounts — was commissioned by local merchants group Fulton Area Business (FAB) Alliance with the goal of further making the plaza a community gathering space.
Described as a "shade structure" by Pratt architecture professor Mark Parsons in an interview he gave to us in June, the project is the group's first locally-based project and was "design[ed] based on Fulton Triangle users' feedback — namely that they enjoyed using the triangle to gather for a variety of uses, but that seating, shade, and a sense of place could be stronger."
Looking at it, we're not sure how much shade the canopy will actually provide since the wires let in plenty of light, but it is intriguing and, positioned over the benches along Fulton Street, does invite pedestrians who sit there to look up at how light shines and reflects off the blue and silver wires.
What do you think of the new canopy?