Pratt President Schutte On Art And Community: Past, Present, And Future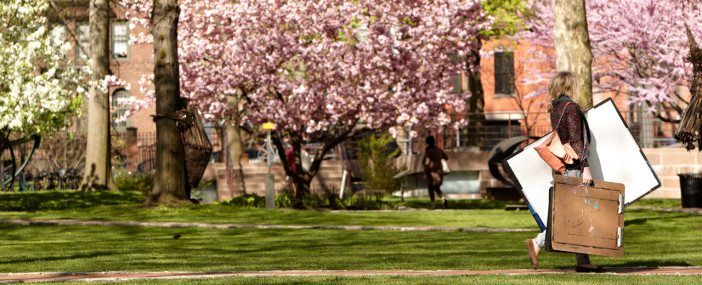 Since being named Pratt Institute's 11th president in 1993, Tom Schutte has overseen substantial change on the school's 25-acre campus while witnessing a transformation of the Clinton Hill neighborhood that Pratt has called home since its founding in 1887.
During Schutte's tenure, Pratt has revamped its curricular offerings, moved its Manhattan campus to 14th Street, and built Myrtle Hall, an academic and administrative facility that opened in 2011—as well as embarked on extensive rebuilding projects as the result of major fires at Higgins Hall (2005) and Main Hall (2014). Over the same period Clinton Hill went from a crime-ridden neighborhood to one of the city's most desirable places to live.
With the opening this past week of Pratt Design 2015, the school's annual exhibition of work by seniors and postgraduates majoring in a variety of design disciplines, President Schutte responded by email about his institution's past and present, and what the future holds for Pratt.
Fort Greene Focus: Please discuss some of your major accomplishments at Pratt.
President Schutte: One of the first things I worked on when I came to Brooklyn over 20 years ago was to convert Pratt from essentially a local commuter school into a national residential college. In 1993 we had about 2,700 mostly local and commuter students; now we have 4,700 students from around the globe, with 90 percent of our freshmen living on campus.
Another area of focus has been beautifying our campus. When I arrived, the campus was in a state of disrepair. Today, thanks to significant contributions by Trustee Emeritus Bruce M. Newman, we have beautifully landscaped grounds — including 50 new sculptures — with plenty of benches to sit on.
As a founding member, trustee, and chair of the Myrtle Avenue Revitalization Project, I've also watched as the neighborhood around Pratt has been transformed into a thriving retail district. Over the years, Pratt has expanded beyond our gates to Myrtle Avenue, where we built Myrtle Hall, a 120,000-square-foot LEED Gold certified building, in 2010.
FGF: Your tenure at Pratt dovetails with the changing role of art schools as technological innovation has transformed artistic practice. What is your take on that change?
Schutte: When looking specifically at the 2012-2017 Strategic Plan, we had several goals, for example, to reorganize the School of Art and Design into separate schools of Art and Design. The reorganization is now complete, with Gerry Snyder as the School of Art Dean and Anita Cooney, who was appointed as School of Design Dean, effective April 1.
Another goal was to strengthen Pratt's research and innovation infrastructure in areas that capitalize on Pratt's competitive advantages. In 2013 Pratt's competition for innovation — an internal, campus-wide initiative — produced significant interest in research. In fact, more than 30 different faculty groups competed and eight of those received awards [of up to $20,000] from the Pratt Institute Innovation Fund to further their research. Two of those eight teams went on to receive external grants to implement their proposals.
Looking towards the future, we are interested in developing many of our visual arts and design departments, especially those where innovation and entrepreneurship play a role. Professional leadership is also transforming practice and the Institute is active on this front with the launch of the Pratt Institute Brooklyn Fashion Design + Accelerator, a vibrant hub of commerce and entrepreneurship located in the former Pfizer Building in South Williamsburg.
One last goal that I am particularly excited about is Pratt's increased global education effort, which is increasing the attendance of international students at Pratt and the number of Pratt students studying abroad. We have instituted internationalization strategies and a new office of global education and this has had a significant impact. As of Fall 2014, 27 percent of Pratt students come from 81 countries.
I [am also proud of] Pratt's overall position in the academic landscape, consistently receiving high rankings in national and international comparisons, from U.S. News & World Report's 2013 Guide to America's Best Colleges to DesignIntelligence and USA TODAY (top 10 colleges for a degree in fine and studio arts in the United States).
FGF: What do you think of the changes in Clinton Hill?
Schutte: I've seen first-hand the meteoric rise of the Brooklyn brand, and we believe that Pratt has been a major contributor to the borough's growing influence locally, nationally, and internationally.
Following the Higgins Hall fire, acclaimed architect Steven Holl recreated a center section space with an award-winning design that provides an exceptional learning space for young architects. Main Building's renovation after fire was completed last year and includes a green roof, an addition we were pleased to implement given the Institute's commitment to sustainability.
For the spring semester, we were excited to host events with Stefan Sagmeister, Jeffrey Deitch, Philip Glass, and Kurt Andersen, among others.
FGF: Talk about Pratt's role in the community:
Schutte: With design and technology intersecting in news ways and Brooklyn's increased recognition as a cultural capital, Pratt is an incubator of significant talent in the creative fields and a strong supporter of providing local arts programming to children and teenagers. Examples include the Saturday Art School (ages 5-18 years old) and Design Initiative for Community Empowerment (DICE) — is an after-school program that provides high school students an introduction to art and design through studio work, field trips, portfolio development, and a final pin-up exhibition.
There is also Rising Architects and Designers (RAD), a collaboration with the Department of Graduate Architecture and Urban Design (GAUD), that takes place in selected NYC public schools. GAUD students develop curriculum and mentor young people in studio style classes focused on addressing physical and spatial challenges in their communities that are in need of improvement.
Another key program, of which we are very proud, is the Pratt Young Scholars, a needs-based, three-year, scholarship program providing art and design college preparation to motivated Brooklyn high school students.
FGF: Besides Pratt Design 2015, what's coming up for Pratt?
Schutte: Last year we launched a public program series, Pratt Presents, that offers lectures and panel discussions that are free and open to the public, addressing compelling topics facing today's world in art and design as well as the urban environment in which we live.
FGF: How important is having the Cannoneers, the school's intercollegiate athletics program, in addition to the arts programming?
Schutte: I am a strong believer in the value of athletics and it is an important part of Pratt Institute for many students. We have been experiencing a rise in the number of students joining Pratt's organized sports teams. I'd like to reiterate how much I value the importance of physical fitness for our students and myself. In fact, for the past 30 years, swimming has been a part of my daily routine.
Our men's and women's tennis teams have won consecutive championships in the Hudson Valley Intercollegiate Athletic Conference (HVIAC) and our women's volleyball team made it to the championships this past fall. I look forward to seeing what our men's volleyball team can accomplish this spring. We're proud of our 14 Pratt Institute student-athletes who were named to the Fall 2014 HVIAC All-Academic Team.