Power Not Fully Back on Prospect Lefferts Gardens Block, Residents and Pols Say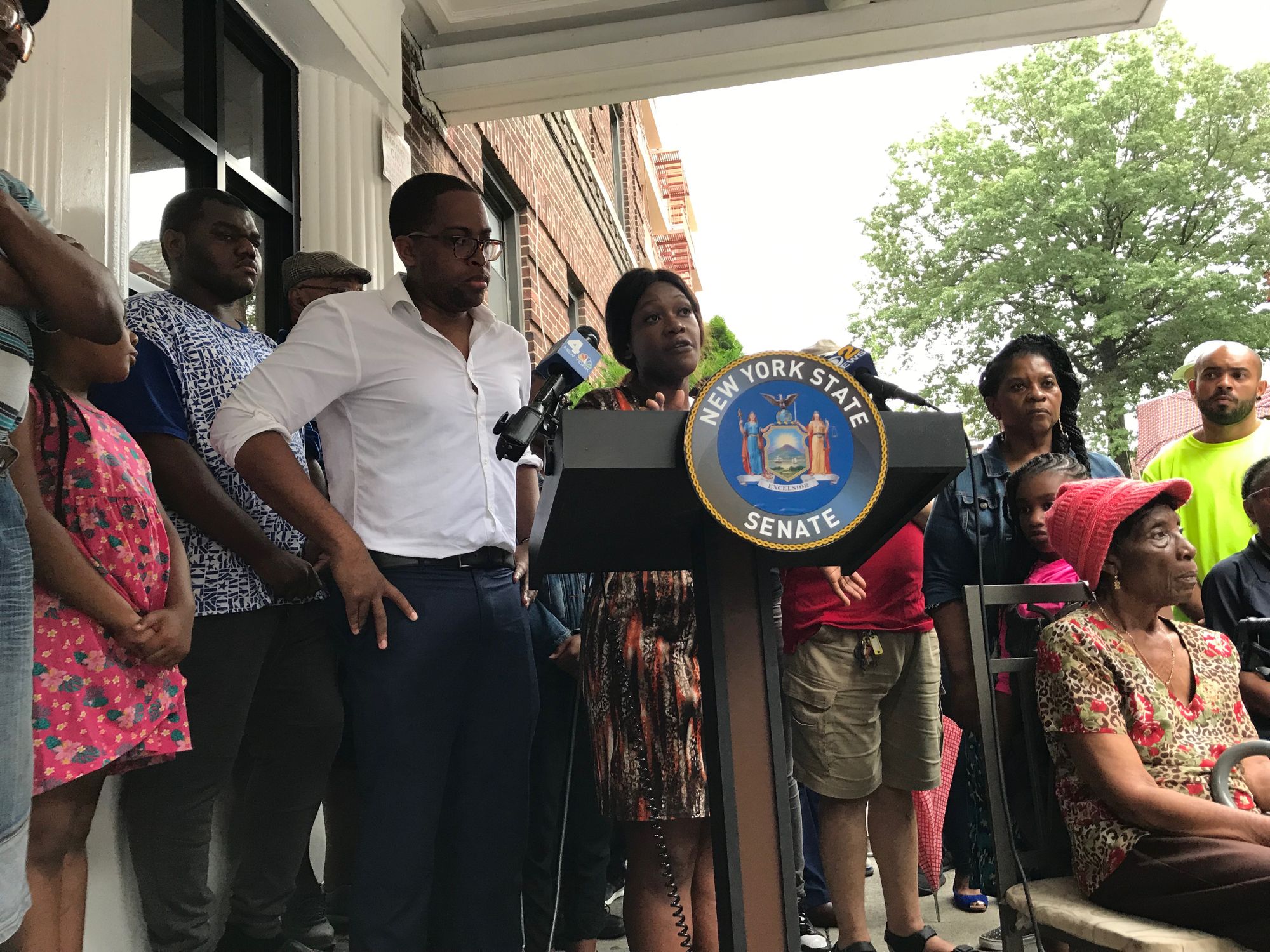 PROSPECT LEFFERTS GARDENS — Residents of a block in Prospect Lefferts Gardens still lack full power nearly two days after the weekend heat wave-induced Con Ed power cut, local politicians and residents said Tuesday afternoon.
As power was being restored in places that lost it, buildings on Hawthorne Street between Rogers and Nostrand avenues were still running on low-voltage power as of Tuesday afternoon— a situation that's persisted since Sunday evening, despite Con Edison telling local politicians and residents full power would be restored at numerous points over the last three days.
"Currently on this block, we have roughly 300 to 500 hundred people who are affected," said Assembly Member Diana Richardson, who represents the area along with Crown Heights and part of Flatbush. "Many of the units have little to no power at all, and currently, no elevators are working in any building on this block."
"We have residents who have been stuck in their apartments for two to three days at this point … with no air conditioner when the temperature has reached well over 90 degrees …. with refrigerators with low voltage, and the food is spoiling," she added.
In addition, she said Con Ed had given residents what turned out to be incorrect information about when the power would be turned back on fully. Richardson recalled being told by Con ED that full power would be restored at 3 p.m. Monday, then 6 p.m., then 11 p.m, then 3 a.m, yet residents of the block still lacked fully functioning lights, refrigerators and other items as of Tuesday at 4:15 p.m.
"As we performed welfare checks on residents, the situation remained the same: low to no voltage," she explained. "Half of the units do not have power."
Richardson said also suggested Con Ed  wouldn't deliver a lackluster response to the outage— or cut the power off in the first place— in a whiter neighborhood.
"It is a crying shame, and I dare to put it on the record that, if the if the demographics of this community were different, the response would have been different," she said.
State Senator Zellnor Myrie, who also represents Prospect Lefferts Gardens, echoed Richardson.
"It is only in communities that look like ours that this is acceptable," he said.
In addition, Myrie said that he and residents on Hawthorne Street "had been lied to" by Con Ed since Sunday.
"We expect our refrigerators to work, we expect our elevators to work, so don't talk to us about patience and understanding, because guess what? The elevators don't run on patience and understanding," he said. "Our medical equipment does not run on patience and understanding."
He added that there are residents "literally trapped in their apartments" because elevators in buildings on the block don't work.
"Right now," he continued, "at this very moment, there are people who cannot get out of their apartments because Con Ed has not done their job."
Con Ed did not immediately respond to request for comment. On its website, Con Ed says that power should be back on "for the vast majority of customers" by 7 p.m. Tuesday.