Post-Pandemic Recovery: What Does the Future Hold for Downtown Brooklyn?
As the coronavirus swept across New York, images of a deserted midtown Manhattan became emblematic of the pandemic's devastating economic impact. Throughout the summer, journalists chronicled midtown's uncertain future; even now, with vaccination efforts progressing, landlords of commercial offices and large retail spaces worry about midtown's viability in a future of increased remote work and a lingering fear of crowded spaces.
In Downtown Brooklyn, the mood is a bit more optimistic.
Brooklyn's historic central business district also suffered during the pandemic. But the area's boosters and developers believe its location, open spaces, and large residential population could give it a leg up over Manhattan as the post-pandemic recovery finally begins.
"Covid taught us a bunch of different things about the world," said Ofer Cohen, co-chair of the Downtown Brooklyn Partnership and President of TerraCRG, a real estate brokerage that works exclusively in the Brooklyn commercial real estate market.  "And coming back, we think that Brooklyn, and Downtown Brooklyn specifically, is gonna have an edge over Midtown when employees and big companies are rethinking new office space."
The 2004 Rezoning
To understand Downtown Brooklyn's role in a post-pandemic future, it's important to look at the area's recent past. Because before the pandemic, Downtown Brooklyn was at the zenith of a revitalization effort over 15 years in the making.
The numbers should be unsurprising to anyone who has watched the area's skyline erupt in a seemingly endless procession of new skyscrapers, but they bear repeating: since the area was rezoned in 2004, at least 41 million square feet of residential, commercial, and institutional space has been built or planned in the neighborhood; that's about fourteen-and-a-half Empire State Buildings. A 2016 report by NYU Wagner's Rudin Center said the area's transformation growth has "few parallels in New York City's recent history."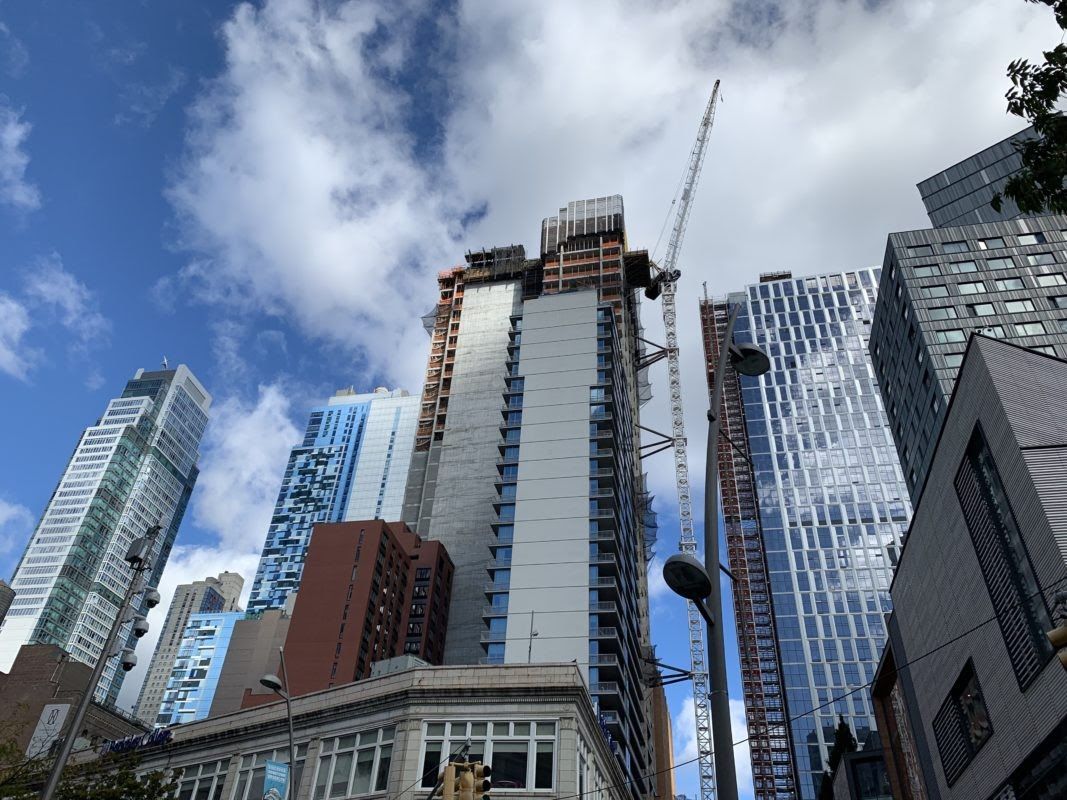 Among other goals, the 2004 rezoning had as its primary aim the creation of new commercial office space. This type of effort was far from new; in the 80s, then-Mayor Ed Koch enabled the creation of the 4.5-million square foot MetroTech Center complex as a way to keep the back-office operations of Manhattan's financial services companies in New York, rather than allowing them to move to more affordable New Jersey.
In July 2001, Senator Chuck Schumer's "Group of 35" and the Brooklyn Chamber of Commerce's Downtown Brooklyn Council successfully pushed for the creation of the Special Downtown Brooklyn District, in which relaxed height restrictions and setback requirements were designed to encourage denser office development for companies now returning from the suburbs.