Post-Apocalyptic Poets Bring The Doom To Ditmas Park
Every first Tuesday of the month, the Post-apocalyptic Poets of Deep Brooklyn invade Ditmas Park. Featuring Brooklyn College students and alumni George del Valle, Will Machi, Nora Curry, Ryan Skrabalak, Celia Vargas, Margie Sarsfield, and various other guests, the self-proclaimed "grandchildren of Whitman and Dickinson" bring a brand of poetry to Sycamore's downstairs space that can only be described as, well… maybe you should read this:
We are spaceheaded and writing poetry after dawn of insane thunderstorms. We are the thaumaturgical dog fosterers of peach tossing Brooklyn. We are not flamboyant or imposterous or violent unless the situation demands. We are not going to slip anything into your drink. Except if it's colored pink. We go cruising every Saturday night, two up front and two in back down Cortelyou Road, looking for costume stores for dogs. We stole away with your dates and made out with them on the fifty yard line when you passed out after senior prom. We order one strawberry shake and two straws.
The poets were offering a new chapbook at the most recent reading, and Will Machi brought along copies of his book, Wisconsin, too. Here's a look inside:
From Post-apocalyptic Poets Vol. 7: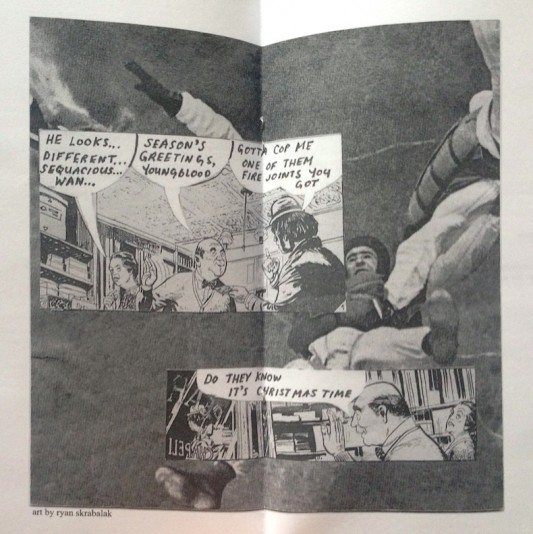 From Wisconsin:
The Post-apocalyptic Poets readings are free, and feature a sign-up sheet for those who find themselves suddenly-inspired to get their line breaks on. Learn about past chapbooks here–they're only $1!–and be sure to visit Sycamore on Tuesday, May 7, at 9pm, if you're feeling like the end is near.