Portion Of Hubbard Street Renamed In Honor Of Celebrated Photographer & Comic Writer Seth Kushner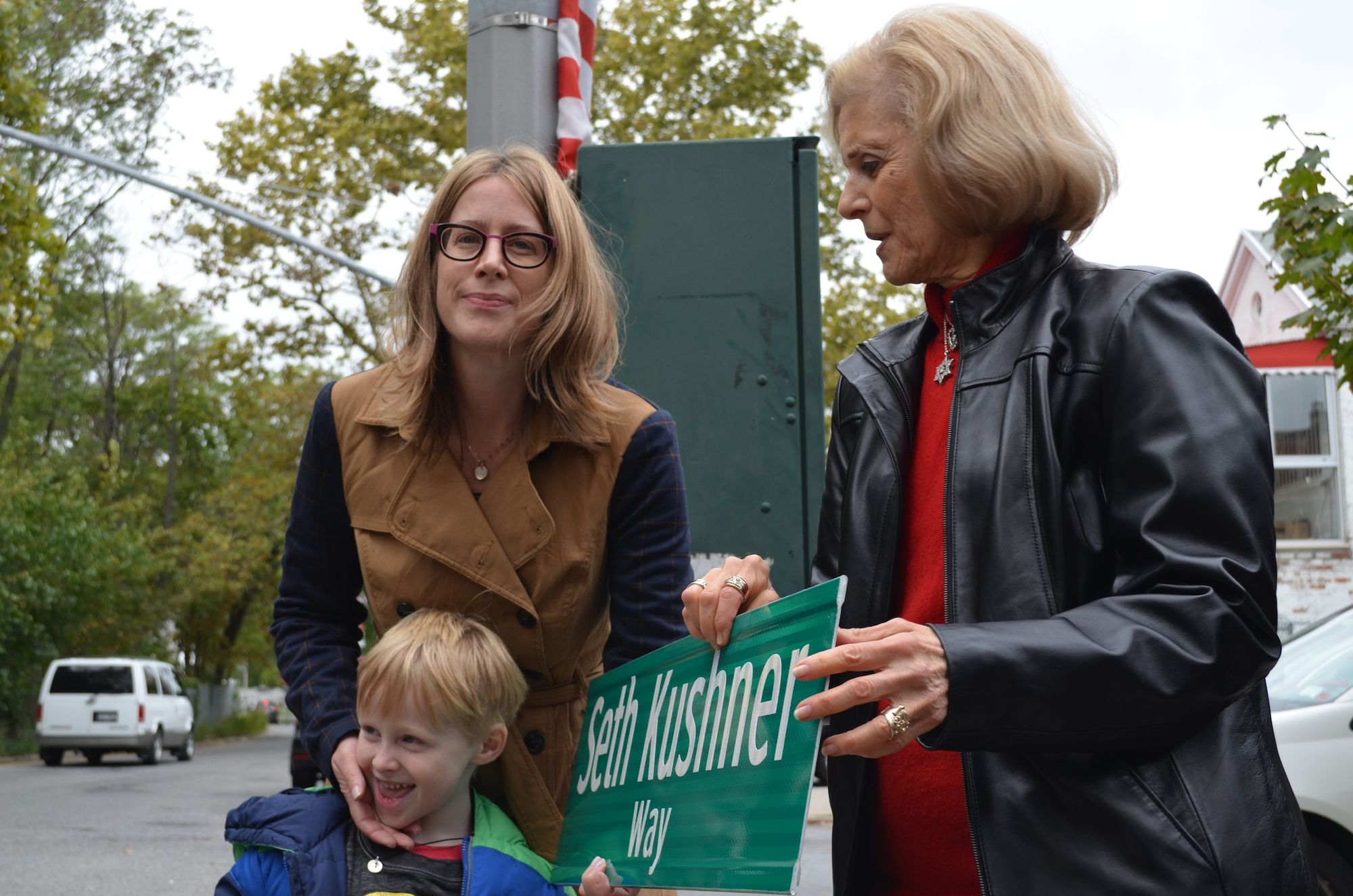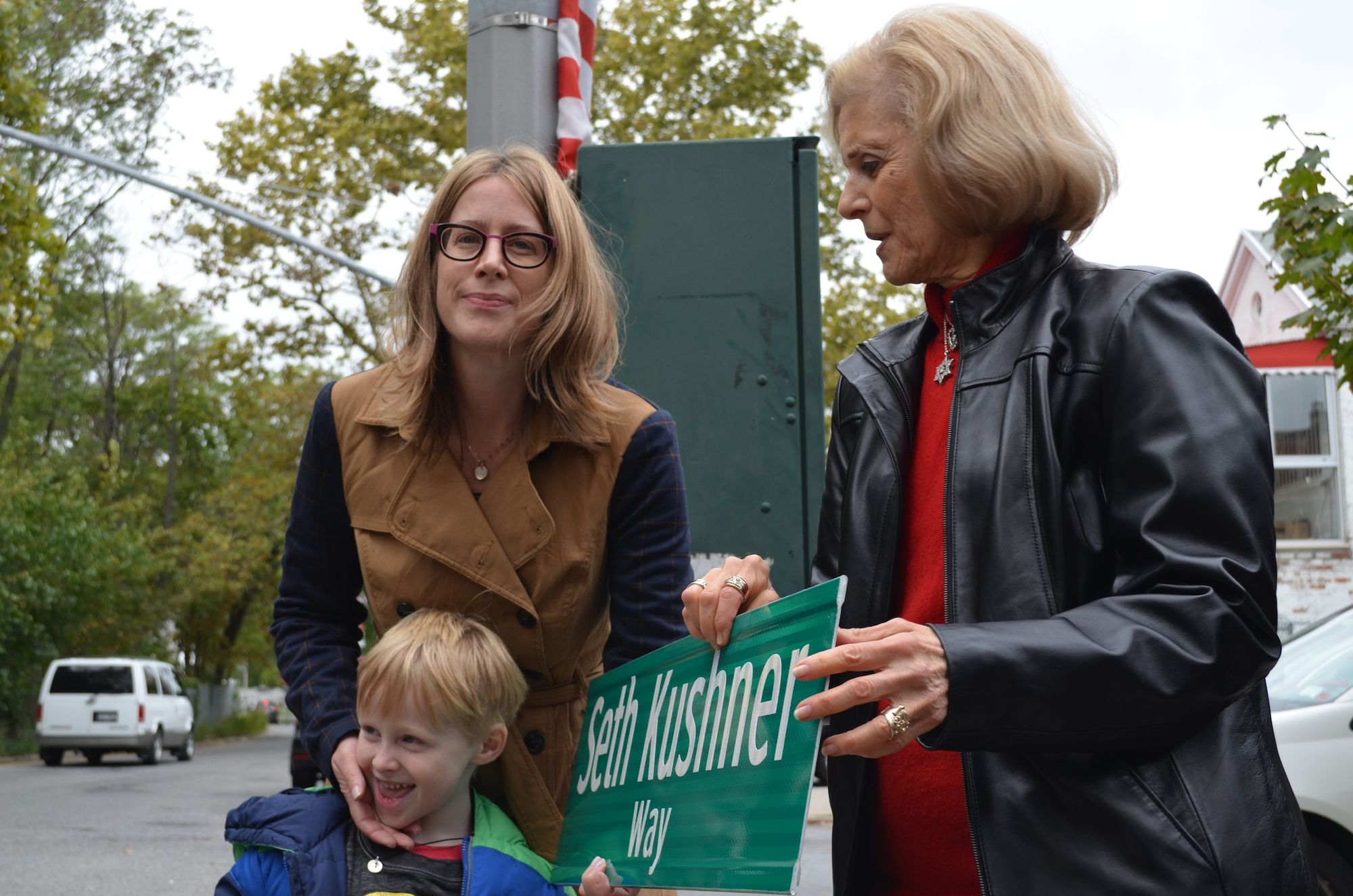 More than 100 people gathered at the corner of Shore Parkway and Hubbard Street Sunday for the street co-naming ceremony honoring Seth Kushner, the celebrated pop culture photographer and comic writer who died earlier this year of leukemia.
The dedication ceremony for "Seth Kushner Way" took place a few houses down from the artist's childhood home. City Councilman Mark Treyger, who sponsored the legislation to co-name the street, described Kushner as an outstanding talent who had an immeasurable impact on his community.
"He leaves behind a body of work that will touch countless lives and inspire the next generation of artists and photographers," Treyger said. "Today is just a small token of our heartfelt appreciation for his many contributions to our lives."
Kushner, who graduated from Abraham Lincoln High School in 1991, is best known for his acclaimed portraits of comic book artists, musicians and other pop culture celebrities. His work has appeared in The New York Times Magazine, Time, Newsweek, Sports Illustrated, The New Yorker, and other publications. Kushner's photography also went in two books he co-wrote: Leaping Tall Buildings: The Origins of American Comics, which profiles the creators of the world's best-known comic book superheroes, and The Brooklynites, which dives into the people and places of his childhood.
"Brooklyn is a huge part of Seth's identity. So this ceremony feels very appropriate," said Kushner's wife, Terra. "If you asked his friends, everyone knows what Hubbard Street means, it's the street where Seth lived."
Kushner passed away in May at the age of 41 after a year-long battle with Acute Myeloid Leukemia. His family has started a a GoFundMe account to help cover the medical costs. Throughout his treatment, Kushner continued working on his semi-autobiographical graphic novel Schmuck, which features artwork by 22 cartoonists. Kushner turned to online crowd funding, while documenting his struggle with cancer from his hospital bed, to raise money for the book's publication. Schmuck was released in print by Alternative Comics this September.
At the street naming ceremony, Kushner's family received special citations from Assemblyman Steven Cymbrowitz. The awards were handed out by Cymbrowitz's Director of Communications Adrienne Knoll, who is a friend of Kushner's mother, Linda.
"[Linda] is one of the most gracious and thoughtful and insightful people, who is very appreciative of all the blessings that life has to offer," said Knoll. "And if she passed even half of that onto her son, and I know she did, then the world is very fortunate to know Linda and her son, Seth."
Linda thanked those in attendance for coming to honor her son.
"My son knows how very proud we are of him. He knew how much I loved him and that I would have moved heaven and earth for him," she said. "I'll see this sign every time I walk or drive up the street. I guess I'll never be able to move from here."