Pols Slam City's Concrete Boardwalk Plan At Rally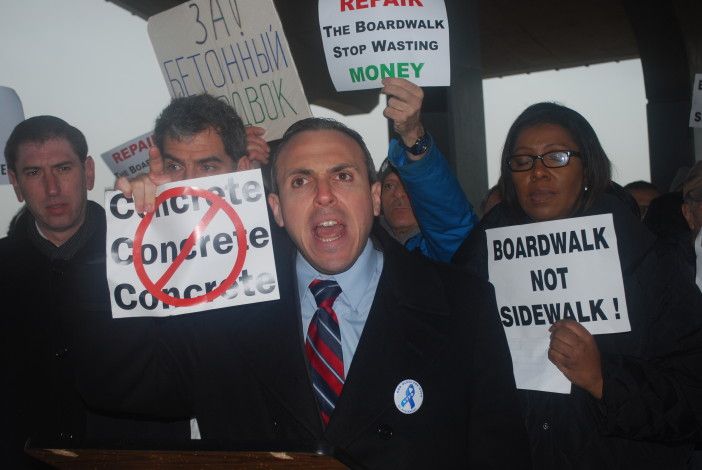 Public Advocate Letitia James, Brooklyn Borough President Eric Adams, and Comptroller Scott Stringer joined local politicians, community members, and activists Sunday to express their outrage at the Parks Department's concrete makeover of the Coney Island Riegelmann Boardwalk.
Despite the heavy rain and winds, more than 100 protesters held signs on the boardwalk near Coney Island Avenue and chanted slogans like "our history matters" and "no concrete, save our feet." The project, which was proposed by the Bloomberg administration and implemented by Mayor Bill de Blasio, has already begun and would replace the boardwalk's iconic wood planks with concrete and plastic.
Councilman Mark Treyger, who organized the rally and recently moved to make the boardwalk a scenic landmark, said that replacing the planks would permanently alter the character of the neighborhood.
"This is a piece of our history that is being ripped out," he said.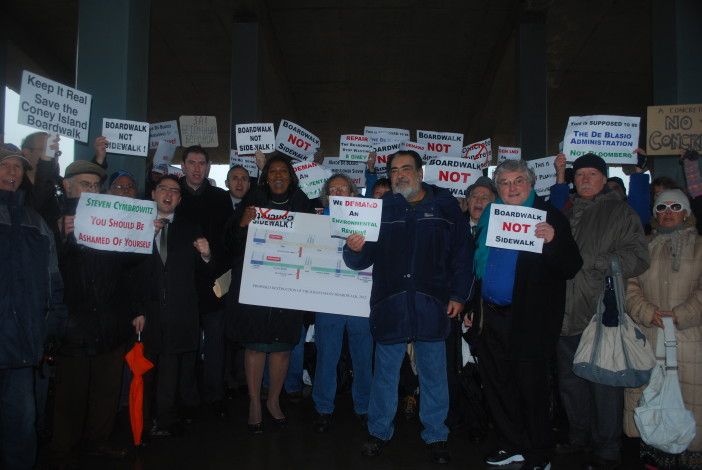 The city maintains that replacing damaged planks with tropical wood would be too costly and would have a large environmental footprint. Officials claim that concrete would also be more resilient and durable against extreme weather, like Superstorm Sandy.
"Using tropical hardwoods could contribute to the climate change that helped destroy the boardwalk in the first place and it would be more expensive," as spokesperson for the Parks Department told us in November of last year.
Activists point out that a more sustainable wood could be used instead, and that the wood sections of boardwalk actually faired better through Superstorm Sandy than the concrete sections. They are asking the city to conduct a full environmental review.
If community activists do not succeed in blocking construction, the cement boardwalk is expected to be completed by the summer of 2016.
To sign the petition to save the Riegelmann Boardwalk's iconic wood planks, click here.
Here's a video of the event, taken by Sheepshead Bites contributor Allan Rosen:
http://youtu.be/6cSxaHaM2m8