Local Pols Fund New Baskets And Cleanup Crews To Tackle 86th Street's Trash Problem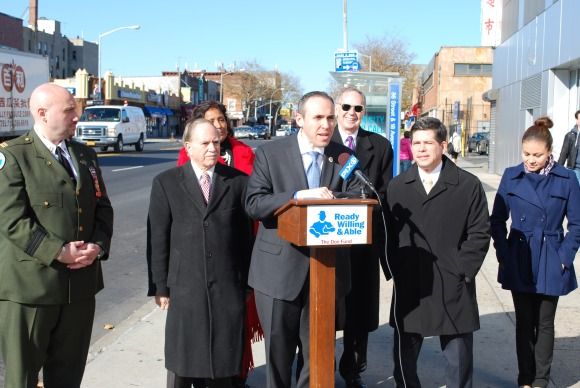 Our elected officials are taking on 86th Street's chronic trash problem.
Councilmen Mark Treyger and Vincent Gentile were joined by Assemblyman Bill Colton as they announced funding for a major cleanup of 86th Street between Stillwell Avenue and 18th Avenue on Friday, November 14. The politicians were also joined by the Department of Sanitation, the Doe Fund, and several other community organizations.
"One of the most important aspects of any thriving neighborhood is a clean, welcoming and inviting commercial area that is a positive reflection on our community," Treyger said in a statement. "This funding represents a great partnership between the city, the Sanitation Department, the Doe Fund, local organizations and merchants as we work towards cleaner and litter-free streets across my entire district."
Treyger allocated $28,800 for the Department of Sanitation to fund additional workers and trash pick up along 86th Street – with an extra focus on intersections that are hotspots for litter, such as Bay Parkway, 20th Avenue, 23rd Avenue, and 25th Avenue. An extra $6,540 will go towards 12 new high-end litter baskets for 86th Street. In addition, the Doe Fund has received $8,000 from Treyger, and $8,000 from Gentile for three trainees to clean 18th Avenue between 68th Street and 86th Street twice a week.
Gentile, who funded a similar initiative for Bay Ridge in September, said he was happy to lend his support.
"Clean streets are a source of great community pride. Everyone deserves a clean and safe place to live and work. Indeed, the backbone of our neighborhoods are the mom and pop shops that line our main thoroughfares. These folks need and deserve all of our support, every day," said Gentile in a statement.
For the southern portion of the district, the Alliance for Coney Island received $15,000 to expand its ongoing cleanup program to include the Mermaid Avenue and to extend through the fall and spring. In addition, the Coney Island Beautification Project was allocated $10,287 towards its efforts to make the area from Stillwell Avenue to West 37th Street more attractive.