Local Heroes Honored For Verrazano Bridge Rescue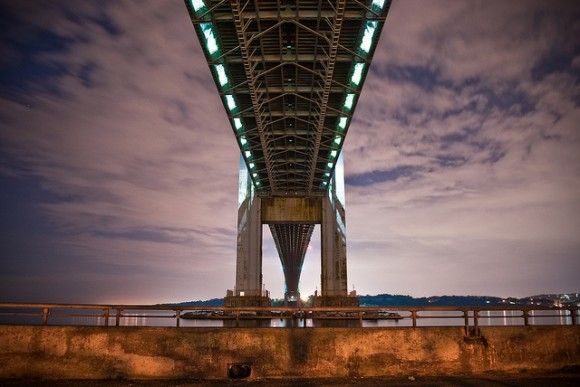 MTA Bridges and Tunnels officers Jimmy Moy and John Esposito and MTA executive James Fortunato were honored for their heroism in a Verrazano-Narrows Bridge crash and fire that happened last July. SI Live is reporting that Moy, Esposito and Fortunanto each received commendations from Staten Island Borough President James Molinaro for their life-saving actions.
Last July, we reported on a head-on collision between two trucks on the Brooklyn-bound upper level of the bridge. At the time, details of the crash were sketchy, but SI Live elucidated the harrowing scene in their report:
The crash occurred around 6:10 a.m.
A Porsche Boxster sportscar lost its clutch and suddenly shifted from the center lane to the right-hand lane. Two trucks behind it stopped in time, but a box truck, driven by Li Zeliang, 44, with Jie Xie, 57, as a passenger, could not, and rammed into a private garbage truck in front of it.
The impact pinned the box truck's cab against the railing.
Ms. Xie, whom Zeliang was driving to her Brooklyn home, was "cocooned in steel," said Fortunato.
Fortunato, who has worked with the MTA for 33 years, happened to be heading to his office when he witnessed the accident and didn't hesitate to spring into action, as SI Live describes:
Fortunato tried to put out the flames with the garbage truck's fire extinguisher. Realizing the driver and passenger were choking from smoke, he tore out the partially shattered rear windshield with his hands.
Moy and Esposito doused the truck with additional extinguishers, but it remained on fire. Using the garbage truck's winch, Fortunato pried open the door and dashboard to free the driver.
But they couldn't remove Ms. Xie.
Fortunato hit upon the idea of attaching the hook to the burning truck's chassis.
That maneuver allowed the garbage truck driver to pull the box truck off the rail, which helped arriving firefighters to free Ms. Xie.
"It took all of eight or nine minutes, but it felt like we were there for an hour," said Fortunato.
"It was quick-thinking on his part," said Moy, 36, a seven-year MTA veteran, and former Staten Islander.
In the aftermath of the crash, Xie was most seriously injured. She is still recovering at Staten Island University Hospital. Congratulations to the brave heroes and best of luck to the recovering accident victims.