Plumb Beach Bike Path Prepped For Reconstruction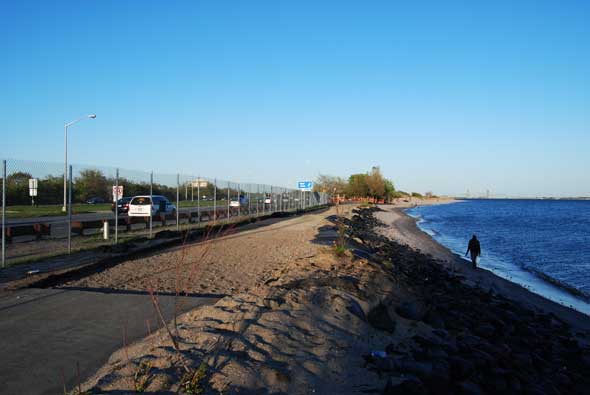 Readers of our Twitter feed got an early update about Plumb Beach work. During a drive-by last Thursday, I noticed a battalion of workers going to town around the fenced-off portion, where the path had crumbled back in November. I tweeted, "Work being done at plumb beach today. Wonder whats up."
This, people, is the kind of hard-hitting reporting that making following us on Twitter a necessity.
But back to reality. I went down to the beach on Friday to see what the workers were doing. They were already gone, and so was the bike path. The two damaged portions of the Plumb Beach bike path have been totally removed and the site has been prepped for new asphalt.
We'll be watching out for the new pavement and let you know as soon as the bike path is open. But don't expect it to stay open long. With nothing more than sandbags protecting the bike path and the Belt Parkway, and government agencies refusing to take the problem seriously, it won't be long before the bike path washes away again.