Planters and Plants Coming to the Library Plaza Tomorrow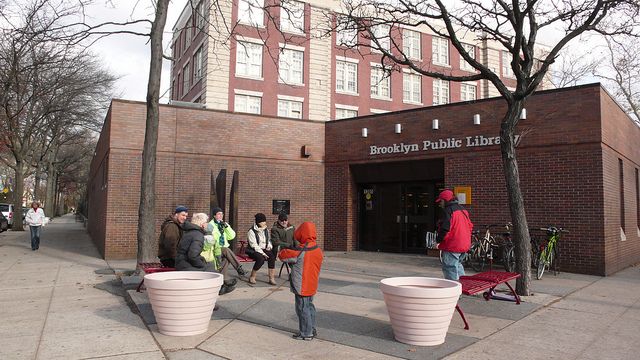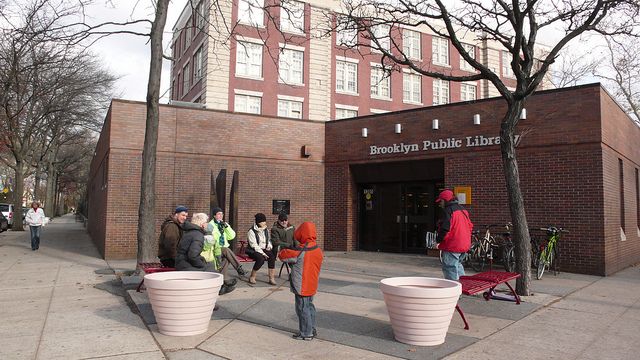 Testing out the planter placement three years ago by Sustainable Flatbush, on Flickr.
The community gathering space in front of the Cortelyou Library is coming close to being complete, as planters filled with native plants will be added to the area that already includes some great benches. If you'd like to get involved, you can stop by on Saturday, June 30 at 11am to help with the planting and watering. Kids are welcome to help!
This space has been years in the making. When Sustainable Flatbush hosted the first Park(ing) Day in 2007, they began an annual tradition of taking over a parking space on the corner of Cortelyou at Argyle and turning it into a park. The hope, explains founder Anne Pope, was to eventually create a permanent space right there, where neighbors could spend some time together outdoors.
"Our goal was to turn plaza into full-time public space," she said. "Now we're at a point where this is really the heart of the neighborhood."
After the Cortelyou Library Friends Group formed, Sustainable Flatbush managed to obtain benches and planters from the Department of Transportation, and the Friends Group worked with the library to get permission to install everything. The benches came first, and now the planters ("A big thanks to Liena and Ben for storing the benches and planters for so long!" says Anna Antoniak of the Friends Group), and next, the Friends Group says the Central BPL is looking into requesting city capital funds for next year to really rehabilitate the plaza, which would be great for evening out the concrete there.
This has been a real community effort. The Farm on Adderley and Sycamore generously donated toward supplies and membership in the Cortelyou Road Merchants Association so the plaza can be included in the street sweeping. Chris Kreussling, aka Flatbush Gardener and steward of the Sustainable Flatbush native plants garden, has been sharing his expertise, and will be on hand tomorrow as well.
Thanks to all the neighbors who have had a hand in creating this space. We're looking forward to seeing the plants!